Virtual Fax
Receive Faxes with No Extra Equipment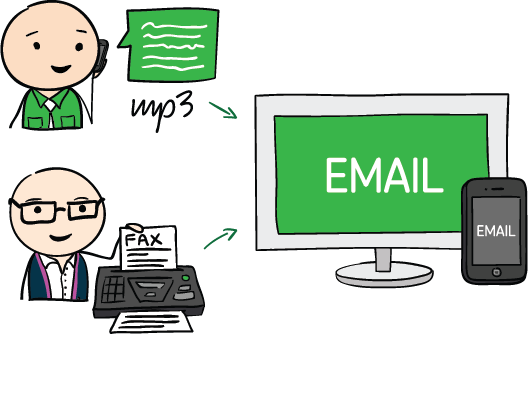 Receive faxes anywhere without any equipment
Frequently asked questions about virtual fax:
What is virtual fax?
With virtual fax you can receive faxes on your toll free or local number and forward them to a fax machine or up to three email addresses per extension. Virtual fax makes it easy to save, view and store your received faxes on your computer.
Do I get a separate fax number?
With Grasshopper you can use your same number for everything, including faxes. Simplify your business by giving one number out for all your business needs. You can also purchase a separate number just for faxes.
How can I view my faxes?
Faxes can be forwarded from your toll free or local number to a fax machine or delivered to your email address as a PDF attachment. You can also view and print your faxes online.
Over 300,000 Happy Customers Served
Here's what a few of them have to say about Grasshopper
I am now a huge fan of Grasshopper… truly saved the day (and my sanity). Carolyn Appleton Carolyn M. Appleton, Inc.
Having a phone number on our site increased conversion of site visitors to sign ups and paid users! Allan Branch LessAccounting