Sound Professional
&

Stay Connected
The Virtual Phone System Designed for Entrepreneurs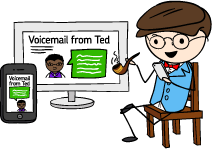 Read Your Voicemail
Grasshopper lets you stay connected even when you can't check your voicemail with our Read Your Voicemail feature. With the voicemail transcription emailed to you as readable text, you'll be able to stay connected when you can't listen to the .MP3 file of your voicemail.
Having a phone number on our site increased conversion of site visitors to sign ups and paid users! Allan BranchLessAccounting
I am now a huge fan of Grasshopper… truly saved the day (and my sanity). Carolyn AppletonCarolyn M. Appleton, Inc.