Sound Professional
&

Stay Connected
The Virtual Phone System Designed for Entrepreneurs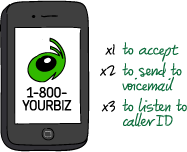 Call Screening & Announce
Stay connected with Call Screening and Announce. When you answer a Grasshopper call, you'll have 3 options to choose from. 1. answer the call, 2. send the caller to voicemail or 3. hear the caller's phone number. You can even choose to hear the caller's name before deciding. Callers remain on hold, with music, while you decide what to do with the call.
Having a phone number on our site increased conversion of site visitors to sign ups and paid users! Allan BranchLessAccounting
I am now a huge fan of Grasshopper… truly saved the day (and my sanity). Carolyn AppletonCarolyn M. Appleton, Inc.