Building a Website (Cost, DIY, SEO, Payments and More)
Need a website but don't know where to start? You're in luck. There are lots of ways to go about it.
Some business owners skimp when it comes to their site. They reason that their service doesn't need an amazing website or that an online presence doesn't really help that much.
But let's face it—we all make decisions about what brands we buy from and what stores we visit based on the look and feel of their websites. A good site makes you look professional and legitimate. Don't skimp!
How Much Does a Website Cost?
Ah! The internet-age-old question. The answer? It depends.
But here's our disclaimer: You should always try to budget for a website. Design is an industry where you get what you pay for, so having even a modest budget set aside for your website should be a high priority. (Approximately ~$2000 to start).
We recommend hiring a designer if you can afford it. A good designer will assess your needs and deliver a solution that meets them, all the while considering things like conversion optimization and user experience.
The best way to approach a website for your business is to first determine what you'll need the site to do. What are your goals?
If you're primarily looking for a website to give your customers a way to get your prices, your menu, your office hours, directions to your office, or other basic information then the effort and cost will be less.
To figure out where you fit, consider these factors:
The scope of the site:

Do you only need to tell your customers your hours, prices and give them directions to get to you?
Do you need a way for customers to get in touch with you?
Do you need to sell something/process payments online?
Does your website require users to log in and create an account?

The rate of the designer and developer (or agency) you hire. In the Boston area, many freelance designers go for $55-200 per hour. Some offer fixed rates. Prices go up fast once more development gets added in.
Whether you can do it yourself. If you have an itsy bit of technical skill and your website doesn't need too many complicated features, you can probably build a site on your own.
How quickly you need the site to be completed. A designer or developer needs at least 3 weeks for a 3-7 page website.
How much copy and content writing you'll need. It may seem easy to write the site yourself, but experienced copy and content writers can help you optimize your site for conversion as well as SEO.
The Do-it-Yourself Route
If your needs are relatively basic, build the website yourself.
WordPress is a very simple way to manage your own site. With sites like Woothemes, Themeforest, and ElegantThemes you have plenty of affordable themes available to give your business a unique look. Squarespace is also a great option for beginners looking to build their own sites.
WordPress is an open-source platform, unlike Squarespace. That means Squarespace is easier to use, but tougher to customize. If you're curious about the differences between the two, check out this comparison on Website Builder Expert.
Wordpress Site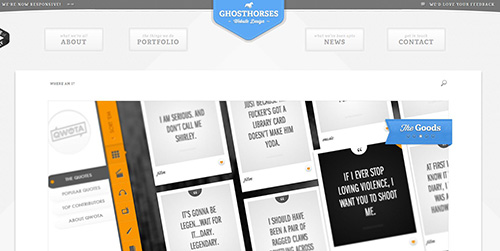 Squarespace Site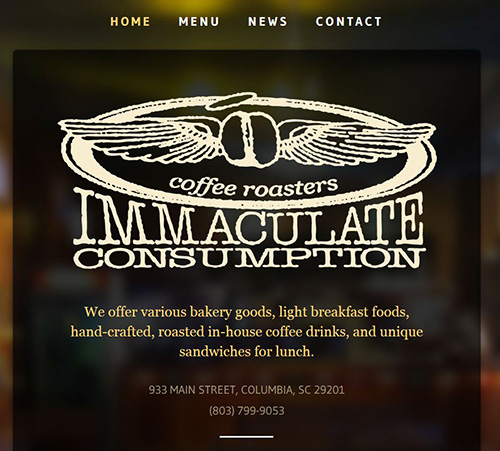 www.immaculate-consumption.com
Note: Both WordPress and Squarespace have MANY themes to choose from.
WordPress and Squarespace themes are designed to work for as many people as possible, not tailored to your business or customers' needs. These sites work well to test a proof of concept, but once you gain traction you way may want to invest in the skills of a designer or design firm.
Selling Products or Services on Your Site
If you're looking to sell your products and services directly on your website or process payments, things get slightly more complicated. Sites like this fall under the e-commerce category.
When you receive payments, you have to comply with state and federal laws, which makes the whole thing a bit more difficult for developers.
Fortunately, a lot of products and services have emerged to help e-commerce owners sell their goods online.
Check out (haha!):
You could also turn to hosted e-commerce solutions such as Shopify or BigCartel - these sites provide you with everything you need to build an online store. Squarespace also has a pretty great ecommerce option. These sites host the entire site for you (and even handle the payment processing), but they require a monthly fee that scales based on the number of products you're looking to sell.
If Your Website Is Your Product
You know how you have to log in to Gmail to get your email? Well, if your product is a web application or requires your customers to create an account to interact with your product, you'll need a website that's substantially more robust.
If you're trying to compete with other Software as a Service (SaaS) businesses you'll need a superb user experience to separate yourself from your competitors.
If your website is your product, it will be significantly harder to set up your services. This is one of the reasons a lot of business developers try to find technical co-founders, as these are the people who have experience putting together divine UX and UI.
If you don't have a technical co-founder, you do need a really good designer or developer you can trust. Finding a good designer or developer can help you provide the best possible experience for your customers. They're not cheap, but they're well worth it.
Conversion Optimization and A/B Testing
The internet has made room for a whole new psychological science called conversion optimization. Basically, this means tweaking and changing things on your website to encourage people to sign up, buy, or click.
If you change the color of a button on your website, you might see signups increase. But conversion optimization isn't just for sign ups. A conversion might be someone opting in to your newsletter or downloading an eBook or guide. Optimizing your site can help you generate leads, get more people to buy, and figure out how to price your products.
Thankfully, there are tons of tools that can help you A/B test the colors of your buttons, the copy on your pages, and the layout of your site. (A/B testing just means you test two things against the other to see which gets the best results).
Here are a few:
Optimizely – Optimizely lets you track engagement, clicks, conversions, sign ups, and whatever else you need. Starting at $17 per month.
Crazy Egg – Crazy Egg's heatmap software will help you figure out what parts of your site are successful and what parts aren't. Prices start at $9 per month.
Unbounce – Test your landing pages with Unbounce's easy to use A/B testing software. Prices start at $49 per month.
Sometimes testing leads to surprising (and extremely useful!) results. Don't rely on a gut feeling or intuition. Instead, test.
SEO and Search
Getting Google to recognize you may seem harder than climbing Mount Kilimanjaro, but being a top search result can position your brand above the rest (literally).
SEO has a bad reputation of being spammy, but search engines are getting smarter. If you want to appear in search results, you need to create authentic, helpful content that gets attention. Black hat tactics (yucky ones such as paying for links) are getting punished by Google.
Wondering how you can take advantage of search?
Create Compelling, Informative Content It's not enough to have some words up on your site. Your content needs to be compelling, informative, and strategic. Think of it this way: If you're selling hot tubs and you create a blog post on whether to choose bromine or chlorine as a chemical treatment, you'll catch the attention of hot tub buyers, who in turn might buy from you. Your audience might search "bromine vs. chlorine" and be led to your site. Providing great resources might mean hiring a writer or contracting a freelancer.
Try and Get People Linking to Your Site If people link to your site, you'll get traffic, but you'll also acquire SEO value. The higher the value of the site that links to you, the more power it has. Need some link building strategies? Check out this awesome list of link building strategies by PointBlankSEO.
Have a Fast, Well-designed, Professional Website SEO is another reason you need a fast and professional website. The faster your site, the more Google will like it. A spammy-looking, shoddy site is unlikely to be the favorite of any search engine.
Get to Know Google Know what Google's webmaster best practices and quality guidelines say. If you want to get the most traffic you can from the U.S.'s biggest search engine, it's important to know what will work well and is considered acceptable practice. Ignorance is not an excuse with Google.
Read Up On SEO We believe that Moz's Beginner's Guide to SEO is one of the best resources out there when you're just getting started with SEO. It will help you understand how search engines work, why search engine marketing (SEM) is necessary, and how to do keyword research. The rest of Moz's resources are worth a read, too.