Being in the business of providing 800 numbers, we love to see what other people are using, especially when it comes to vanity numbers. Vanity numbers are a great way to market your business and help your customers find, contact and remember you.
Most of us are familiar with big names like 1-800-FLOWERS, 1-800-CONTACTS or 1-800-MATTRESS but there are so many other numbers out there, creative ones. Since it's Friday we thought we'd have a little fun and show some of the lesser known 800 numbers out there.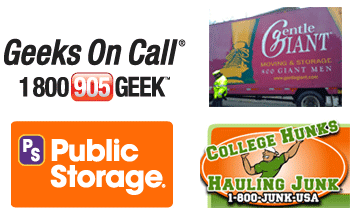 Here are 5 of our favorite 800 numbers:
800-Giant-Men The Gentle Giant moving company sure knows how to grab our attention.

800-Virus-No McAfee makes it known just what their product does. Backwards but you still get the point.

800-Junk-USA College Hunks Hauling Junk found just the right 800 number. Unless of course they used 800-Junk-Hunks

800-44-Store Public Storage may not have gotten the exact vanity number they were looking for but you get the point and it's easy to remember.

800-905-Geek Geeks on Call can help you get your computer or IT issues fixed in a hurry. More importantly, they aren't afraid to admit they are geeks and their 800 number proves it.
Go Toll Free with Grasshopper's Virtual Phone System
Get a local or toll free number, call forwarding, voicemails transcribed, unlimited extensions, and more!
Plans starting at $12/month
Funny 800 Numbers
Just for a laugh, here are 3 funny vanity numbers that made us giggle:
800-RU-Mouse Mouse Systems Corp.

800-IGo-HoJo Howard Johnson's

800-Dog-Poop a poop-scooping business
What other 800 numbers out there stand out in your head?