Plenty of startups have come and gone during the last decade. But how many of them made a lasting difference? The early 2000's were full of 'me too' companies whose only value was doing the same things under new names. Yet amidst the sea of sameness, a handful of startups were truly disruptive, literally re-writing the rules of entire industries.
Unlike the copycat companies, the world could truthfully be called a different place once these startups flourished.
Napster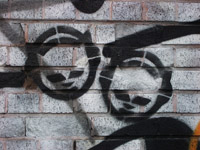 Prior to 2000, the music industry was firmly rooted in old-school ways. You want a CD, (a CD!) you buy one from a store. As far as the average record executive was concerned, this is how things would stay ten or fifteen years into the future. But as we all now know, Shawn Fanning had other ideas. The young student coded the first version of Napster from his dorm at Northwestern University in Boston. It was the world's first widely used MP3 downloading service (25 million users at peak) and forever changed the way customers thought about buying music.
Of course, the music industry had no intentions of quietly allowing this transformation to occur. Napster's heavily publicized battle with Metallica (written about by Wired in 2000) was a major contributor to the service eventually being driven out of existence by court order.
Wikipedia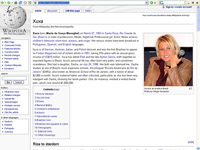 Although not a startup in the for-profit sense, Wikipedia has arguably transformed the world more than any other company on this list. It began with the seemingly impossible and never-ending task of creating a user-generated encyclopedia. Rather than simply publishing existing material to the web, founder Jimmy Wales wagered that the accumulated wisdom of the masses would eventually fill a new, more comprehensive and dynamic resource.
Nine years after its 2001 founding, Wikipedia has done exactly that. And while critics say a website 'anyone' can edit is automatically untrustworthy, a 2005 study (per CNet) found that Wikipedia is nearly just as accurate as Encyclopedia-Brittanica.
Kazaa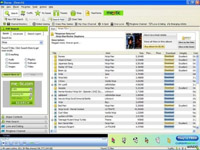 The record industry hoped that 'this whole Internet thing' would cease threatening their business model once Napster was extinguished. But by 2001, Swedish entrepreneur Niklas Zennström had cooked up their newest headache: Kazaa. In many ways, Kazaa was the next evolution in peer-to-peer music and file sharing. Unlike Napster, which relied on a central server to facilitate music trading (and could thus be shut down by legal decree), Kazaa used a completely decentralized protocol called FastTrack.
In plain English, this meant that everyone using the network was the network. The simple act of their computers being on kept Kazaa alive, and prevented any one person from taking it down. Sharman Networks (to whom Kazaa was eventually sold) was ordered to stop producing new versions in 2005, but the older Kazaa software still functions today. All told, the software was downloaded over 120 million times.
Skype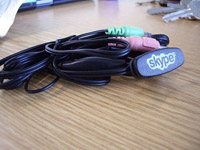 By 2003 (having sold his interest in Kazaa) Niklas Zennström had begun his latest disruptive venture. Aimed at applying FastTrack-esque P2P technology to the communications industry, Skype was released in 2003 as a free download enabling two people anywhere in the world to have online voice chats for free. Despite gaining plenty of buzz, Skype was unsuccessful early on, struggling to find and retain users.
But the Skype team focused hard on improving service quality, and by 2005, eBay completed a massive $2.5 billion acquisition of the company. Although eBay has since re-sold the company to private investors, Skype now boasts over 550 million registered users. By late 2009, Reuters reported that the company was gearing up for a $1 billion IPO in 2011.
Digg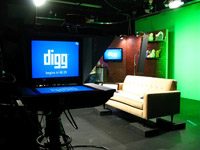 Digg began in 2004 with a simple premise: why should the world's news be chosen by corporations and TV producers? Founder Kevin Rose saw an opportunity to fundamentally change how top stories reach the public by letting users themselves vote on the biggest news. It works like this: ordinary people submit their favorite stories of the day to Digg, and the rest of the Digg community 'votes' them up or down.
Stories with the most votes, roughly speaking, reach the top of the page for everyone to see. Today, Digg is one of the 150 most visited sites online according to Alexa and receives over 8.5 million visitors per month.
Facebook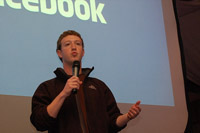 More than a few social networking portals came and went between 2000 and 2010. Every one of them (from Friendster to MySpace) believed themselves to be a lasting force that would come to define the industry for years. But in 2011, only one of them stands tall as the true, undisputed giant. Founded in 2004, Facebook has not only outlasted and thoroughly defeated MySpace, but has actually become a symbol of modern culture with over 500 million users.
In March 2010, Facebook briefly received more hits than Google. In October, the company was featured in a highly acclaimed movie - The Social Network- that will, in all likelihood, win Film Of The Year. Sometime in 2011 or 2012, the company figures to go public - the first and only social network to IPO.
Netflix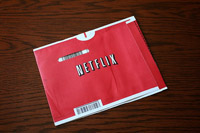 The thing most disruptive startups have in common is that they spotted inefficiencies in their industry and used the Internet to eliminate them. In a nutshell, this is what Netflix did to home video rentals. Rather than forcing people to drive to video rental stores, Netflix introduced on-demand video streaming. The company also offers flat-rate home delivery of just about any movie title imaginable.
Thanks to Netflix, late fees became a thing of the past and movie watching has become more convenient than ever. Today, it is widely speculated that Blockbuster (the long-time industry leader) is in severe financial trouble and that its days are numbered.
YouTube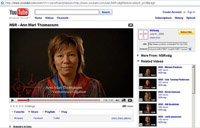 Founded in 2005, YouTube has created an entirely new path to stardom for ordinary people with talent and dreams. Started as a relatively simple website where anyone could post their videos, YouTube has grown into a worldwide phenomenon that has literally given birth to a new generation of celebrities. Justin Bieber, for instance, launched his entire career by posting YouTube videos of his childhood singing. Countless others have used the site to propel themselves into the limelight.
Today, though, YouTube hosts much more than home-made film projects: music videos, interviews, documentaries and just about every type of video imaginable. In 2006, Google snapped up the young company for $1.6 billion.