Getting Started with Call Tracking
Call tracking can tell you which marketing and advertising campaigns are making people pick up the phone and call. At first, this doesn't seem like a big deal, but the ability to understand how your callers find you can result in huge gains in sales. This can help you better spend your marketing budget, understand what channels are truly effective for your audience, and figure out which campaigns result in the most sales.
Understanding Call Tracking for Print Materials and Online Efforts
You can track calls for print marketing efforts. Ads on billboards, flyers, direct mailings, and business cards generate phone calls. Tracking print channels helps you better understand offline efforts. Call tracking with print is limited in scope-- you can get separate numbers for each material, then track those calls.
Online call tracking can go deeper, connecting with Google Analytics, marketing automation systems, customer relationship management (CRM) tools, and other paid ad campaigns. It can allow you to see which keywords perform best for PPC campaigns, as well as which channels lead to the most conversions. All this information can help you improve the ROI on your online marketing and advertising campaigns.
Determining Where You Can Use Call Tracking
To leverage call tracking, you have to determine where it fits in your business model.
To start, think of everywhere you show your business phone number, online and off. It's on your website, your social media pages, your business cards, and in your ads. It's even in sneaky places like your email signature. If you send out print mailings, it's on those materials, too.
To figure out how you can use call tracking, make a list of all the places your phone number is currently displayed. In another column, make a list of places where your phone number could be displayed in the future (this can include things like different pages of your website, business cards, or paid ads).
Download as PDF
Both of these columns represent opportunity. By putting different phone numbers in different places, you'll be able to understand which campaigns are working.
Multiple Phone Numbers
The most basic form of call tracking is getting multiple phone numbers. If you're a Grasshopper customer, you can get additional phone numbers for $5.00 each per month. Call tracking software providers also offer large amounts of numbers.
You can get as many numbers as you want, using them for different campaigns. If you start a brand new campaign, such as a radio campaign, then you can get a phone number specifically for that purpose. When someone calls, you'll be able to see that they came as a result of the radio campaign.
Don't go overboard. While it's nice to understand where callers are coming from, it can get out of control fast. If you buy too many numbers and put them everywhere, it will be difficult to extract meaningful data. Multiple phone numbers confuse search engines-- they can't figure out if you're a legitimate business or not. We recommend using one phone number for your online presence on sites like Yelp, Google, and Facebook, and one phone number for your website.
How to Set up Call Tracking
The simplest way to do call tracking is by looking at the dashboard where you manage your phone numbers. This is what this dashboard looks like for Grasshopper customers: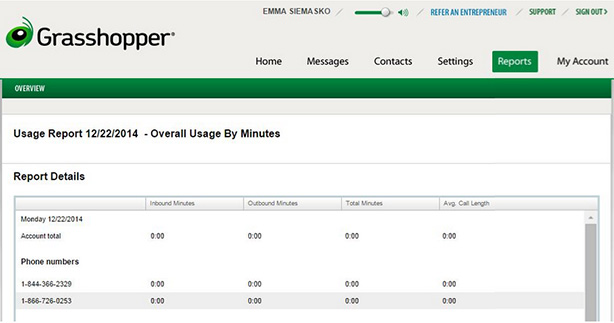 This method works well for small business owners with basic needs. If you need something more robust, you can set up more advanced call tracking using Events in Google Analytics or with PPC ads.
How Do I Get More Phone Numbers?
Don't worry. No matter your current phone provider, there are tons of options available.
You can get multiple phone numbers from Grasshopper. GROW, our most popular plan, comes with two numbers (either local or toll free) that can be forwarded to your regular business phone. You can buy additional numbers for $5.00 per month. You can use these numbers for Google Analytics, print, or PPC efforts, or use our interface to do basic call tracking.
You can also get numbers from companies that specialize in call tracking. Ifbyphone, CallRail, and CallFire are three of the most popular. Even Google AdWords and Bing Ads provide forwarding numbers.
Tracking Conversions Better
Ok, sure, so it's relatively straightforward to buy numbers for different purposes, but what about conversions?
It's 10x more likely that a phone call will lead to a sale than any other form of communication, so it's helpful to know where these phone calls begin, and which ones lead to sales.
For example, when someone visits your website and reads the marketing material, then calls the number on the website, they may be more likely to complete a sale than those who called after seeing a billboard ad. This information can change the course of your marketing: you might cease billboard ads and put more resources towards content, or you might change the content of your billboard ads.
Using Call Tracking to Increase Conversions & Sales
Tracking conversions and sales is nice, but increasing them is way better. Once you've purchased some numbers and set up call tracking with Google Analytics or other software, you can easily increase conversions and sales.
We've broken it down into five simple steps to show you how:
Step 1: Determine Where Calls Are Coming From
Are your calls coming from your email newsletter or your Yelp page? As best you can, figure out exactly where your calls are coming from. If you are getting a lot of calls from a certain city (or region), then it is worth a PPC test to target that region and use a local number in that area. You can also test this out with some specific Facebook targeting ads. You can also take this offline and have some city specific radio ads, billboards, events (host one there), or even direct mail flyers.
Step 2: Determine Quality of The Calls
Figure out which channels have the highest call quality. Maybe your billboard calls last longer than your PPC calls, but they don't lead to as many sales. Usually poor performance comes from not-so-great sales reps or low quality leads. You can use call scoring to figure out how your reps are doing.
Step 3: Analyze and Look for Reasons
Once you've figured out where the calls are coming from and how good they are, analyze the results and look for reasons. Why are callers who come to your Facebook page more likely to buy something from you than those who found you through a PPC ad on Google search?
Step 4: Consider Solutions
What would improve the current state of affairs? Using the knowledge you've gained, brainstorm ways you could improve. Hopefully you'll generate a long list of things to test.
Step 5: Implement New Solution and Repeat Process
Make some changes to your marketing and advertising, then repeat the process. See if your changes have made beneficial improvements.
Call Tracking for Sales Teams
Call tracking is useful to sales teams because it allows them to see what works and what doesn't.
Sales managers can use call tracking to measure the amount of calls they receive via assets from individual salespeople. For example. each salesperson can have their own phone number, which can then be used in their email signature and on their business cards.
You can also measure the amount of calls made by a particular salesperson, as well as their average call length from those calls, and the amount of conversions that came via phone calls.
If each salesperson has a different phone number, you can get an overview of this information in the Grasshopper dashboard: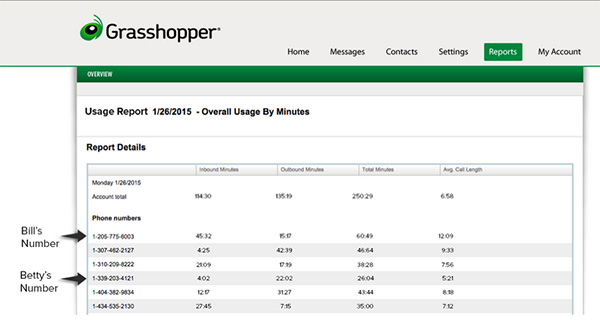 If you're looking for a more robust and integrated solution, then you can use call tracking with sales tools such as Salesforce and SugarCRM.
Leveraging Call Scoring & Lead Scoring to Increase Conversions
When your sales reps aren't doing well on the phone, you're not going to sell. Determining the quality of a phone call can lead to great insights that allow you to improve your conversion rates.
How do you know if a phone call went well?
Sales reps often use scorecards to determine call quality. After each call, they fill out a series of questions to make sure they've completed the call at a high level.
You can create your own scorecards to be filled out after each call. We've created a custom scorecard that is useful: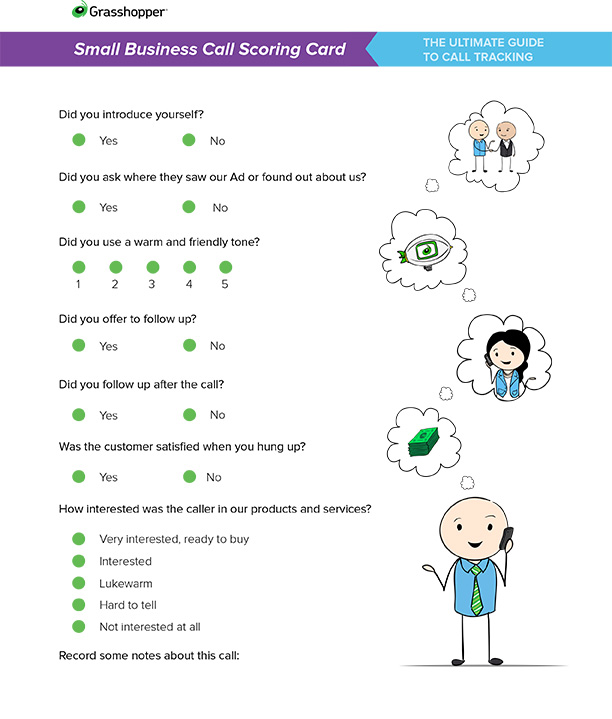 Download as PDF
It works the same way for lead scoring. Your sales reps should be analyzing whether or not the caller was a good quality lead. Once you're tracking your calls, this will help you determine if your marketing efforts are bringing in the right prospects.
Ask yourself:
Are the prospects ready (or close to ready) to buy?
Does the prospect understand the financial requirements of the purchase?
Is the person you're talking to the chief decision-maker for the purchase?
Don't get tricky. Answer these questions based on what leads say, not on your suspicions.
Once you have score cards filled out, analyze trends. Software like LogMyCalls can help you do this automatically, but you can do it on your own in Excel, or simply by looking for general trends. Are your sales rep always introducing themselves? Are your leads well-qualified?