Set up Call Tracking for Google Analytics
Google Analytics is the holy grail for tracking website visits. Bounce rates, clicks, overall visits-- the platform has it all for free. It has more features than a spaceship, and one of the coolest is its ability to track calls.
Why bother tracking phone calls with Google Analytics?
Google Analytics provides tons of data about your website that can help you make better marketing decisions. You can easily track calls that come from your website, figure out what devices prospects use, and learn where they're calling from. All of this information can improve your marketing.
Here, we'll show you how to leverage the platform and answer some of the most commonly asked questions about call tracking with Google Analytics.
Google Analytics allows deep insight into your marketing campaigns. Here are some tips on how to use this platform for call tracking.
Setting up Google Analytics
Many professionals already use Google Analytics to keep tabs on web tracking. If you're not using Google Analytics, simply install it on your website. It's free, easy to do, and well worth it, even if you're not using it for call tracking.
Here's a helpful video for setting up Google Analytics:
How Do I Track Website Phone Calls With Google Analytics?
Once you've got Google Analytics for your website, it's relatively easy to track website phone calls. In order for Google Analytics to track phone calls from your website, you need to:
set up Events and Goals (free) or
get an integration software (paid)
Events are user interactions that can be tracked independently from a web page. Don't know what we mean? Things like mobile ad clicks, videos, flash elements, and other components can all be tracked using Events.
Event Tracking
You can set up event tracking for a user who calls your phone number when they are using a mobile device. The benefits of using an event is that you are able to measure more interactions with your website than just the standard form fill thank you page.
You can break out the amount of phone calls you get to the exact source (direct, organic, social, email campaign, etc) and you have better understanding why you are getting phone calls to your business. This is great for any agencies who are working on SEO strategies for a client. Since you are not getting the phone calls, you can then break out the amount of leads organic actually brought in.
How Do I Create an Event in Google Analytics?
You'll need to have the phone number as a clickable action for a user. You'll basically need to inject a bunch of code around the phone number, so that the user's click will trigger an Event.
Unfortunately, Google Analytics will not give you the code to do this easily on your own. You (or a developer) will need to manually add this. Many small business owners and marketers elect to call on a developer to help them through this process.
For more information on how to make a phone number an event, visit Google's developer site. If you're looking for a developer to perform this task, find freelancers on Guru or oDesk.
Tracking Events as Goals in Google Analytics
If an Event represents a clickable action like watching a video or clicking a phone number, then what is a Goal? Goals are a way to measure how well your website meets your objectives. For instance, if that Event (clicking a phone number) leads to a conversion.
Whenever someone completes a Goal, a conversion appears in your Google Analytics account. You can give each Goal a price value so that some Goals are worth more than others.
The Goal will allow you to use even more data like Assisted Conversions and Top Conversion Paths in Google Analytics. These will help you better measure what sources help close and assist Goals.
If you only look at the source of a Goal, then you are only measuring the last click interaction. For example, you might not realize your social media campaign was the first interaction for a particular visitor. Perhaps the visitor only called your website because they've come from our Facebook page. Then they they decided to quickly type your web address in and come to your website which would be a direct visit. Then the event is triggered when the phone number was called, but it actually was influenced by the previous interaction.
You can also assign a different value to a phone lead than a form fill lead. This allows you to measure the same amount of visitors you got and which type of action they took to get in contact with you. If you know phone leads are more valuable, then you can assign a different currency value to that Goal. You can even run website changes on your site to either add more places where the user can call from, or even make dedicated PPC landing pages with an A/B test with a phone number v.s a form fill.
Here's how to create a Goal in Google Analytics: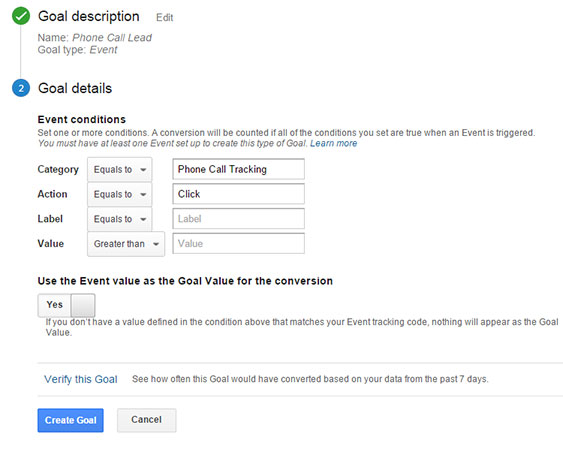 Using Google Analytics Data for Call Tracking Optimization
Google Analytics won't be useful unless you can understand the data and make changes based on what it shows. Here, we'll show you how to understand Events, Goals, User Location, and Devices so you can make positive changes for your marketing plan.
Seeing the Results in Google Analytics
To check out your Events in Google Analytics, simply visit the Events Report menu under the Behavior category in your dashboard.
To see how your Goals are performing click Conversions > Goals and you will be brought to a dashboard where you can see a report: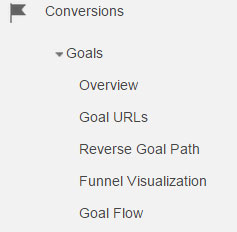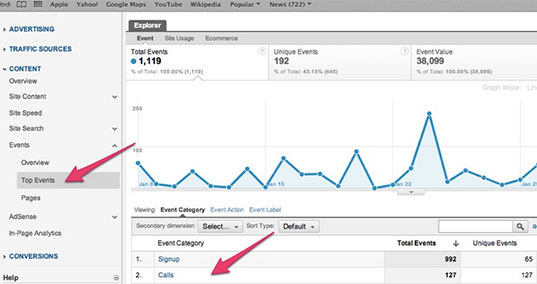 User Location / Goal Conversion
Google Analytics helps you understand where your audience lives. You know, like if they're calling you from Tucson or Detroit.
If you notice that you are getting a lot of quality visits and conversions from a particular location, you can cater your marketing to that area. For example, you might opt for a local number rather than a toll free one, and start to include city names in your marketing.
You can experiment with a local phone number that targets that region in AdWords. You can run these tests in a platform like Google AdWords or Bing Ads and A/B test a local number in the call extension vs. a toll free number. You can even A/B test the ad copy to include their city location to help improve your AdWords quality score.
Google Analytics Location Breakdown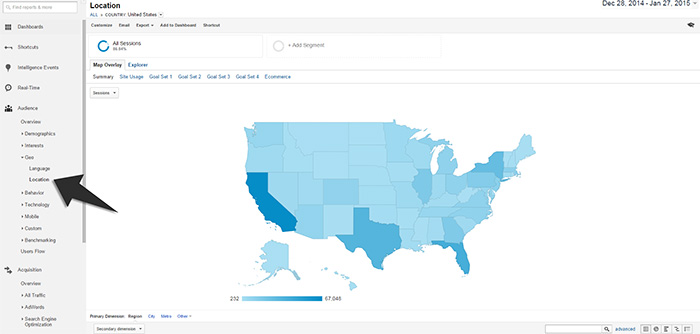 Device Targeting
Samsung Galaxy, Apple iPhone, or something else? Google Analytics shows you which devices visitors use.
This is how you view the mobile device section in Google Analytics: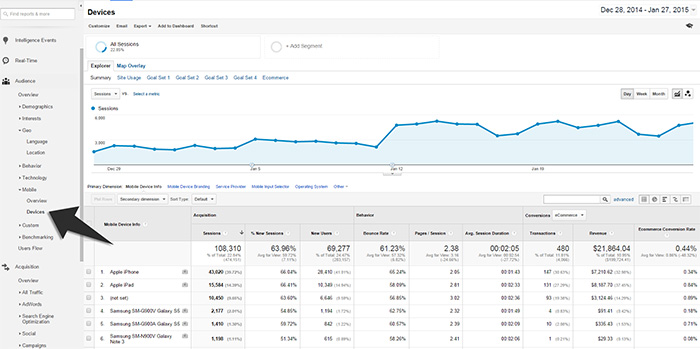 If you notice that your visitors favor particular devices, you can absolutely target that device. For example, you might make sure that your phone number is large and prominent on iPhones, as that's where people usually call you from.
You can use this info in Google AdWords, too, by creating a new campaign that specifically focuses on the Display Network only.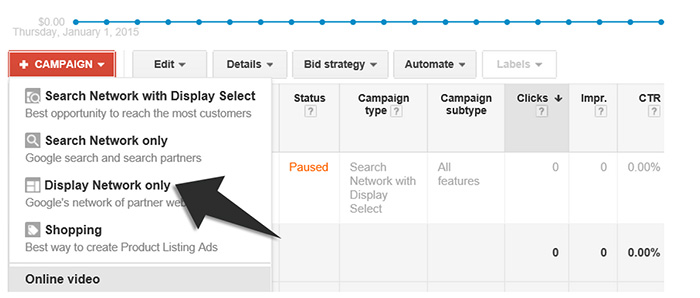 Once that is created, you want to pinpoint the exact mobile device that you want to target. See the 2 images below: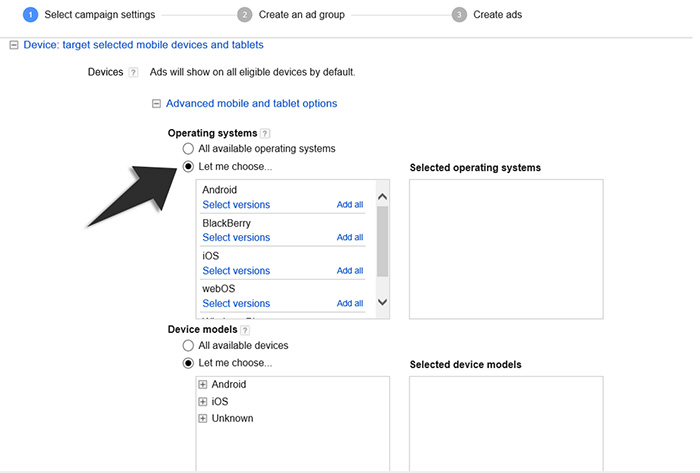 Notice this image below where you can say which Apple iPhone device you want to target. Since this is mobile, you can add the call extension to the display ad. With the Google Analytics section above, you can find out which Apple iPhone device brings in the best visitors.
In the Display Network, you can specifically target these devices: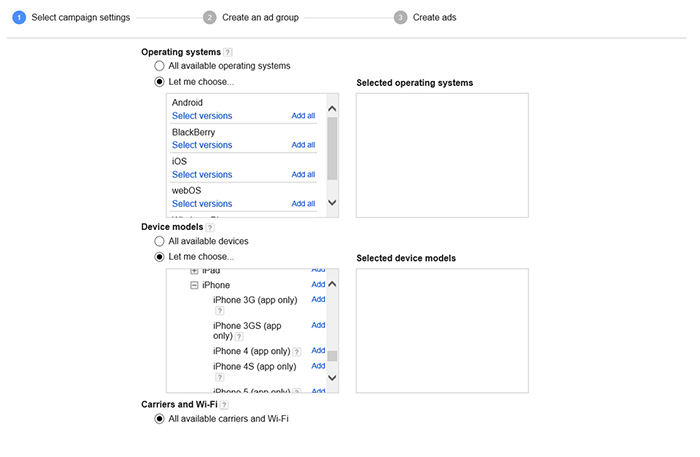 Using a Google Analytics App Integration to Simplify Call Tracking
Call tracking with Google Analytics requires a fair amount of coding. It can be complex and confusing. Thankfully, many custom apps help solve this issue. Some of the most popular are Infinity Call Tracking, LogMyCalls, Call Convert by Century Interactive, and Easy Call Tracker.
What Do These Apps Do? How Do They Sync with Google Analytics?
Call tracking apps are all different, but they work in similar ways. Usually, you have to visit the app's website and sign up. Then, you have to create a new profile in Google Analytics. In the app's dash, you can visit the Google Analytics integration page and enter your Google Analytics ID number as well as your profile name. Then, when a call comes through, a pixel-fire request gets sent to Google Analytics with the data. This information will then appear in your Google Analytics dash.
These apps integrate pretty seamlessly with Google Analytics. They can track every visitor to your site and even allocate unique phone numbers to each visitor while linking this number to their Google Client ID (their identity to Google). Then, when a call occurs, all the call information is immediately sent to Google Analytics.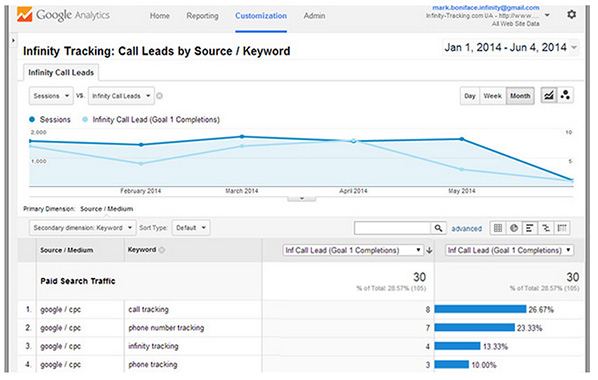 This video provides a helpful explanation of how Infinity Call Tracking works:
How Much Do They Cost?
Call tracking apps range from $50 per month to hundreds of dollars per month, depending on your call volume and the number of features you need. Visit Call Tracking Resources, Integrations, and Software Tools to learn more about pricing, ease of use, and which software is right for you.
Google Analytics Seminars and Training
Google Analytics is widely used by business owners and marketers, but that doesn't mean it's simple. If you're struggling to understand the platform and leverage it for your business, attend a seminar or training event. These seminars are massively helpful, even if you're very experienced.