Call Tracking Resources and Software Tools
You can do call tracking on your own with Google Analytics and PPC, as well as with the Grasshopper dashboard. While Grasshopper doesn't directly integrate with other platforms, you can facilitate call tracking with your Marketing Automation System and Customer Relationship Management (CRM) tools as well. This gives you further visibility into the strength of both your phone calls and your campaigns.
Call Tracking with Marketing Automation Systems like HubSpot, Marketo, and InfusionSoft
Marketing Automation Systems are software platforms that help marketing departments effectively leverage multiple channels such as email, social media, content marketing, and others. Some of the most popular for small and medium-sized businesses are HubSpot, Marketo, and InfusionSoft.
How Does Call Tracking Work with Marketing Automation Systems?
Excellent question, but there isn't an easy answer. Each tool is unique, so implementing call tracking is different with each system.
Call Tracking with Hubspot
Inbound call tracking is incredibly easy to do with HubSpot. If you're a HubSpot user, you can simply visit HubSpot's App Marketplace to find and download the HubSpotRingRevenue App. Then, you'll need to install a simple piece of javascript on your website, and then tag the phone numbers that you want to track.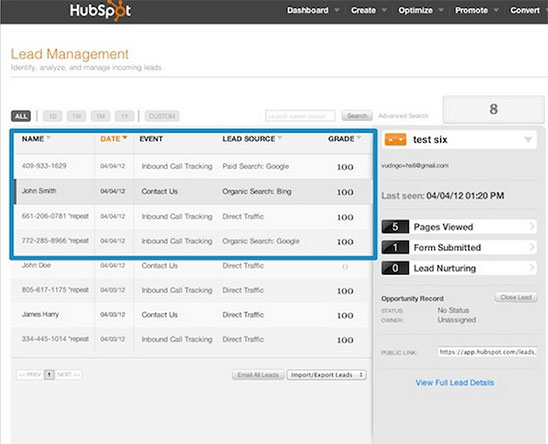 Call Tracking with Marketo
Marketo does not offer their own app for call tracking. Instead, they recommend three software tools that integrate seamlessly with the platform: Ifbyphone Invoca, and IOVOX.
If you're a Marketo customer, simply visit LaunchPoint, a library of apps that integrate seamlessly with Marketo, and search for call tracking.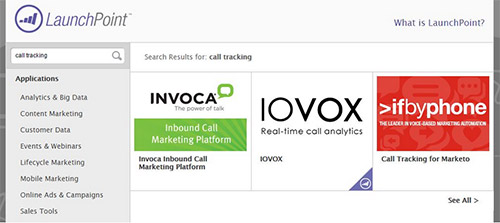 Here, you'll find:
To begin using any of these platforms, you'll need to contact someone who can set you up. Simply request a demo, and your team at Marketo will get you set up.
Call Tracking with InfusionSoft
InfusionSoft is half Marketing Automation System and half CRM. Like Marketo, InfusionSoft does not have its own call tracking app. If you don't know how to code, the best option is to use Zapier to automate call tracking between Call Tracking Metrics and Infusionsoft.
Zapier allows you to connect two apps (in this case, Call Tracking Metrics and Infusionsoft) to automate them.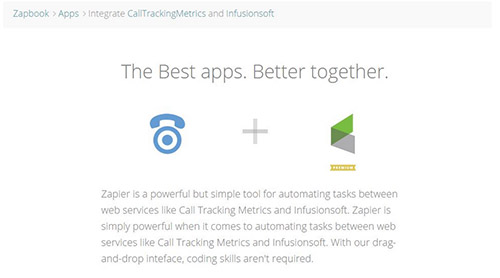 Call Tracking with CRMs like Salesforce
Integrating call tracking with your CRM is more than worth it. This integration will help you keep tabs on important conversations, helping you create better, more sustainable relationships with prospective and current customers.
Many integrations allow you to tag recorded calls to customer conversations, as well as adding Click-to-Call options within your CRM dashboard. Some integrations allow you to create and edit new leads whenever Events are triggered in Google Analytics.
How does Call Tracking work with Salesforce?
Call tracking is innate in Salesforce. Any time someone makes a call they can log it in a variety of different ways, putting notes to later analyze them. Salesforce also has appexchange partners that integrate with Salesforce for more advanced call tracking.
If you visit Salesforce's appexchange and search for call tracking, you'll see a wide array of tools. Here's a table outlining the most popular, along with their prices:
| Call Tracking Software That Integrates with Salesforce | Price Per Month (Plus Cost of Salesforce) |
| --- | --- |
| | free |
| | free |
| | $30 |
Call Tracking with Other CRMS
Insightly, SugarCRM, Zoho-- the list goes on. There are tons of CRMs besides Salesforce. Most can leverage call tracking, though you need some software solutions or a developer that can integrate an API. Here are some solutions that can help seamlessly integrate call tracking with your CRM. Before you know it, you'll be on your way to better visibility.
Integrate with Zapier
Zapier allows you to connect two apps without code, and it can be used to integrate your CRM with a call tracking solution. Zapier connects call tracking solutions such as Analytic Call Tracking to hundreds of apps. These include CRMs such as InfusionSoft, Zoho, and Salesforce, as well as Facebook pages, Wordpress accounts, DropBox, and email marketing tools.
Call Tracking Software Solutions: What They Are and How to Choose
This tracking stuff is complicated, and it gets worse as you go deeper. That's why there are tons of software solutions to help. These solutions provide tons of phone numbers and all integrate with existing call tracking efforts in Google Analytics and AdWords. Some have additional features such as call scoring cards and easy integrations with CRMs.
We're big fans of the solutions that integrate with Google Analytics as official partners. We've put together the top five solutions to compare and help you make a choice:
| | Infinity Call Tracking | LogMyCalls | Call Convert | Ifbyphone | CallRail |
| --- | --- | --- | --- | --- | --- |
| Pricing Per Month | As little as £100 per month and 12p* per call in the UK* or $150 a month and 20 cents* per call in the US. * Volume discounts apply of 5,000 calls per month. | $69 (Pro), $199 (Performance), $699 (Value), Custom (Volume Pricing) | $25 + 12 cents per minute + $2 per number. If over 30,000 minutes, price is reduced to 8 cents per minute. | $100 (Starter -- no keyword level tracking), $250 (Pro) | $30 |
| Ease of Use | Easy | Super Easy | Intermediate | Intermediate | Super Easy |
| Features | Website Tracking, Call Tracking (to Keyword Level), Conversion Attribution, Google Analytics and Adwords Integration, Network Data (Cost, Clicks, Impressions, etc.), Offline Call Tracking, Call Recording, Missed Call Email Alerts, Announce Marketing Channel, Announce Call Reference, Operator Call Rating and Sales Data Capture, Configurable Sales Capture Scripts, Reporting API, CRM Integration | Multiple Users, Phone Numbers, Call Tracking, Reports, Adv. Call Routing, Conversion Analytics, Call Recording, PCI Compliance, Call Scoring, Goal Monitoring, Dynamic Numbers, Google Analytics, Data Append, Scheduled Reports, Access Management, API & Webhooks, Co-branded App, Included Minutes | Inbound Call Tracking, Recorded Outbound Call Tracking, Integrations & Open API, Keyword Level Website Call Tracking, Call Coaching, Human Call Categorization, Dynamic Call Routing | Call Tracking, Unlimited Numbers, Website Display, Integrations, Keyword Level Call Tracking, Call Tracking Reports, Call Tracking Data for A/B Tests, Tag Management Platform, Basic 1-to-1 Call Tracking, Hosted IVR, API & Pre-Built Integrations | Local Numbers, 500 Minutes, 100 Text Messages, Unlimited Clients and Users, Call Recording, Dynamic Number Insertion, Campaign-Level Tracking, Keyword-Level Tracking, Multichannel Attribution, Call Dashboard |
| Our Review | Infinity Call Tracking is the top-rated service for Google Analytics integrations. The UK-based company provides tons of features, but prices are steep. It's a good solution for mid to large-sized businesses who are looking to dig deep into call tracking. | LogMyCalls wins for user-friendliness. Even the content on their website makes call tracking approachable and easy to understand. They're very transparent, allowing you to look under the dash at things like custom lead scoring cards before you splurge. Plus, we're a big fan of animal mascots, and LogMyCalls has a super cute beaver. | Call Convert customers love this solution, claiming that the customer service is top-notch and extremely helpful. It has a good balance between ease of use, number of features, and price. | Ifbyphone is one of the oldest call tracking companies out there-- and that's good and bad. The company has every imaginable feature, which is great if you're advanced, but can be overwhelming to call tracking beginners. Because the software is so robust, it is more expensive than other solutions. | CallRail is the Staples "Easy" Button for call tracking, making it a great choice for busy small businesses. It's a great value for what it gives. However, Call Rail does not have as many features as Ifbyphone or other solutions. |
Testimonials and Success Stories from Call Tracking Users
We use Callfire.com for call tracking. We do it so that we can identify which advertising methods are most effective - e.g. we might run a few ad campaigns trying to get calls, so we will set up a different number for each campaign to see which one generated more leads. It's very cheap, $3/month/number plus some minimal costs per minute. Kenny Kline, serial entrepreneur and partner at JAKK Media.
We use call tracking at our Ashford Green, Canyon Resort and Elliston 23 rental communities. The purpose of the call tracking is to be able to differentiate phone leads that come in through various online marketing efforts to our website, such as PPC and organic traffic. Beforehand, there was no benchmark on tracking the traffic that came to our website. Overall, this has been a great strategy for our company. Ryan Ernst, Communication Director at The Connor Group
Here's a call tracking success story: We had a campaign going in an area heavily affected by snow this winter. We had a franchise branch that typically markets mostly to the west of his location because that is where most of the population for his service area resides. The storm was happening all over his service area, but the worst effects of it were occurring slightly to the east of his branch office, and so we determined through our call tracking system from customers there that we needed to geographically redirect the marketing for the area to the east instead of emphasizing on the west. Within the course of a day we had to pause his online marketing campaign because he was booked solid with jobs. Al Ruggie, 911 Restoration
Call Tracking Resources
Why Call Tracking? - These resources demystify call tracking and explain why it's worth it.
Call Tracking Techniques - These resources elaborate on certain call tracking techniques to help you improve existing efforts.
Call Tracking for Local Search - These resources help those interested in local search to leverage call track tracking.