Set up Call Tracking for PPC
Online search is growing and growing. People are using search engines to find local puppy trainers, dating tips, and call tracking advice. Google now processes 40,000 searches every second.
But how do Google and Bing, the two biggest search engines, make any money?
It's simple: Pay-Per-Click (PPC) Ads.
Companies like yours are shelling out money so that when someone searches "mechanic in Oregon City," their business appears: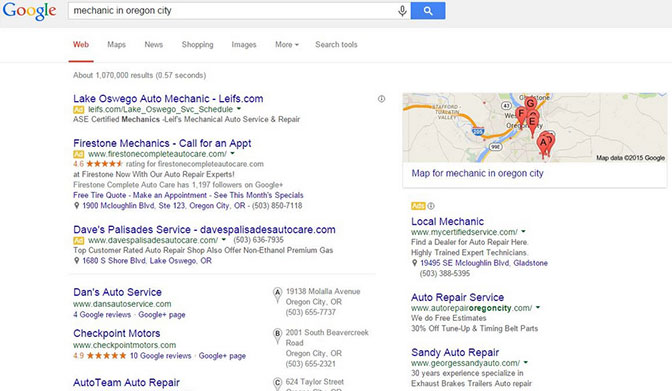 Companies are now using call tracking to figure out which PPC ads are working. Call tracking is incredibly easy to set up when it comes to PPC, for both Google and Bing.
In this section, we'll explain how to set up call tracking for Google AdWords and Bing Ads and answer many commonly asked questions.
Call Tracking with Google AdWords
If you don't have a Google AdWords account, it's time to get one. It only takes a few minutes to get started, and Google provides free phone and chat support to guide you along. If you're not already using AdWords, you can sign up here.
To set up call tracking in AdWords, you'll need to set up the Call Extension Tab within your Google AdWords account.
To do this, click on Campaigns → click on the Campaign or the Ad Group where you want to add call tracking → click on Ad extensions.
Once you have clicked on Ad extensions you need to change the view: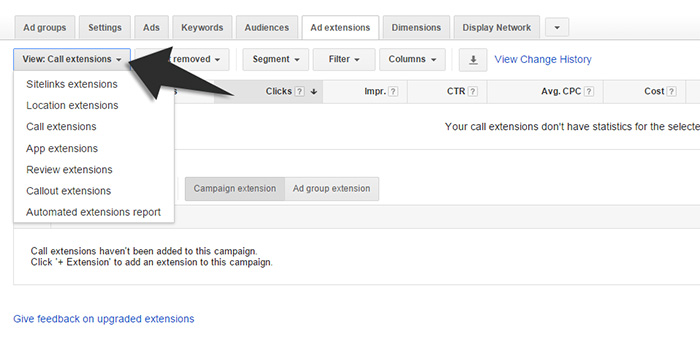 Then, you'll need to click on Call extensions to set up a toll free number in Google AdWords: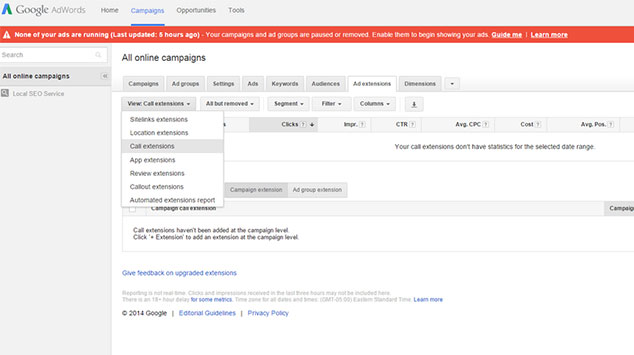 Now, click on + Extension → Select your Campaign → press done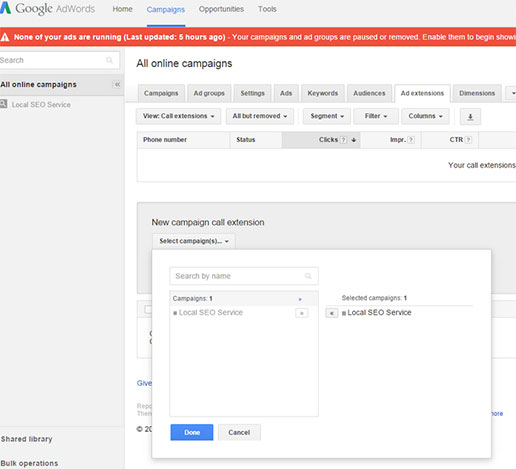 After clicking done, a box will appear with the words + New Phone Number: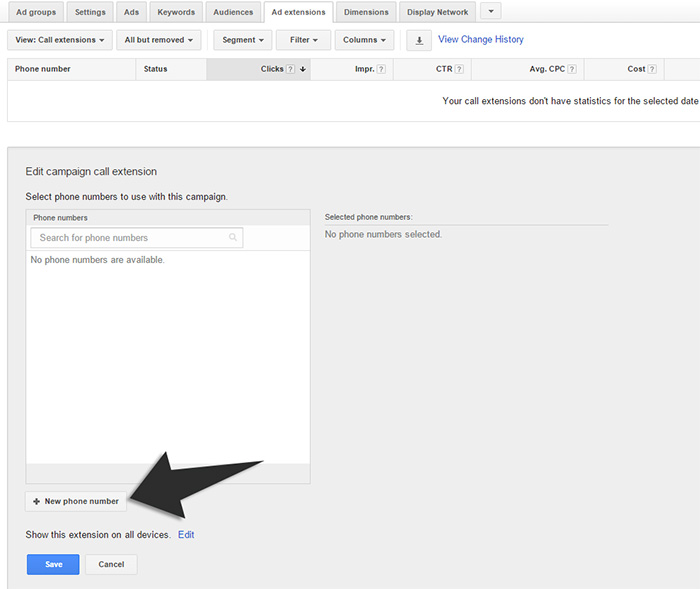 Here you can change your settings for your phone number. Google AdWords provides forwarding numbers, which are just numbers that will forward to your business line. These numbers are free, though you will be charged as usual when people click on the ad or click on the number from a mobile device.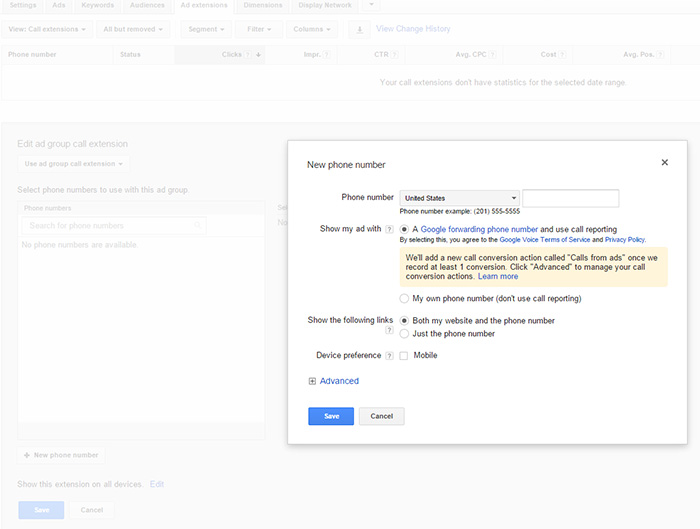 Voila! Nice work. Press save once you are satisfied.
What is a Google Forwarding Number?
A Google Forwarding number is a free Google number that appears on your website after someone clicks on your ad (available in the U.S., Australia, France, Germany, Spain, Sweden, and the UK only) . This phone number will replace your business phone number for people who clicked on the ad. The number might not be the same for every user, but the the calls will be tracked.
How Do I Properly Set up this Tracking?
Google calls this conversion tracking, and provides a helpful and comprehensive guide on how to set it up. It's pretty simple. Basically, you'll need to sign into your AdWords account, label the conversions you want to track, and add a snippet of code to your website. Depending on how technical you are, you may be able to add this code yourself. You might need to find a developer to help you out.
How do I add a Call Only Ad in Google AdWords?
Under the campaign setting in Google AdWords, you need to to click on the ad add box. It will look like this below.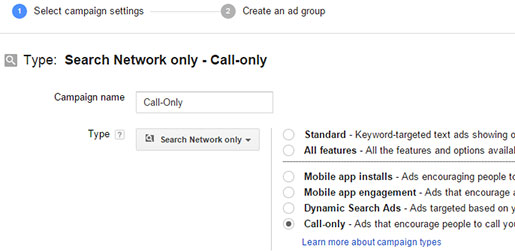 You will need to click on the Call-only Ad setting tab.
You will then fill out the information like you normally would for a regular Google AdWords ad. The benefit of using this is that you are only focused on receiving phone calls from your Google AdWords.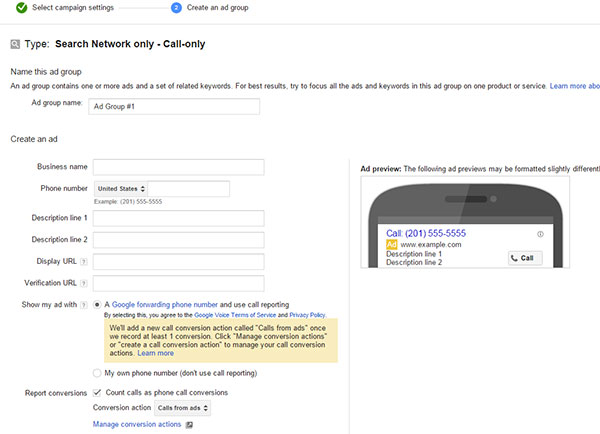 Sync AdWords and Google Analytics Together to Pass the Data
For your call tracking to run smoothly, you'll want to sync your AdWords with your Google Analytics account. Set this up correctly so you don't mess up your Google Analytics dashboard reports. If you don't properly link the two, then your Google Analytics will not report out paid search visits. Instead, your data from paid will be grouped into organic visits.
If you already have AdWords linked to Google Analytics and Google Analytics linked to AdWords, then you are all set. If they're not linked, read on:
Syncing in Google AdWords
Click on Settings (wheel icon) at the top right of your Google AdWords account:

Now, click on Google Analytics to link your AdWords and your Analytics account together. Make sure to use the same email address that also has access to your Google Analytics profile.

Right after you click on Google Analytics you will see a list of profiles to connect. Simply click on the name of the profile, then save. You'll know you've connected once you see the Selected Views listed on the right.

Syncing in Google Analytics
To sync from Google Analytics, go into your Admin console. Under Property, click on AdWords Linking.

After you click on AdWords Linking, you'll see this screen:

Again, make sure you are using the same email as your AdWords account. It makes this process much easier and faster.
Make sure the AdWords account number matches up to your profile. Once everything looks good you can click on Done.
Here is a snapshot showing that the account number matches to the Google AdWords account:

Here is the step in Google Analytics below to connect both together: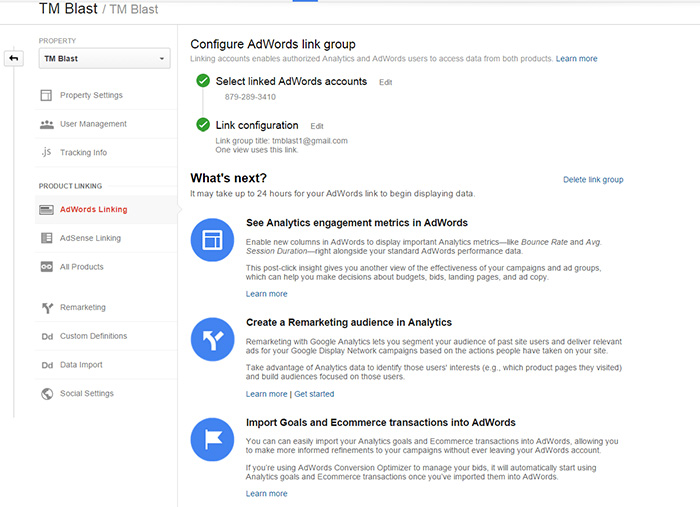 Frequently Asked Questions about Call Tracking with Google AdWords
What if someone is on a smartphone and clicks the phone icon? Is that considered a click?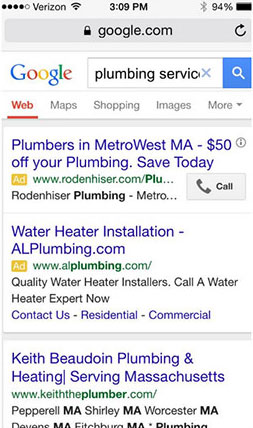 If someone is on their smartphone, they can easily call from PPC ads. When these ads have the call extension setting added to their PPC ads, a phone icon appears (as shown in the image), allowing this user to call from their smartphone without ever visiting the website.
When someone calls a phone number from an ad, it is considered part of the ad. You will be charged for a click.
I use my cell phone number for business. Can Google provide me with a toll free number?
Yes, Google AdWords can provide you with a toll free number to use for call tracking. Google calls these forwarding numbers and will send these to your cell phone.
Keep in mind: Using Google Voice or your cell phone for business is a bad idea. It's worth upgrading your business phone system to a call forwarding service.
Can Google create a local number for me?
Yes. Google does so with forwarding numbers. Google will do its best to use the same area code as your business. If it doesn't have that area code in stock, it will use another one that is close to your geographic location.
Can I use numbers I already have?
Of course! Many people use multiple numbers from Grasshopper for AdWords purposes.
Call Tracking with Bing
Call tracking with Bing is easy to do. Bing is a big fan of call tracking, so they've made it incredibly easy to set up.
You'll simply need to create a call extension tab in your account. We've pulled together the following images to show you the steps.
Log into your account and click Ad Extensions:

Then, create call extensions: One neat thing about Bing Ads is that you have the ability to create a Toll Free or a Local phone number.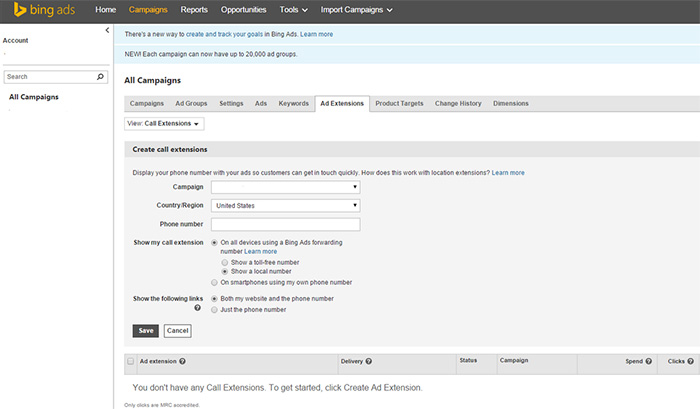 Frequently Asked Questions about Call Tracking with Bing
Can Bing give me phone numbers?
Like Google, Bing can create a toll free number for your ad. However, Bing will not create a local number for you.
Does the Phone Icon show up when users search from a smartphone?
Yep, but it doesn't look the same as Google's. Bing shows a clickable blue number in a gray box rather than a phone icon. Here's an example of a Bing search from a mobile device:
Does Bing also have a feature like Google Call Forwarding?
Yes, Bing allows you to select a Bing Ads forwarding number which works the same way as Google.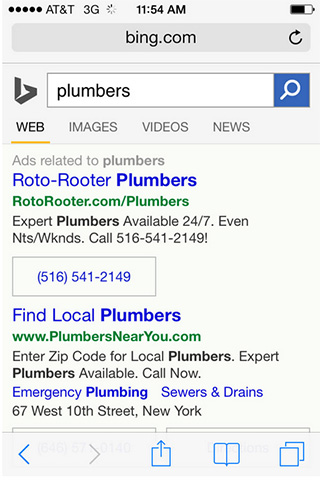 Pros and Cons of Google vs Bing Ads
Should you use Google AdWords, Bing Ads, or both? The two ad platforms each have benefits. Google is the more popular search engine, which is great for visibility, but it also means it's more expensive. Bing is a less expensive option, but not as many people use it.
In the following chart, you can see how Google compares to Yahoo and Bing, which are grouped together:
| | Google | Yahoo/Bing |
| --- | --- | --- |
| Overall Market Share All Devices November 2014 U.S (Stat Counter) | 79.79% | 18.63% |
| Unique Searchers Per Month | 1.17 Billion | 149 Million |
| Billion Searches a Month | 11.944 Billion | 5.2 Billion |
Source: SearchEngineWatch and StatCounterGlobalStats
The following chart shows Google's substantial lead over other search engines: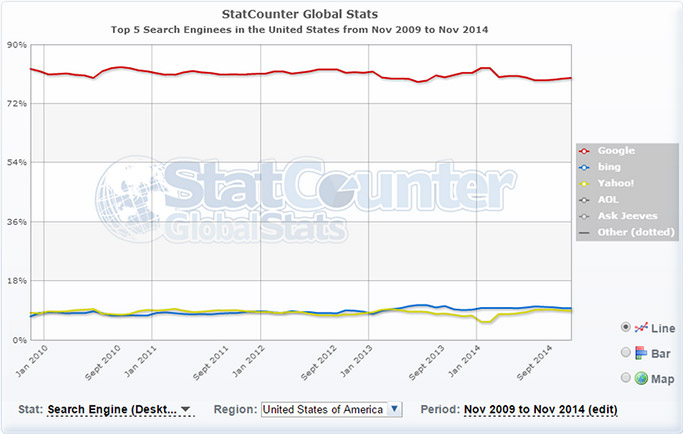 http://searchenginewatch.com/sew/how-to/2378009/yahoo-bing-network-audience-stats-that-might-surprise-you
Google or Bing May Better Suit Your Audience
Some audiences are more likely to use Bing than Google, and vice versa. This helpful chart shows exclusive audience breakdowns for key verticals for Yahoo and Bing: