Tracking Your Online and Offline Presence
Your phone number is all over the place, so now it's time to figure out how customers are finding it. You'll want to understand the landscape of your presence to get the best results from call tracking.
Here, we'll show you what you need to consider as you move forward, as well as some creative ways to implement call tracking.
Tracking Your Online Presence
If the web was an art museum, your phone number would be all over the walls. When someone does a search for your business or the services you provide, your phone number usually pops up.
If you don't know where you are online, your call tracking efforts are in vain.
It's time to figure out where prospects are seeing you online.
Where is your Number Listed?
To track your online presence, you should figure out where your business number is currently listed. Moz Local is a great tool that helps business owners manage their online locations. You can plug in your business name to make sure that your phone number and address are listed correctly.
You can also use Neustar Localeze to manage your listings. Neustar compiles accurate business listings for large databases such as the Yellow Pages. It's an easy way to update your listings for the whole web.
How to Check Your Business Listings on Moz Local
Visit Moz.com and click on Moz Local at the top right or type in https://moz.com/local/.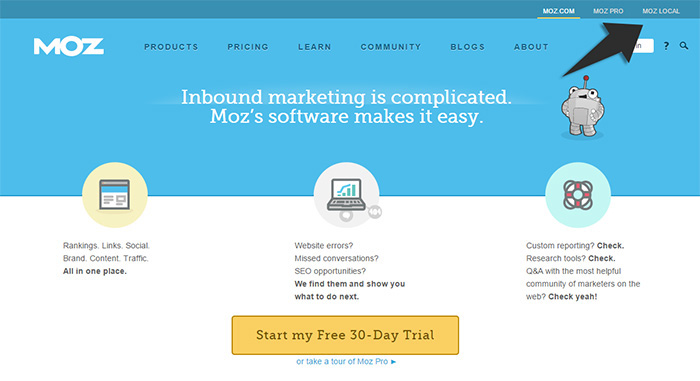 Type in your business web address and the zip code in the appropriate places. Click Check my Business Listing once both have been added:

If you have any verified business listings you will see your info, just like in the following image: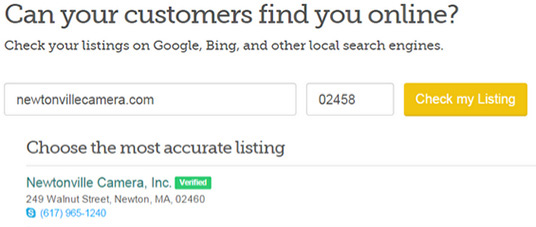 Simply click on your business name. You'll be brought to a screen like this: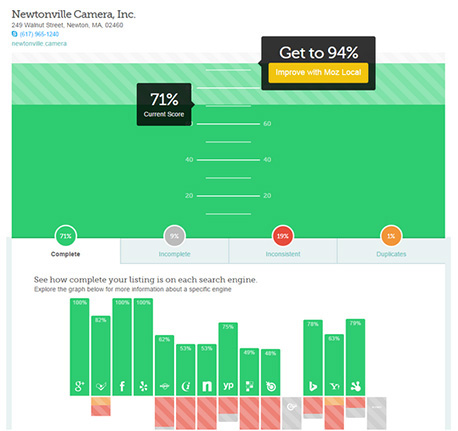 Along the bottom of the screen, you'll see a number of locations such as Google, Facebook, and Yahoo. You can click on any of the listing locations to update any of your business information.
What if My Business is Not Found on Moz Local?
Sometimes, businesses aren't correctly listed on the web. Moz Local can help you correct the issue.
Here is an example of a website that is not featured in any local listings. You will notice the website address and the zip code are not found.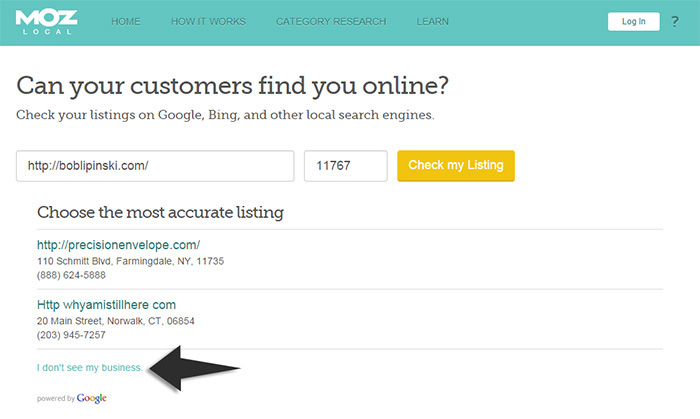 You will need to click on the greenish blue "I don't see my business" text to fix the issue.
Click on any of the links from Moz Local to start verifying your business on all of these tools. Consider what is the most important listing for your business.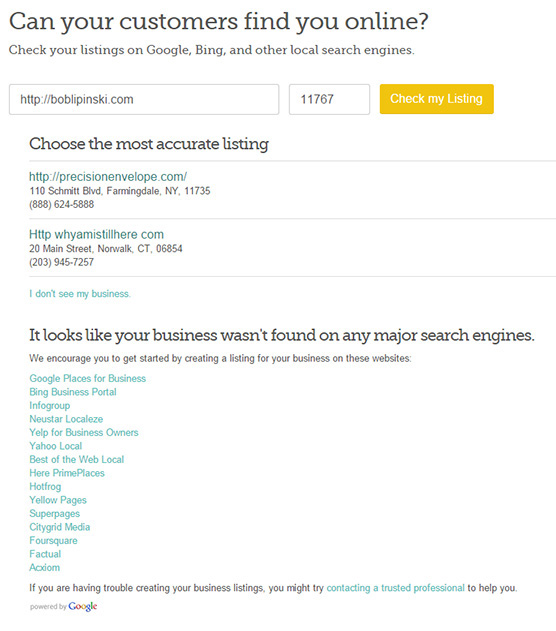 Once you understand what numbers are already out there, you'll be better able to implement call tracking.
Why You Should Consider Two Numbers for Your Online Presence
You might think that different numbers for every channel will allow you to better track how online prospects reach you, but this is a slippery slope.
You should only have two numbers online:
A number for your website.
A number for social media channels, review sites, and Google Places.
This is because multiple phone numbers confuse search engines. If you have a range of numbers across the web, then search engines won't be able to tell if you're a legitimate business. That presents all sorts of problems.
Two numbers is the sweet spot.
Google compiles information about you, and presents your phone number when people search for you. This means people can easily reach you, but it also means they don't have to visit your website to get in touch.
On the one hand, users respond well to quick info boxes that show a map, hours, a phone number, reviews, and more. On the other hand, users might not go to your website.
Here is an example on Google for a local camera store. The top listing and the right side are all taken directly from Google+-- the phone number, address, hours, reviews. etc.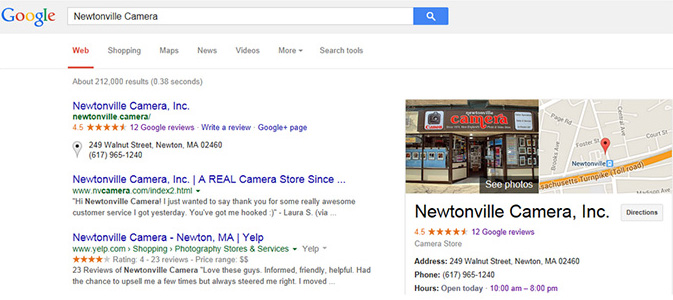 Think about how many clicks this website has lost out on a search like this. When someone performs a search like this, they may call you without ever reaching your website, which is why you need a separate number for your website than from your Google Places.
This is another view that demonstrates the same concept: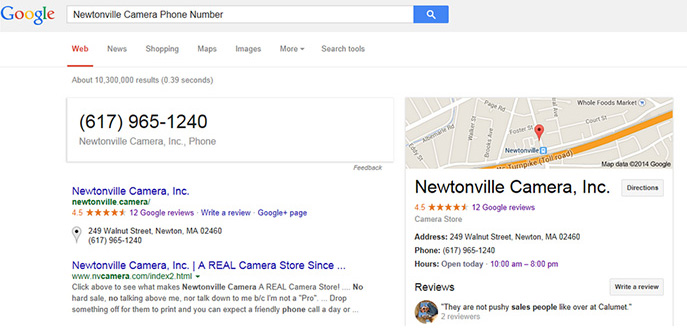 Why would someone visit the website if the phone number is there to grab?
If you have a separate number on your website, you'll be able to see if users click through to the site.
Using Dynamic Phone Numbers
Dynamic phone numbers change based on what people search. For instance, if someone searches for "apartments in LA" versus "condos in LA," they will see two different numbers.
You can set up dynamic phone numbers with a bit of Javascript. Companies use this strategy to see that they got 300 calls with 80 coming from Facebook, 150 coming from Google, and the rest coming from direct visits to their website.
The problem with dynamic phone numbers is that Google sees them as gray or black hat SEO. Essentially, Google sees this as cloaking because the crawler sees the actual phone number, not the phone number the user sees when they search. This type of strategy may not immediately result in a Google penalty, but it could lead to more black hat techniques, and it's generally shady.
In the end, it's not worth using Javascript to change the phone number. It is better to deliver the same experience to both the user and to Google's bot.
Considering Your Phone Number in Mobile Search
You might think people are more likely to use their desktop computers and laptops to search, but you'd be wrong:
Mobile traffic is set to surpass desktop traffic in 2015. (Online Publishers Association/Frank N. Magid Associates)
92% of executives own a smartphone for business purposes and 93% of them make purchases with their devices (IDG Global Mobile Survey 2015).
4 out of 5 consumers use mobile for shopping purposes (comScore).People search for things on their phones like crazy, and it's only natural that they do so when looking for a business' phone number.
Yep, people are searching on smartphones like crazy, and it's your job to get with the program and focus on mobile search.
How to Measure Mobile Searchers
Google creates a unique layout for mobile searchers that's different from desktop search. Users see icons that allow them to act quickly: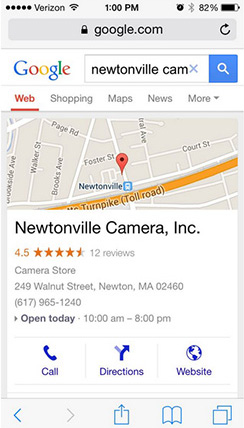 So many actions are provided to the searcher (address, hours, directions) that they may not need to visit your website.
Why does this matter?
Mobile traffic is set to surpass desktop searches in 2015. With that in mind, searchers who are using a phone will have a different experience than a desktop searcher. Therefore, you need a way to measure these mobile users.
Here are two ways to do that:
1. Measure Mobile Users who Come to your Website
Instead of having a phone number in a website footer or on the contact page, make the phone number be a clickable action. First, this helps the user's mobile experience on your site. Google has started to share if the website has a good mobile experience, and having the phone number as a clickable action is great for smartphone searchers.
What can you do with this clickable phone number?
You can set up Event tracking in Google Analytics to track clicks. You can tie in an Event to a specific Goal on your website. You can then measure metrics to see if your website is yielding more phone calls for your business. This is also a great way for agencies to show their worth when they are tracking both phone leads and form fills.
You can take this further to see if phone calls result in higher conversions. You can set up a scoring system in a tool like Click Dimensions to show that phone calls are more valuable than form fills.
2. Measure Mobile Users who Do Not Come to Your Website
Think of how we search on mobile devices. In the example for Newtonville Camera, people can see everything they need before even going to the website. They can get a quick review of the store, hours they are open, a call button, a GPS button, and then a website button: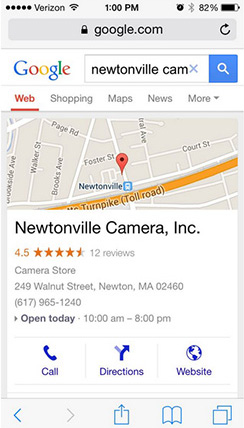 Let's say someone is driving and can't look at the website. They could quickly press the call button to contact the store to avoid searching while driving. In this scenario, the person never went to the website, but still called, and they're definitely ready to buy. The website never gets a click, but might've gotten a lead or conversion. This is where Call Tracking can help.
You can have a different number from your actual website (but is consistent across all platforms like Google, Yelp, Facebook, etc) and have that shown on a mobile device (using Google Places, Yelp, etc to update your phone number).
You can then use a tool like Grasshopper's dashboard to see how many phone calls that number in general gets. This is a great way again for lead scoring. You can say that a user who calls one of these numbers is probably not on my website. Therefore what can I take away from this lead? This is great again for agencies who are creating reports every month for their clients. With so many ways a user could get in contact with the business, you should find a way to accurately (or as accurately) explain what is happening with their business.
Why would this matter?
Mobile tracking becomes even more important if your website is not mobile ready. If the user clicked on your website, but the website was not optimized for mobile and provided a wonky experience, they could go back into Google to then call your website.
What is Skype?
Skype is an app that helps people make voice calls and video chat over the web. It's usually used as a web or mobile app. It's an important tool to understand when doing call tracking, even if you don't use it yourself. You don't need to have a Skype number for your business to benefit from Skype.
That's because 10 million people have downloaded the free Skype Click to Call extension on their favorite browsers. This extension allows them to see a clickable phone number wherever they go on the web. That makes calling on a desktop much easier for them.
Why is Skype Important Even if I Don't Use it?
You don't need to have a Skype number to have Skype directly affect you and your business. Thanks to Google and Skype Click to Call, users are more and more likely to call you without ever reaching your website.
Let's see what happens when a person uses Skype Click to Call. Notice now that Newtonville Camera's phone numbers are clickable: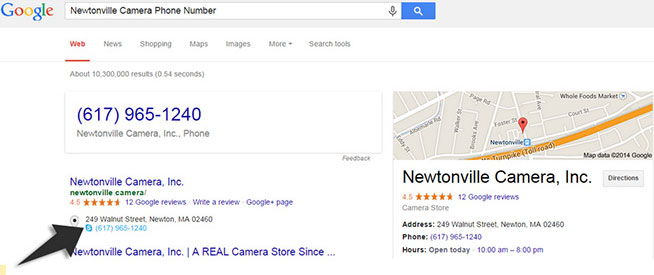 If someone is using Skype Click to Call, they can call directly from the Google search without ever visiting the company website. That's why having two numbers-- one number for your online presence (such as Google places and social media channels) and one number on your website-- is a good idea.
Why Does This Matter?
This matters because in Google Analytics we can get very specific about our leads-- allowing us to determine if people called from search results or from our website. Skype's capabilities can also help us determine if the lead came from a mobile device or a desktop.
That is Really Cool. How Do I Download Skype Click to Call?
Isn't the Skype Click to Call extension pretty cool? We love it! You can download Skype to Call on your favorite (or all) browsers by visiting this website.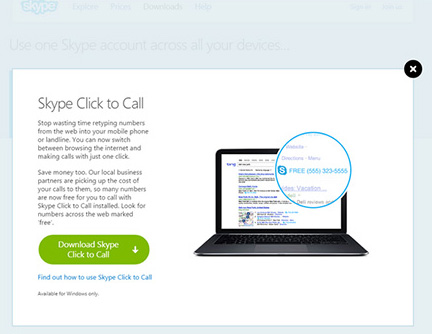 Ways to Perform Call Tracking Creatively on Other Online Platforms
Call tracking isn't limited. There are tons of ways you can leverage it for your business' unique situation. Many businesses use call tracking in creative ways to get deeper insights into their marketing and advertising efforts.
Call Tracking by Platform
Sometimes you want insight into a particular platform, not just your online presence as a whole. If you notice that you receive a good amount of traffic from Yelp then it is worth a test to change the phone number on the Yelp page to see what happens with tracking and call leads.
For example, a shop might want to understand exactly how many calls are coming from Yelp, where they have a 4 star review.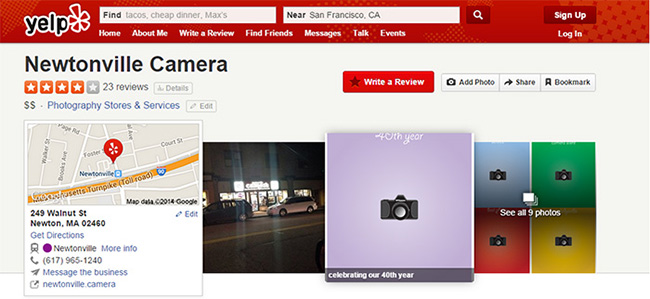 In this case, Newtonville Camera can use a separate number just for Yelp, using Grasshopper or a CRM tool to track the calls.
Over a period of time, they'll be able to understand just how many calls are coming from the social media network without causing too much disruption to search engines (Remember: it's not a good idea to create different numbers for each social network).
Here is Newtonville Camera's Yelp page on the mobile app. Notice how the phone number is a clickable action.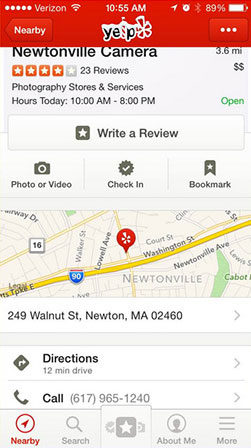 This represents a great way to track phone traffic off your website and see what sources drive the best quality.
You could even take this a step further and advertise on Yelp if you start measuring higher quality traffic and phone leads. Again, this all starts with proper call tracking.
On a standard Yelp business page you can see the amount of MOBILE clicks your Yelp Listing got that went to a phone number. If you wanted to do more advanced call tracking, you can sign up for a 3 month package (varies for city location), where you can change the phone number for your own tracking purposes. In your personal dashboard, you can see the amount of calls you are getting, but for your own internal tracking you could assign that to Yelp.
So, in theory, you can have two levels of Yelp call tracking. The first is free and you can see it in your dashboard. The second is with creating an ad for Yelp where you can create your own phone number for this.
Tracking Your Offline Presence
Offline marketing methods are notoriously difficult to track. Don't let that discourage you.
You can lower the uncertainty and get a better idea of how effective your offline methods are using call tracking. You might not get the full picture but you'll get some picture.
When you're doing phone tracking for offline initiatives, you can have as many phone numbers as you want for as many campaigns as you have (you don't have to be careful about Google and other search engines). You can't use Google Analytics for tracking, but you can use a phone system like Grasshopper.
Keep in mind that people may see offline marketing materials such as a billboard, then Google you or visit your website. That's why it's good to ask people how they found you, which can be recorded on lead scoring cards.
Here are some examples of when you might want to use call tracking for offline marketing efforts:
You printed out materials for a tradeshow-- was it worth it? If you can use a certain phone number for all tradeshow materials, you can track it.
If you are wondering about how many people reach you via a certain billboard, use a certain number.
Use a certain number for direct mailings such as coupons, postcards, or cards to track the success of a campaign.
Use a certain number on a branded car.
Have a different number for the sign on your building/storefront (after all,how many ppl actually call you from walking by?).
If you're a real estate agent, you might put a phone number on your signs outside the homes you're selling.
Your online efforts can be tracked in your phone system's dashboard.