A business phone system in your hand.
Customers find you online through your website. Ensure you put your best voice forward with Grasshopper.
Grasshopper makes it a cinch to communicate.
How Grasshopper helps you do business:
Separate work and personal
Two numbers – on the same phone.
Get all of the features of a business phone system on your existing cell phone – no need to have two separate phones!
Keep your personal number private. Give clients your Grasshopper number instead, and call and text them from there!
Grasshopper is quick and easy to set up, with plans to fit every budget.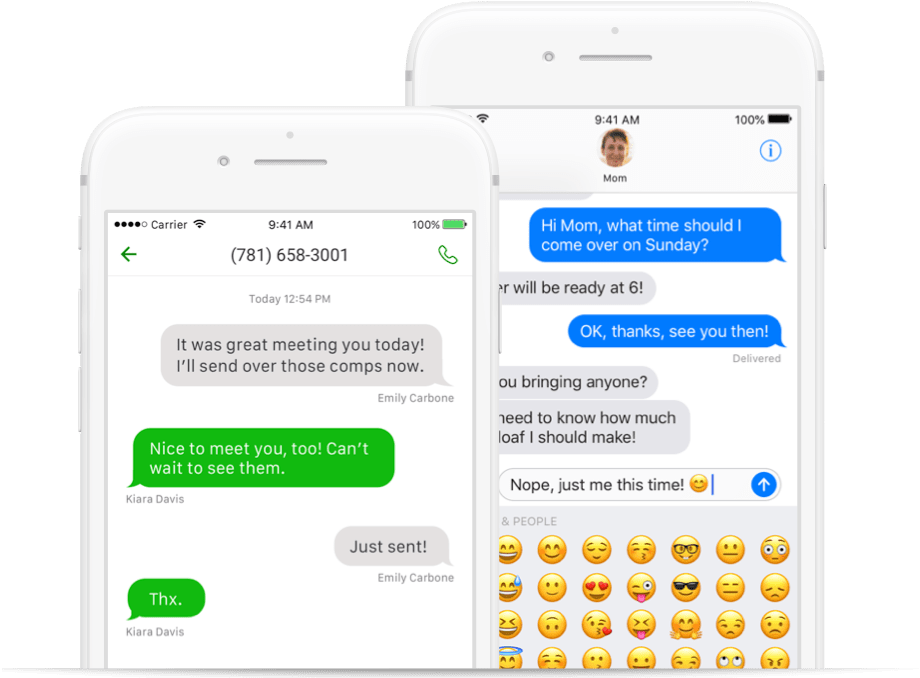 Look and sound professional
Professional number, and etiquette.
Choose a local, toll-free, or vanity number that's best for your business.
See when an incoming call is for business so you can answer accordingly and sound professional.
Make your business look bigger with an automated greeting to welcome callers and direct them to departments or employees.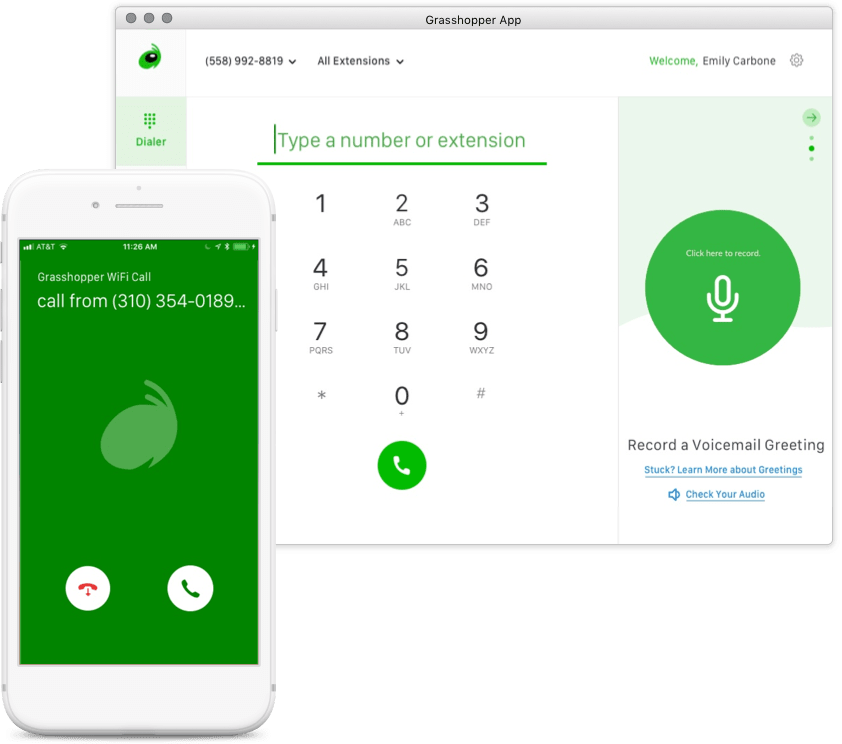 You're no longer tied to your office or desk phone.
Make and receive business calls and texts wherever you may be – whether you're on the go, working from home, or on your way to a client.
Grasshopper works on your existing cell phone – no new hardware necessary!
By using the Grasshopper desktop or mobile apps you can access your phone system from anywhere.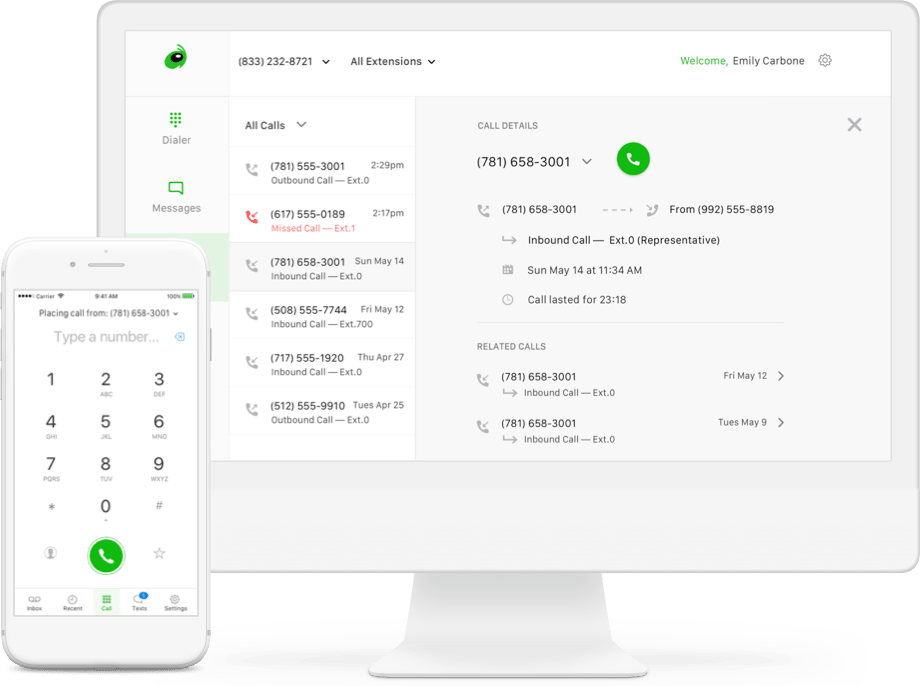 Respond quickly to every customer
Stay in touch with your customers.
Never miss a call with Grasshopper's mobile app.
Voicemails are transcribed and sent to your e-mail so you can determine their importance at a glance.
Answer calls wherever, whenever, with Grasshopper's call forwarding service.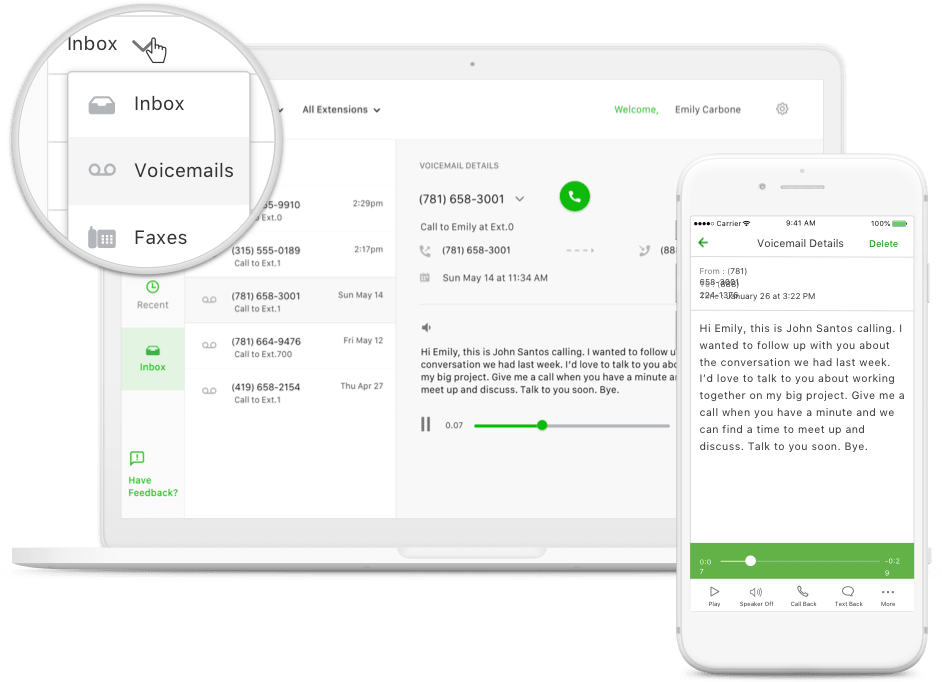 Over 140,000 small businesses trust Grasshopper to communicate professionally.
We chose Grasshopper because we need all of our customer communications to be pushed to the same place. Jonathan Heuer, Home Maintenance
Grasshopper has helped me transition from being perceived as a small "mom and pop shop" to a professional business, which is a top priority for the success of my company. Jose Greer, Personal Chef
Grasshopper lets my company scale like never before. Now, my entire team is accessible to our customers since all employees can answer calls despite their location or time zone. Glenda Dorn, Retail Management
Having a phone number on our site increased conversion of site visitors to sign up and paid users. Allan Branch, Accountant
Explore Grasshopper's features:
Business Texting
Provide updates and quick replies via text messaging on your business number.
VoIP/Wi-Fi Calling
Use your internet connection to make and receive calls when cell reception is poor.
Virtual Fax
Have incoming faxes delivered as PDF attachments right to your email inbox.
Incoming Call Control
Screen callers, block calls and set up custom schedules for your business hours.
Business Phone Number
Choose from our inventory of vanity, local, or toll-free numbers. Or port your own for free!
24/7 US Based Support
Unlimited Minutes
Try Risk Free