No matter what time of year it is, upcoming holidays are always a great time to kick start your marketing efforts. Halloween is no different. Any business can benefit from having a ready theme to use for promoting products, sales, websites, etc.
Using timely marketing can give your efforts the extra push they need to be super successful. But how do you do it? Here are 10 ideas for Halloween-themed marketing that are so good it's scary.
1. Hold A Contest or Giveaway
One way to get in on the Halloween fun is to host a contest or giveaway. Consider doing a photo contest, where people submit photos of costumes or décor and compete to see who's best. You can also do a standard contest and have people submit their best ghost stories.
People are itching to get into the spirit of Halloween, so your prize doesn't have to be huge. You can offer an American Express gift card or a discount on your own product.
The key with any themed marketing is to make sure it still relates to your business. For example, if you run a pet store, consider asking for picture of pets in their costumes. A day care might look for photos of kid's costumes. A home goods shop might search for the best Halloween décor.
2. Have a Pumpkin Hunt on Your Website
If your goal is to get more traffic to your website, you can have a pumpkin hunt. Hide a certain number of pumpkins on your home page or various pages of your site and challenge visitors to find as many as they can.
For some incentive, you can offer a small discount or piece of branded swag for each person who successfully finds all the pumpkins (or whomever finds the most).
3. Spookify Your Logo, Website, Blog, and Social Themes
Redoing your logo, website, blog, or social media photos is a great way to drive attention to your online presence. For example, we turned our mascot, Gary, into a Gary-o-lantern for Halloween.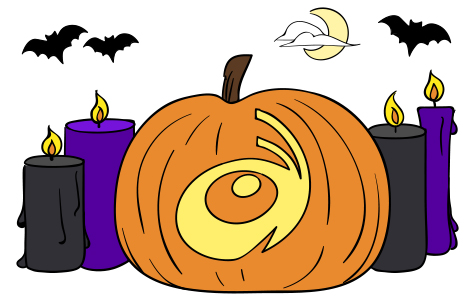 Having a cool, themed logo also opens up the opportunity to giveaway Halloween swag. You can stick your spooky logo on tee shirts, trick-or-treat bags, or pretty much anything you want.
4. Engage Your Audience With Voting & Polls
Nothing gets people talking and commenting like asking for their opinion. Encouraging your audience to vote on different things is a great way to get them engaged during the Halloween season.
Asking people for their opinion can often lead to the kind of "safe controversy" that really ups engagement. Safe controversy means initiating conversation around topics that aren't really that important, but that people are nonetheless adamant about, like which Halloween movie is the best. You'll get people talking without risking putting your foot in your mouth.
5. Create Some Awesome Content
Timely content is always great for getting links and higher search traffic. Google searches for Halloween related terms are highest during the Halloween season, so you can tap into that popularity with themed content.
One option here is to create a Halloween guide. For example, a travel agency or hotel might create The Ultimate Guide to Halloween in Boston and include can't-miss events, tours, trick-or-treat stops, and landmarks.
Another idea is to write a blog post that ties in Halloween with information that's relevant to your target audience. For example, a telecom company that caters to entrepreneurs might write a blog post about Halloween marketing ideas that are perfect for small businesses (sound familiar?).
6. Discounts and Sales
One of the easiest ways to bring in Halloween customers is to offer discounts and sales. One idea is to create Halloween-themed bundles of products that can be purchased at a discount. For example, a grocery store might offer a bundle that includes two bags of candy, a plastic cauldron, and a pumpkin carving kit.
Another idea takes a card from Chipotle's deck – offer a discount to customers who come into your store in their costumes on Halloween day. You can also stay open later and offer a flash sale after midnight on Halloween night.
7. Host or Sponsor an Event
Hosting an event is a great way to get people through the door if you have a brick & mortar location. Consider turning your space into a haunted house and inviting people in. A tamer idea is to host a pumpkin carving workshop or a "punkin chunkin" contest after Halloween. Events like these will get people coming to your business.
You don't have to do this alone, either. Consider partnering with other local businesses and neighbors for a huge Halloween block party.
8. Be a Trick-or-Treat Stop
Another great way to get people coming to you is to be a trick-or-treat stop. This one's pretty quick and easy – just decorate your space and be ready with candy when trick-or-treaters come calling.
To kick it up a notch, you could even order branded candy (with your spookify'd logo of course) to hand out.
9. Foster Word of Mouth With Direct Mail
You can get people talking and spreading the word about your business by surprising them with a Halloween-themed direct mailing. You can send out goodie bags of candy, Halloween coupons, or spooky swag.
Sending out unexpected goodies has a double effect – it reminds customers about your business and it gets them talking to other people about how happy your business made them.
10. Offer Goodie Bags With Purchase
Another idea is to offer goodie bags to customers whenever they make a purchase. This is a great way to incentivize people to buy and add a little more value to what you offer.
To take it one step further, you can even offer different levels of goodies depending how much a customer spends. Offering a gift to someone who makes a purchase is a great way to say thank you with a little Halloween spirit.
Get In The Spooky Spirit
There are tons of benefits to getting into the holiday spirit, no matter what holiday it is. With so many fun and easy ways to incorporate Halloween into your small biz marketing, you've got nothing to lose!
What haunted marketing tricks have scored you more business?