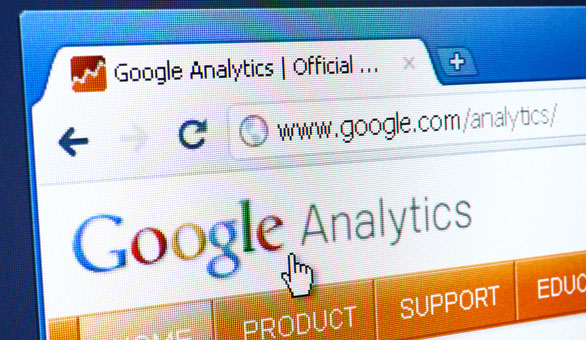 This is a guest post by Ruth Burr of Moz.
Major search engines like Google and Bing are the way most people find what they're looking for, whether that's a product or service or simply some information. The potential audience reached via search engines is huge, which is why SEO is something most businesses can't afford to ignore.
[pullquote]SEO isn't about tricking the search engines into sending you bucketloads of traffic.[/pullquote] Instead, it's about improving and promoting your website so that more people can find it using search engines. It can be difficult for SMBs to compete in the search engines, especially when up against large national retailers such as Amazon; many SMBs simply don't have the time or resources for a full-scale SEO campaign.
Fortunately, SMBs can still be incredibly successful in search by tailoring their SEO campaigns more closely to their locations. If your business supplies hot tubs to the greater Denver area, you don't need to rank #1 nationwide for the term "hot tubs." In fact, you probably wouldn't want to, since it would mean getting a lot of leads from outside your service that would never turn into sales. You may have greater success targeting "hot tubs Denver."
Locally-focused SEO can have a benefit even for searches that don't include a city name. Increasingly, Google and other search engines are trying to detect whether or not it makes sense to serve up results tailored to the searcher's location. For example, if I search for "plumbers" Google shows me results for plumbers in the Seattle area, because I probably need one to come to my house. On the other hand, if I Google "Ryan Gosling" there's no need to tailor the results to my location (although if he is nearby, Google, could you let me know?)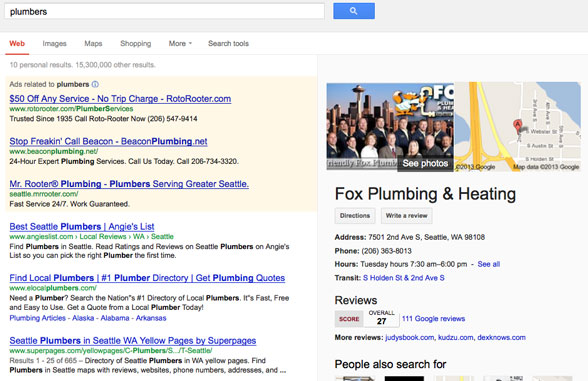 On-Site Local SEO, or Focusing On Your NAP
Good local SEO starts with having good SEO, period. Nate Dame recently contributed to Grasshopper's blog with a great post on SEO for small businesses. Having these fundamentals in place will go a long way toward your local SEO success. SEOmoz also has a comprehensive Beginner's Guide to SEO, which is a great crash course in what we focus on when we do SEO.
Now you want to make sure your website adequately communicates your local information.
Make sure you have a clearly labeled Contact Us page that includes this information. A PO Box won't cut it – search engines want to see a real, physical location.
You should also choose the phone number you list carefully; we want this information to be as consistent as possible across the web (more on that later), so make sure to use your main office number – the number you want your customers to call!
If you have more than one location, it's best to have a separate page in your Contact Us section for each location to make the information easier for search engines to find and parse.
What is a Citation?
In the same way a newspaper might consult more than one source to verify if a story is true, search engines look to multiple sources to make sure your location data is accurate.
Each place that your NAP information appears online is considered a citation – an additional data point that search engines can use to confirm that you are who, and where, you say you are. For this reason it's important that your NAP information is the same everywhere. Companies that use different business phone numbers for tracking purposes should pick one to use on all local data citation sources. Companies with more than one location should create separate listings for each location. Unfortunately, PO Boxes don't count as addresses; you'll need a real physical address.
Where to Get Citations
First, you'll want to make sure your business listing is verified in Google Places for Business, Bing Business Portal, and Yahoo Local Listings. Again, I can't stress enough how important it is that your business information is as consistent as possible on the web.
Once you've submitted your information directly to the search engines, the next step is to verify it with big local data providers. Did you know that the vast majority of local services (such as YellowPages.com, Yelp and CitySearch) get their location data from just a few sources? Infogroup, Acxiom, and Localeze are the three main sources of online location data, and everyone from Google on down gets information from them. In fact, if you have incorrect data in one of these major data providers, it could conflict with or override your correct data elsewhere!
After that, it's a matter of locking down your citations in as many places as make sense for your business.  That could be things like creating profiles on locally-focused sites like Yelp or Angie's list; making sure your information is correct on directory sites, like YellowPages.com and SuperPages.com; trying to get mentioned on blogs about your neighborhood/city; and citing your NAP information where it makes sense to on your industry- and vertical-focused sites.
What Makes a Good Citation?
Completeness. Fill out every available field on each site. Add pictures of your location, your operating hours, everything available. Not only will this build your credibility with search engines, your customers will find the information useful as well.

(Appropriate) keyword use. Make sure you're describing your business using the SEO keywords (like "hot tubs in Denver") you're targeting. Be natural when you use the terms, and only use them in designated description fields.

Consistent NAP information. Are you getting the feeling this one's important? Don't add keywords to your business name – you're just reducing the consistency of your NAP.
What About My Service Area?
Unfortunately there's not a great way for you to add a larger service area to your local citations. Google Places for Business has an option to add a service area, but it doesn't seem to work nearly as well for ranking for local terms as adding a physical address does. This seems a little ridiculous – whether a plumber will come to my house is way more important to me than where that plumber's brick-and-mortar location is– but it's the way they like it.
I know it can be tempting to add fake locations in cities that you serve but aren't located in, but resist the temptation! You'll be found out quickly enough and it will negatively impact your overall local performance. Instead, try to use on-page factors to rank for keywords in your other target cities.
Exercise care when you're setting up your local profiles – incorrect data is hard to fix and can stay around for a long time.
One awesome thing about optimizing for local search is that even sites with no website at all can still take many of these steps to be found on the internet. It can be a great option for businesses that don't have a lot of time or resources to devote to their websites, as well.
Ruth Burr is an SEO and data-driven marketer living in Seattle. She is currently the LeadSEO at SEOmoz, where she builds and executes SEO strategy for SEOmoz.org and related properties, as well as providing SEO subject-matter expertise internally and in the SEOmoz blog and community. You can reach her on twitter at @ruthburr.