Get an 844 Number For Your Business
Sound Professional. Go Toll Free.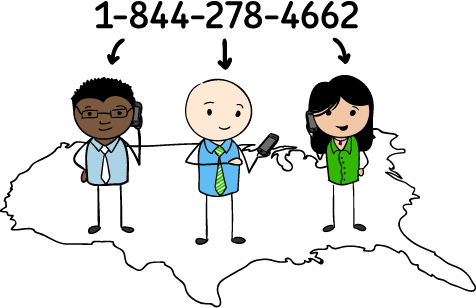 Get 844 toll free numbers instantly
Get a customized 844 vanity number
844 numbers are great for small businesses
Send text messages from your 844 number
30 Day Money Back Guarantee!
Get Your 844 Number »
or See How it Works »
Get 844 Numbers for Your Business
844 is a toll free area code, just like 800. A prefix of 8 represents calls that are paid for by the recipient, rather than the caller. When people think of toll free calling, they usually think of 800 numbers, but there are many other options that function in the same way.
Why choose an 844 area code?
Toll free numbers are so popular that the telecommunications industry had to reach beyond 800 numbers. In order to provide the nation's businesses with more options, they added 888, 877, 866, 855, and 844 area codes. All of these numbers allow a user to call free of charge, putting the price of the call on the business rather than the customer.
Worried that an 844 number doesn't seem toll free? Don't worry- today, these numbers are widely known and accepted as true 800 number alternatives.
Grasshopper carries all the options, as well as local numbers. We have tons of 844 numbers in stock.
How to Get an 844 Number:
Choose the 844 number you want for your business.
Choose a provider and check availability. A phone service like Grasshopper can check 844 number availability and provide you with many different options.
Purchase the number. Once you have chosen a service provider and an available number, all that's left is to buy it!
Tips for choosing a number:
Use your business name or an industry specific term! (Think 1- 844-Flowers or 1-844- Contacts)
Keep it simple. Avoid odd or unique spellings.
Make it easy to remember. Try rhyming numbers or using the same digits in a row.
FAQ about 844 numbers
Is 844 Toll Free?
Yes. Like 800 numbers, 844 area codes are free for customers to call.
How much does an 844 number cost?
The cost can vary depending on your service provider. The cost generally depends on the toll-free service provider, the plan you chose and the amount of minutes you use per month. At Grasshopper, you can get one for as low as $29 per month.
Are there any differences between 844 and other toll free numbers?
No matter which code you choose, all the prefixes work the same and give the same benefits. Because "true" 800 numbers are so in demand, they often cost more to buy up front.
What are some additional features that Grasshopper offers?
We provide all the same features and functionality that a proper business phone system would provide. You can get 800 numbers, toll free numbers, vanity numbers, or even local phone numbers through us. Since Grasshopper is a cloud based phone system, there's no hardware or wires to worry about.
What 800 number prefixes does Grasshopper offer?
We offer 888 numbers, 877 numbers, 866 numbers, 855 numbers, and 844 numbers. On June 3 rd , 2017 the FCC will offer numbers beginning with 833 too!
Will Grasshopper help me with any other areas of my business?
While we do not directly provide other business services, we do publish content regularly designed to help small business owners start and operate their businesses more efficiently. We have created a guide called JUMP which will help walk entrepreneurs through starting and growing their business. We also have a guide specifically for growing a local business as well! We cover other topics such as business equity more in depth as well. Grasshopper also compares various business tools and products, such as comparing online payment solutions for businesses such as PayPal and Amazon.
Can I send and receive text messages with my 844 number?
You bet! Grasshopper now offers Business SMS on both toll free and local numbers.
Join the Conversation with Grasshopper
Over 300,000 Happy Customers Served
Here's what a few of them have to say about Grasshopper
I am now a huge fan of Grasshopper… truly saved the day (and my sanity). Carolyn Appleton Carolyn M. Appleton, Inc.
Having a phone number on our site increased conversion of site visitors to sign ups and paid users! Allan Branch LessAccounting