Local Search Marketing (Local SEO, Geographic PPC, and Groupon)
Helping your local customers find you online through local search engine optimization (SEO) is important since most people search for businesses on the go. Whether it's finding a place to eat or getting a new pair of shoes, smartphones are a huge resource, so having a local presence in search engine results can help drive sales.
Spend your online marketing dollars where they will make an impact in your backyard. Instead of buying ads that will be seen by people outside of your geography, maximize the impact of organic search via services such as Local Market Launch and Yellowbot. – John Greathouse
Successful use: A local gym met its monthly membership goals for the first time in a year thanks to increased local SEO efforts.
When to use: Always! Local SEO is important for any local business in search rankings. You can approach this by getting your Google Places listing verified and filling out listings on review sites like Yelp, Foursquare, and TripAdvisor.
Cost: Working with an agency, you can expect to pay anywhere from $100/month to thousands per month based on the depth you pursue.
Local businesses tend to benefit most from some very simple tactics. The first is getting listed in all the places people go to look for local business such as Google Maps/Places, Yelp, Foursquare, TripAdvisor, and the local data suppliers (Infogroup, Localeze, & Acxiom). David Mihm's excellent blog post on the Local Search Ecosystem can help here. – Rand Fishkin
For more information on Local SEO, read The Definitive Guide to Local SEO and Local Business SEO: Take Your Nap.
Google AdWords
Google ads are search advertising, not social media, but they're a great way to hook in your audience.
Google ads are the highlighted search results that appear at the top of the page and on the right-hand column, as well as the display ads that sometimes appear while visiting websites based on your search results and browsing history.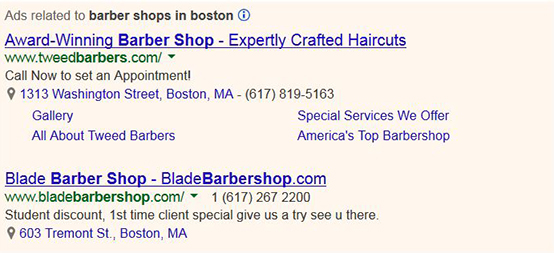 For example, you may have noticed that an ad for running shoes from Zappos appeared when you visited a different web page after you had been hunting through the Zappos inventory for the perfect pair of running shoes. That's a Google ad.
Getting Started: Like other social networks, your targeting can be based on interests, location, keywords—you name it. You'll enter your business information, target the ad (and if it's your first time, there is some promotional credit you'll receive from Google) and set your budget.
How much should I spend? To qualify for the free promotional credit, you'll need to spend at least $25. This study found that the average cost per click was about $1.24 - and while the number of impressions were high, the click-through rate is sometimes comparatively low. Give yourself a baseline of two weeks and $100 for a test run - you can increase or decrease your spending from there.
Success Story: BMC Music Source saw 15 percent growth by connecting with their local audience.
Pro Tips
For local growth, use keywords associated with your business (industry-based words such as 'catering service' or 'tax prep') sometimes including locations (town names or zip codes).
Take advantage of the $50 - $75 promotional credit - it's free advertising!
Use Google searches as a way to find your keywords. If you scroll down to the bottom after a basic search, you'll see results for "searches related to X" at the bottom. Those are helpful in determining other keywords to use.
There are other avenues for social advertising that are still in the early testing stages on platforms like Pinterest and Instagram, so be on the lookout for new opportunities on the horizon. In the meantime, take these social tools and make them work for you and your business. Start small and find out what works for you. It's an experiment!
Using Groupon-esque Deal Sites
When it comes to moving inventory through an online medium, sites like Groupon, Gilt City, and Living Social are great for discounting products and getting money up front through deals. However, make sure you do the math before over-committing to a discount so you don't give away more than you can afford.
Also, you don't want to constantly run giveaways. If people know they can log on to a deal site to get a too-good-to-be-true deal, they won't be willing to pay your standard prices.
Successful uses: Dublin Pub partnered with an area newspaper deal site to sell $10 for $20 coupons, but used restrictions to drive in traffic during the slower times on Monday-Thursday. At more than 1255 deals sold, the restaurant made around $12,500.00 before fees (while still staying ahead of their margin.)
Not only does this deal encourage business during slow hours, but it entices new customers through the front door (where they'll hopefully spend more than the voucher is worth).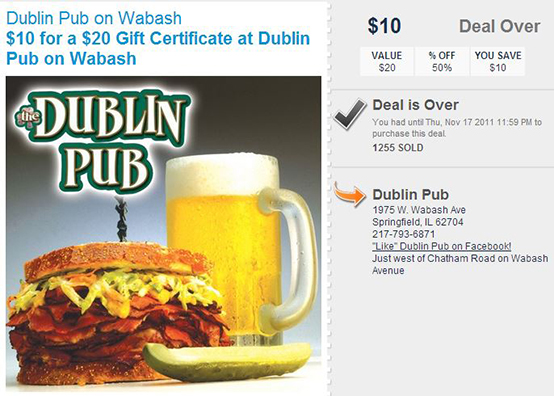 When to use: Most deal sites require at least a 50 percent discount plus fees. Bill Bice, CEO of SpaBoom, tells CNBC, "This arrangement ultimately gives merchants about 23 cents for each dollar after discount and fees." For retailers whose markup already exceeds this level of discount, there is still room for a small margin of profit. These deals get people in the door—it's your job to wow them and get them to come back.
Cost: While there is no up-front cost associated, most arrangements leave the merchant with about $.20-.25 per dollar of sales. So, if you sell $10,000 worth of deals, you'll end up with about $2,300.
If you're wondering about the downsides of these deal sites, read Are You Sure It's a Good Idea to Offer Discounts and Promos?