Using Social Media Outlets for Exposure and Local Advertising
Having an engaging, consistent social media presence is a great tool for fostering local growth and connecting directly with customers. Social media platforms like Facebook, Twitter, and Instagram (just to name a few) not only offer a platform for information sharing, but encourage storytelling from both the business and its customers.
Most local businesses still have inadequate presence on social, but that's where ever-more of their customers choose to spend their time (especially that Gen Y demographic), so... the savvy marketer goes where her potential customers are, no? - Ted Coiné, Switch and Shift
So where do we start when it comes to planning a strategy for social media? On which platforms should you dedicate your time and energy? And what about advertising there? Here are a few steps for outlining your social media plan of attack.
The 4 Steps for Posting on Social Media
Step 1: Figure Out Where Your Audience Is
Are you targeting teens, women ages 30 - 45, or sports fans? It's safe to say that Facebook and Twitter are a good place to start to cover your bases, but from there, dive deeper into who you want to target.
MediaBistro breaks down the demographics of some top social media platforms to help you pinpoint where your audience is spending their time. Check out where men and women are hanging out: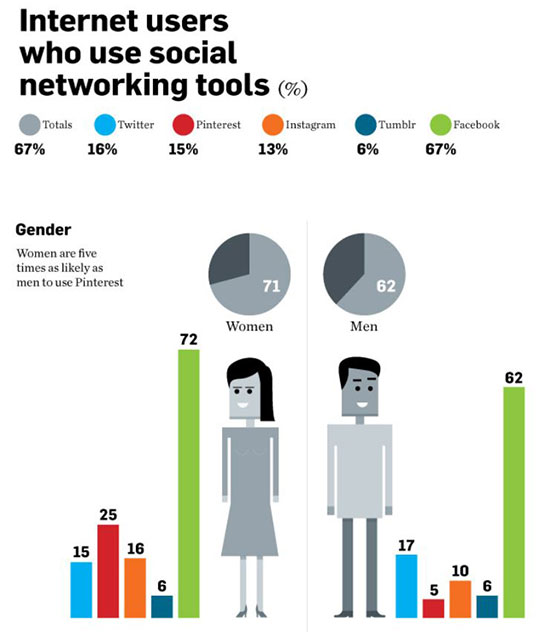 Doing your homework in this step will help you better understand your audience and their habits. Once you've established, linked up, and customized your accounts, it's on to planning a posting strategy.
Example: Say you own a scrapbooking store and have all kinds of DIY project ideas to share. Your customers are 75 percent female. Pinterest would be a good avenue to share your resources due to its female demographic and image-based posting format.
Step 2: Plan a Posting Strategy
Consistency is key on social media - active accounts are a testament to your commitment to these audiences. Plan on posting regularly across your accounts each week (you can schedule posts with tools like Buffer or HootSuite in 10 minutes each week). You also need to check in often to field comments from followers.
Example: Lumen uses Hootsuite as a scheduling tool as it allows for planning content, interacting with users, and monitoring keywords all in one place. Planning ahead means you can better strategize your posting, optimize for peak user times, and ensure activity on social media when it's convenient for you.

Pro Tip: A good rule of thumb is to respond to comments and questions within a 48 hour window, but use your judgment when it comes to fielding negative postings. Social Media Examiner has some tips for handling less-than-positive Facebook posts. Remember: these platforms are like a cocktail party; it's a public setting, so act accordingly.
Step 3: Create Strong, Engaging Content
Quality content has variety—both in the type of media and the subject matter. The goal of social media is to be social, so this is not a platform for pushing sales and one-sided communication. Instead, focus on engaging users with questions, trivia, behind-the-scenes looks into your business, and content that shows you value your audience's opinion.
Example: LocalHarvestSTL is a great example of a Twitter account that masters the social aspect of social media. They share content from other relevant accounts, respond to mentions, and incorporate images and links into their Tweets. And, if you scroll down, you'll see they are very active, posting multiple times each day.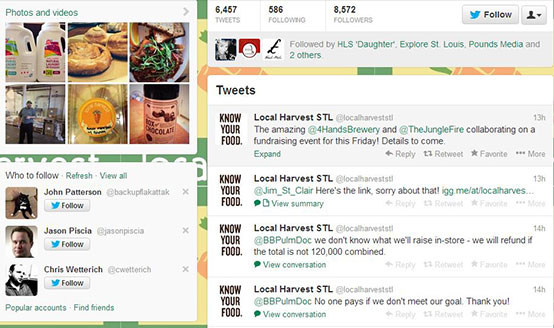 Pro Tip: Take Gary Vaynerchuk's advice when it comes to the give and take relationship on social media- a "Jab, jab, jab, right hook" format means your jabs are your gives (strong, engaging content) and your right hooks are the asks (buy my product, support my cause, etc.) If you give more than you ask, your audience will be more likely to follow through because you've provided them with quality along the way.
Step 4: Get Creative
Social media offers an opportunity to be creative with your audience and reward those who participate in interaction. This means you can go beyond posting regular updates and asking questions - you can run contests, live tweet an event (unified by a hashtag), or crowd source a project.
Creative efforts are the ones that get the desired "virality" we're all after on social media. And face it - the more people are talking about your brand online, the more exposure.
Example: A local theater company was struggling to sell tickets for its production of Les Miserables, so they took to the creative route - they surprised local shoppers at the mall with an unexpected performance of "One Day More." The video capture, while not the best quality, garnered over 290,000 views - and all shows sold out.
Pro Tip: Contests are a way to attract new page likes/followers while spreading some promotional product from your brand. Don't worry, Facebook recently changed its guidelines for contests - just make sure you're complying with their requests.
The Today Show regularly uses contests on Facebook to increase interaction, which in turn helps increase their reach through the ever-changing Facebook algorithm.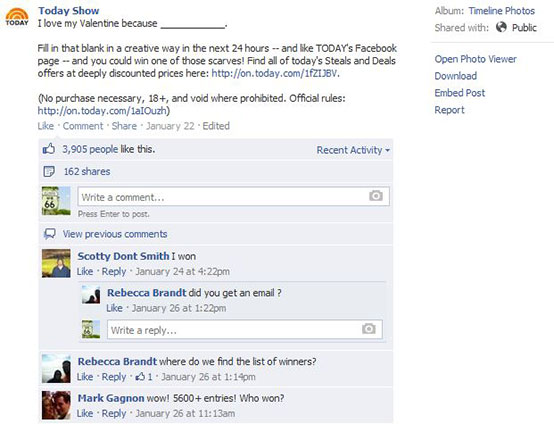 Once you've got your plan in place, are equipped with the right tools to help keep you sane, have a bank of quality content built up, and are feeling creative - you're ready to launch a stellar social media presence that is sure to be an outstanding reflection of your business.
Social media offers the opportunity to share your personality, so don't be shy! Start getting social and don't forget - it's a conversation, not a speech.
Using Social Media Outlets for Local Advertising
Take a seat at any restaurant in America and you'll see 30 - 40 percent of the guests at the tables looking at their phones. More than ever, our attention is shifting to mobile devices.
For many of us, our phones are the first thing we look at in the morning, and the last thing we see before bed. So as a local business owner, why not tap into the place where the eyeballs are?
Ads on social media outlets such as Twitter and Facebook are an interesting avenue for marketing because:
Budgets are customizable - you can spend as little or as much as you want.
You can target a specific audience based on keywords. Not many other mediums can offer such direct connections with the target audience - and a clickable link to direct the viewer where you want them to go, as well.
Let's explore some of the advantages to advertising on different social media channels and see what might be a good fit for you.
Facebook Advertising
Facebook ads are always changing to make them more effective for the types of results you'd like to achieve. In the photo, you'll see all the different goals you can center your ad around when you get started.
Getting Started: After you've selected the page you want to advertise (make sure it's linked to your personal account) you'll fill out the details about how you want your ad to look, who you want to target, how long you want the campaign to run, and how much you want to spend.
You'll also need to enter your credit card information as a source of payment. There are help links on each step of the process, so don't be afraid to go slow and take your time reading through everything.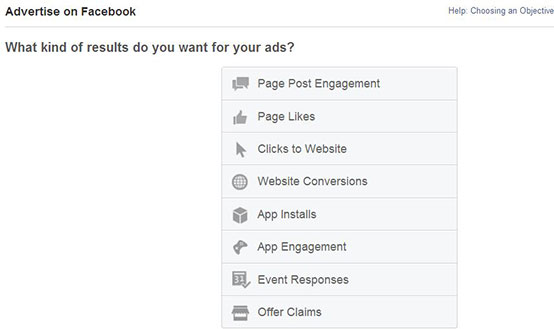 How Much Should I Spend? Jon Loomer suggests that the correlation between spending and page likes depends on many different factors, but has come up with a rough estimation: $100 = 200 likes at anywhere from $.20 to $1.00 per relevant page like. Our advice: start small (a $100 budget is fairly low-risk), target a relevant audience, and expand where you see success.
Success Story: Kay's Designer Consignment saw a 40 percent increase in the average transaction.
Pro Tips
Local growth through Facebook ads works well when targeting focuses on zip codes in your town and the surrounding areas.
Sponsored Stories and Promoted Posts tend to have higher returns on page like conversions than Page Like Ads on the right hand column.
The more you pay, the better results you'll get. Start with a small budget and get a feel for what works and what doesn't with your page before investing a large sum.
Twitter Advertising
Twitter offers two forms of advertising: Promoted Accounts or Promoted Tweets. When advertising on this platform, promoted tweets appear as the first message at the top of a user's news feed, and promoted accounts appear at the top of the "Who to Follow" column on the left hand side as well as on the "Discover" page.
Getting Started Much like Facebook ads, you'll need to enter information about what you're targeting, the budget and duration of the campaign, and if you take the Promoted Tweet route, select or create a Tweet to promote. Again, take your time during the process and read through the details.
The nice thing about Twitter is that you can super target your ads to get to the right people, even more so than Facebook.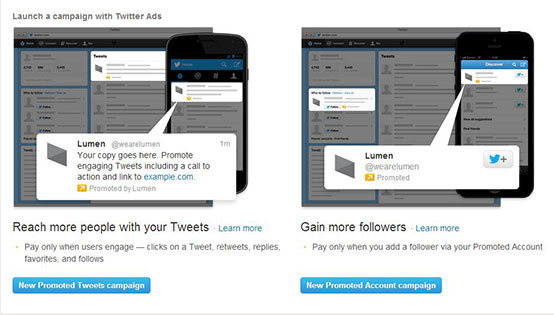 How much should I spend? A TechHive study showed that a budget of about $60 over five days resulted in over 7,500 impressions, 67 clicks, and a Cost Per Click (CPC) rate of about $.89 each (daily budget was set at $25 and a max bid of $1.50 per click.) Based on these results, we'd suggest a test budget of $200 over two weeks, trying one week with the promoted account avenue, and one week with the promoted Tweet route.
Success Story: Hampton Coffee saw a 50 percent growth in followers in a matter of weeks.
Pro Tips
Make sure there's a call to action in your promoted content - a link to follow, a piece of outstanding content - it needs to be more than just text.
Experiment. Keep costs low when you get started and see which avenue generates the results you desire.
Study other active ads and see which ones work on you. If they connect with you, they'll probably work for someone else. Use that information as a case study.
Geo-target your ads so they only go to people in your location.