As most people know, Grasshopper is a virtual phone system designed for entrepreneurs and small businesses. We have tons of great features (if we do say so ourselves), including call forwarding, unlimited extensions, voice mails delivered to your email and more. Our most popular feature is, of course, toll free numbers.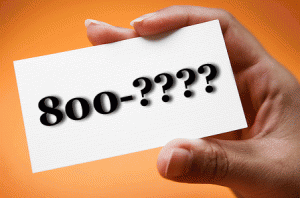 Toll free numbers can be extremely valuable to a business when they are looking to project a professional image, sound bigger or just give their customers an easy phone number to remember. 800, 888, 877 and 866 numbers from Grasshopper have helped tens of thousands of small businesses grow over the past six years and will continue to do so in the future.
How do I choose the right toll free number for my business?
Vanity Numbers
Everyone wants a number like 1-800-Flowers or 1-800-Mattress but it turns out that many of these numbers are taken. That doesn't mean you should give up. Here are a couple of things to think about in choosing a vanity number:
'What keywords best represent your business?' Think of a few to search for.

'What number will be easy for customers to remember?'

'Can the number grow with my business?' Don't pigeonhole yourself into a niche if you plan on growing your business beyond that product/service.
When selecting a vanity number, try a variety of keywords until you find what best fits your business. If you have a specific request let us know and we can try to help you locate it.
True 800 Numbers
When people hear 'toll free number' they automatically think of the '800' prefix. These are called 'True 800 Numbers'.
If you aren't looking for a specific vanity number but would prefer having the '800' prefix there are plenty available through Grasshopper. A True 800 number is a great way to help your business sound professional.
General Toll Free Numbers
866, 877 & 888 are the most common toll free prefixes outside of the 800 number we are all familiar with.
If you are simply looking for a general toll free number for your business, this is certainly the way to go. Any of these prefixes will provide you with a toll free number that helps your business project a larger image.
Choosing a toll free number shouldn't be difficult but it should be given some thought. Grasshopper offers each of the toll free numbers mentioned above and searching for them is easy. We want your business to succeed and a toll free number combined with the Grasshopper virtual phone system will definitely help you stay connected and sound more professional.
*If you already have a toll free number, we also offer number portability.