Voicemail
&

Fax Delivery
Get Voicemails and Faxes via Email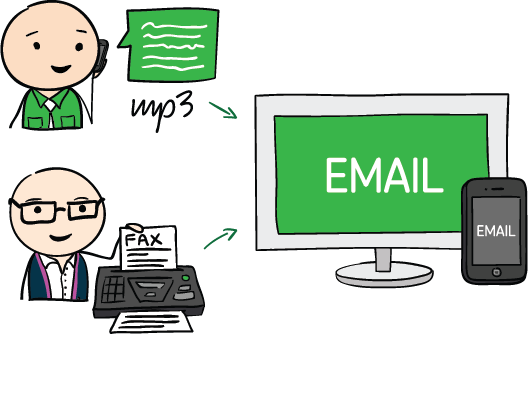 Voicemail emailed as MP3
Faxes emailed as PDFs
Send voicemail notification to multiple emails
Have your voicemail transcribed with Read Your Voicemail
30 Day Money Back Guarantee!
Get a Number

&

Sign Up »
or See How it Works »
Stay connected even when you can't take a call
How will I be notified when I have new messages?
With the voice and fax delivery feature, your voicemail messages can be delivered to multiple email addresses and mobile devices. Voicemails are converted to wav or mp3 audio files and are sent to you via email. You can even have faxes delivered to you as PDF attachments.
How many email addresses can be notified of new messages?
You can enter up to three email addresses per extension for voicemail and fax delivery.
What are the voicemail and fax delivery features?
Voicemail and fax delivery provides you access to your voicemails and faxes via email. Voicemails are sent as an MP3 or WAV files to as many as three email addresses per extension. Faxes are sent as picture attachments and can be saved to your computer as PDFs.
Over 300,000 Happy Customers Served
Here's what a few of them have to say about Grasshopper
I am now a huge fan of Grasshopper… truly saved the day (and my sanity). Carolyn Appleton Carolyn M. Appleton, Inc.
Having a phone number on our site increased conversion of site visitors to sign ups and paid users! Allan Branch LessAccounting