Creative Uses of Grasshopper
Creatively Routing Calls
Most often, businesses go with the standard main greeting that sounds something like, "Press 1 for Sales, 2 for Customer Service, or 3 to talk to a representative." But this set up may not be the best option for every business.
Angel Wintrode of Bi-State Wildlife Hotline says they take a different approach that better suits them. They have a designated extension for each type of animal. She says that because their employees are specialists on one species, their Grasshopper system helps them "direct calls to the person most experienced."
There's no one way of routing calls that works well for every business in every industry. Grasshopper affords you the flexibility and customizability to make your system work for you.
Lead Generation Systems
Your phone system can do more work than you think. Just ask the real estate agents who are using theirs as lead generation systems.
Here's how it works:
Record a voice message on Grasshopper.
Distribute your message's phone number to your prospects.
Capture lead information from prospects who call before they listen to your message.
Realtors frequently use these messages to record information about their current properties for sale. In their messages, these sales powerhouses include a lot more descriptive information about their listings than they can in print. The good ones even provide educational advice in the message—all in an effort to capture the caller's details at the end.
Employee Time Card System
One neat feature of Grasshopper's phone system is that all voicemails are automatically time-stamped. Our customers love that the timestamp helps them keep their voicemail organized.
But 360clean uses this feature in a totally unique way. When an employee gets to a client's location, they call in and leave a voicemail. Since the message is time-stamped, it serves as a way for the employee to "clock-in."
When the job is done, they call in again to "clock out." Brent Bodiford of 360clean says it helps them to keep track of employees and accounts and ensure a good quality clean.
VIP Lines and Hidden Extensions
Many of our customers say their favorite thing about Grasshopper is being able to answer business calls on their cell phone. It's a great feature, for sure.
But what if you only want the really urgent calls to come to your cell phone? It can be hard to address the important issues without interfering with your fragile work-life balance. And turning off call forwarding after 5 might mean you miss something crucial.
Jason Potter of VidTime Online has found a solution by using his Grasshopper system in a unique way. "I have a hidden extension that rings to my cell phone," Jason says. His "VIP line" isn't listed in the company's greeting or the directory. Jason only gives it out to super important people. It helps him to be accessible when critical things pop up without having to give out his personal cell number or have all of his calls forwarded to it.
Using a secret, hidden extension is a great way to use Grasshopper to maintain your privacy, keep a healthy work-life balance, and be accessible when you're truly needed.
Turn Your Smartphone into Your Business Line
When it comes to convenience and communication, there's nothing like using your cell phone for business calls. But with only standard cell service, your business can sound unprofessional and your messages might become unmanageable.
Amber Hawthorne of Bambu Earth was using her cell phone for business. Grasshopper helped her make it sound like an office landline. "When someone is calling my Grasshopper number, the call gets forwarded to my cell. There's no confusion for people now. They get an automated system that introduces our company and gives them options."
Experiential Marketing
Ever read a book and wished you didn't have to leave the world it brought you to? Ideally, that's how you want customers to feel about your brand. When it comes to marketing, just like a good story, you can't beat total immersion.
That's the rationale author R.L. Akers used when he decided to create a real-life business mirroring the fictional company in his books, the Gryphens Saga. He created the Orbital Defense Corps and set up a website that looks like an actual branch of the military, even including a press packet and information on how to enlist.
"I wanted to include a phone number," R.L. said, "like a real military website would have." He uses his Toll Free Number, Custom Greeting, and Informational Extensions from Grasshopper to make callers feel like they're really living in his story.
Branding your business through more than one medium is a great way to create a true experience for your customers. "Transmedia storytelling," as R.L. calls it, allows you to emulate much bigger brands with a much smaller budget.
Be Bilingual
In today's world, there's a good chance your customers may not all speak English, so being able to provide support in multiple languages is huge.
EspanolSeguros.com uses their Grasshopper system to cater to both English and Spanish-speaking clientele. Using Voice Studio, they're able to customize their greeting to read in both English and Spanish.

Since their service is designed to help Spanish-speaking customers attain insurance, it's absolutely vital that their phone system is able to cater to these consumers. Grasshopper's customizability means that you can record your own greeting in as many languages as you need.
Track RSVPs for an Event
Event planning is a head ache. Between finding the best caterer, decorating, and getting everyone on the same page, you're likely to stress.
So, let Grasshopper track who is going to show up.
If you need an accurate head count, you want to track who's coming as easily as possible. That's why Grasshopper customers set up a special extensions or phone numbers for counting RSVPs.
You can give invitees your special number or extensions and ask them to leave a message with their name and number. Then, Grasshopper's Voicemail Transcription service will write out and send your voicemails straight into your inbox.
That way, you'll know exactly how many people are coming to your party without having to answer the phone every single time.
Track Marketing Efforts with Multiple Phone Numbers
It's hard to track exactly where new customers come from: Television, billboards, radio, web, partners, etc. While analytics have certainly made it easier to track web traffic, offline efforts aren't as clear cut.
A great way to track offline marketing efforts and determine ROI is to use multiple phone numbers. Using separate phone numbers for separate campaigns can help you track where your visitors come from and give you insight into which campaigns are working best.
Using Multiple Phone Numbers to Track ROI:
Place a phone number on your website that is found nowhere else. This will allow you to track conversions from people visiting the site and then picking up the phone and buying. You can even create use separate numbers for your pay-per-click ads.
Use a specific phone number in your television or print ad. This can be as easy as creating a new extension for your toll free number or using a completely separate phone number. Perhaps you want a local number for your television ad but an 800 number for your print ad since it will be less geo-targeted.
Manage Your Side Project
Many businesses start out as business ideas you tinker on when you have a few spare moments.
But with a regular day job, these side projects can be hard to manage.
Whether you're freelancing, consulting, or creating the next greatest web app, Grasshopper can help you manage your time, as well as your customers. You'll be able to answer calls from clients in a timely manner while keeping your boss happy!
With call scheduling, voicemail transcriptions, call forwarding, and other features, you'll excel at both your day job and your project.
Inbound Fax on Demand
Grasshopper isn't just a phone system—it's also a fax. In fact, your phone number can double as a fax line, so you can receive faxes without an actual fax machine. Incoming faxes are automatically converted to a digital image that you can access online, have forwarded to a fax machine anywhere, or even have delivered via email as a PDF.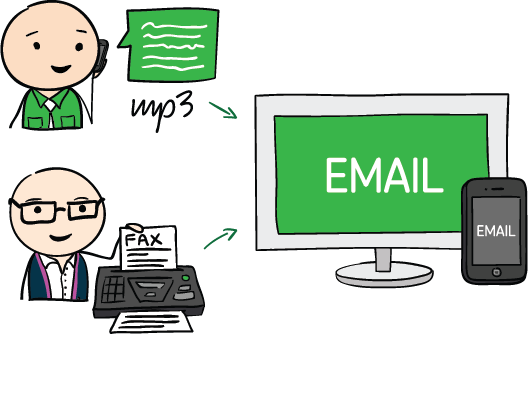 If you need documents from your clients, employees, or partners, you can use the inbound fax feature. You don't even need a separate fax number.
Emergency Updates, Scheduling Changes, and Announcements
If something is out of the ordinary, how will you let your community know? Grasshopper makes it easy to program emergency updates, scheduling changes, and other announcements into your main greetings.
Alex Hoffman, serial entrepreneur and co-founder of Dormestics, shared a great example. Dormestics was a college storage business in Nashville, Tennessee servicing Vanderbilt University.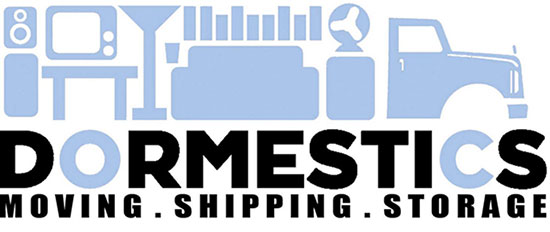 In May 2010, just as students were moving out for the summer, Nashville was inundated with a flood, causing serious disruptions to deliveries and pick-ups. Alex used his main greeting to give information to students and their parents about the company's current status so he could focus on making things right, rather than answering every call.
Up Your Privacy
Lots of entrepreneurs give out their cell numbers, especially when they're first starting out. This is ok for a little while, but if your business is going to grow, you'll need a private business line.
Not only do you want to make it clear to your customers that you represent a business, but you also want boundaries.
It doesn't make sense to call up your cell phone provider and get a whole new phone. Why not just buy a phone number that forwards to the phone you already have? Grasshopper allows you to port your existing number or get a local or toll free number. With a spankin' new number that forwards to your current phone, you'll up your privacy inexpensively.
Having a Local Presence, No Matter Where You Are
If you start a business in Texas, but spend most of your time in California, then you're in a jam. You want to cater to the Texans, even though you're super far away.
Not a problem with Grasshopper. Just buy a local number for the Texas area code, and answer calls in California, Hawaii, or anywhere in between.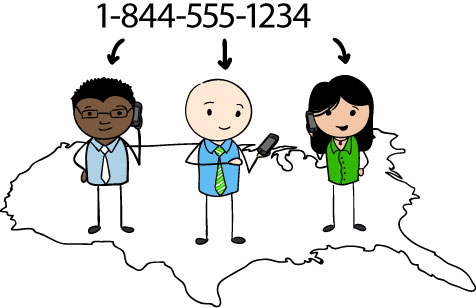 If you're doing business far away from where you're physically located, then simply buy a local number that matches your business location. This will put customers at ease, as they'll be sure they're speaking to a local, not some strange "out of town" number.