Launching and growing your very own new business is an experience unlike any other.
It takes grit, passion, and plenty of elbow grease to build a successful business, and nothing can truly prepare you for all that entrepreneurship actually entails.
You can, however, build a foundation of knowledge and skill that will make your entrepreneurial journey just a touch easier. There are tons of options when it comes to education for aspiring entrepreneurs that can help you prepare for the many hats you'll have to wear as a business owner.
What's the right educational path? Choose your own adventure.
Get a University Degree
In the last several years, it's become more and more common for universities and colleges to offer degree programs specifically aimed at entrepreneurship and running a business. That means you can go the traditional university route and still be well prepared to launch your own business after graduation.
| Pros | Cons | |--------------------------------------------|----------------------| | Comprehensive coverage of course materials | Expensive | | Networking opportunities | Time consuming | | Prestige | Rigid subject matter |
Entrepreneurship Degree
If you're looking for a degree in entrepreneurship, specifically, there are a lot of options to choose from. According to Entrepreneur, the top undergraduate entrepreneurship programs in the U.S. are:
1. BABSON COLLEGE
Tuition: $14,729 (in-state); $45,002 (out-of-state)
Faculty with entrepreneurial experience: 58%
Startups launched by grads in last 5 years: 310
2. BRIGHAM YOUNG UNIVERSITY
Tuition: $10,600
Faculty with entrepreneurial experience: 93%
Startups launched by grads in last 5 years: 320
3. UNIVERSITY OF MICHIGAN - ANN ARBOR
Tuition: $48,288
Faculty with entrepreneurial experience: 100%
Startups launched by grads in last 5 years: 320
MBA
If you've already done undergrad, an MBA is a good capstone that offers a lot of new information about every aspect of running a business. You can also concentrate in a particular area, like marketing or operations, where you feel a little weaker on the proficiency side. US News says these are the top MBA programs in the nation:
1. HARVARD UNIVERSITY
Tuition: $63,675
2. UNIVERSITY OF PENNSYLVANIA
Tuition: $67,516
3. UNIVERSITY OF CHICAGO
Tuition: $66,540
Take Courses & Certifications Online
If you're not interested in the traditional college experience or pouring tens of thousands of dollars into a degree, you can take online courses & certifications (sometimes even from those same pricey schools) that let you build your own entrepreneurship program and learn at your own pace.
| Pros | Cons | |---------------------------------|----------------------------------| | Choose your own course material | No prestige or name recognition | | Study at your own pace | Limited networking opportunities | | More affordable | Less well-rounded education |
Coursera
Coursera offers thousands of courses on every topic you can imagine. Whether you want a well-rounded entrepreneurial education or to bolster weak spots in your business know-how, they can help you do it. You can even find affordable, flexible courses from prestigious business programs like the University of Pennsylvania and Northwestern.
Our picks:
ENTREPRENEURSHIP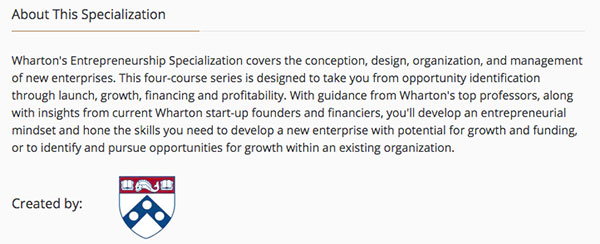 HOW TO VALIDATE A STARTUP IDEA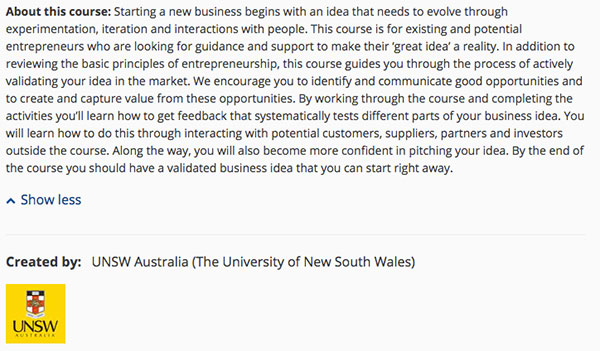 COMPETITIVE STRATEGY

Udemy
Udemy is similar to Coursera but with an additional emphasis on hard skills, too. You can learn how to code, how to maximize Microsoft Excel, how to use body language to project confidence, etc. all from well-known experts like Gary Vaynerchuk. And courses are affordable, so you can learn even more.
Our picks:
ENTREPRENEURSHIP 101: START & GROW A BUSINESS FROM SCRATCH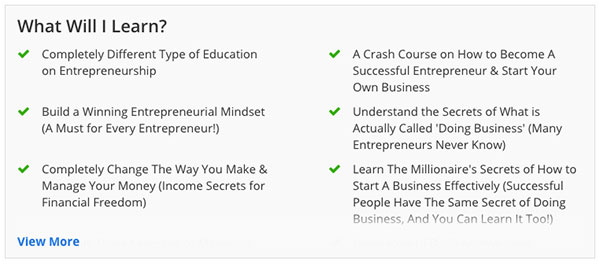 THE ULTIMATE GUIDE TO BUILDING A PERSONAL BRAND

BUSINESS LAW FOR ENTREPRENEURS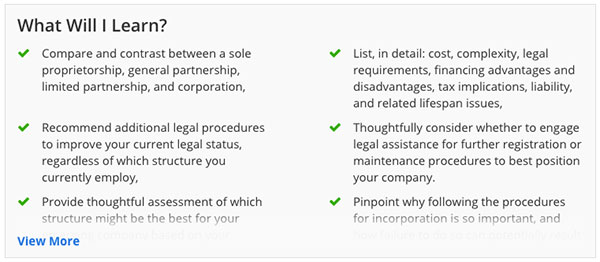 Grasshopper Academy
Last year, we launched our own set of courses and curriculum – called Grasshopper Academy – to help entrepreneurs learn and grow. You can choose from a selection of courses designed to help you start, run, and market your new business – whether you've already launched or are just beginning to think about it.
Our picks:
CREATING A BUSINESS IDEA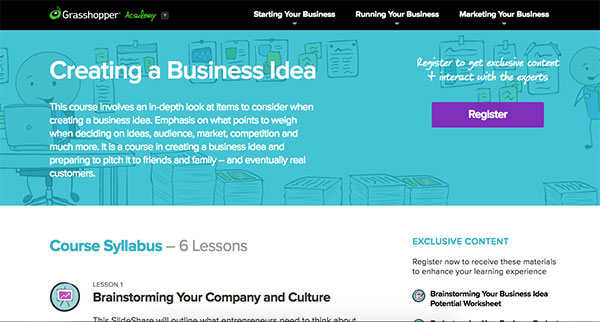 FINANCING YOUR BUSINESS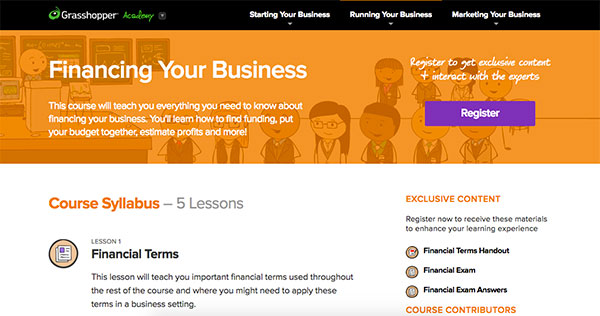 DEVELOPING A BUSINESS PLAN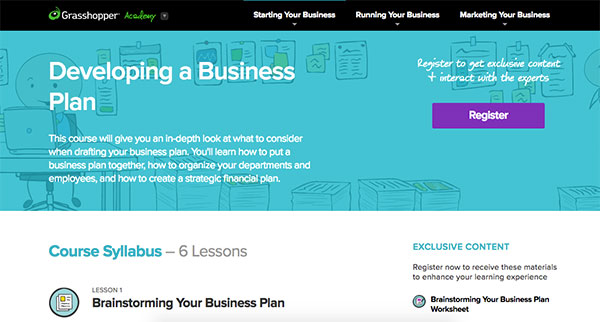 Enroll In an Incubator
If you're done with dry education and courses and itching to just get out there and start your business already, enrolling in an incubator is a good option. It can get you access to vital mentorship, connections, and even startup capital all while you're actually out there building a business.
| Pros | Cons | |------------------------------------------|-----------------------------| | Access to mentorship and networking | No official course material | | Learn as you actually grow your business | Limited room for mistakes | | Often involve seed funding | Can be restrictive on means |
Y COMBINATOR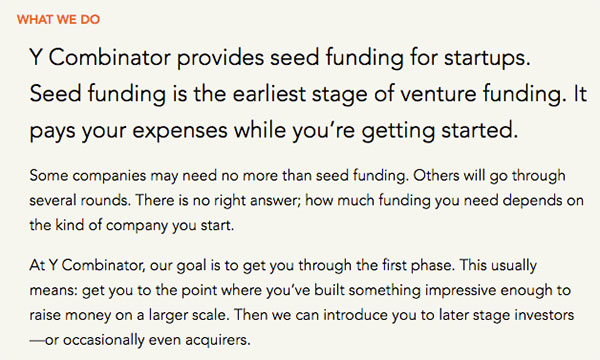 TECHSTARS

500 STARTUPS

All of the Above
The story of the college dropout whose humble idea grows into a multi-billion-dollar behemoth is enticing, but when it comes to everyday entrepreneurs, having a well-rounded, entrepreneurial knowledge of how to start and grow a fledgling business is essential. The extra know-how makes it easier to fill those giant shoes of the entrepreneur and could be the difference between a forever-fledgling and huge success.
That's why we recommend all entrepreneurs – both current and aspiring – invest in growing and learning on a personal level. Whether you opt for a pricey MBA, a few free courses on Grasshopper Academy, or all of the above, your business will thank you.