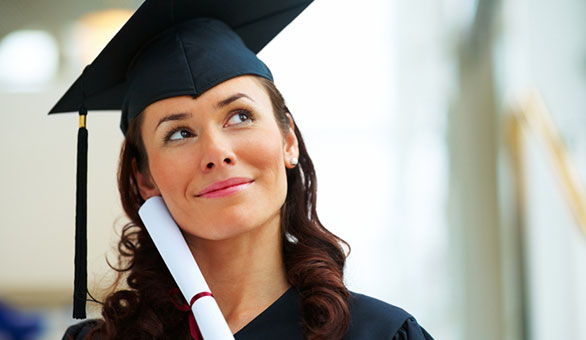 Over the past decade, colleges and universities have diverged from traditional business degrees to offer specializations in entrepreneurship. Sounds pretty cool when you're trying to learn all you can to get business going, right?
But there are a lot of questions.
How much will it cost? Will it be worth it? What's the difference between a degree in entrepreneurship and a standard BS or BA in Business, or even an MBA?
Going to school has its perks (connections, skills, and cute backpacks), but deciphering whether an entrepreneurship degree is right for you seems harder than finding a stolen painting.
So, we've done some research, talked to experts, and worked to figure out whether a degree in entrepreneurship is really worth it.
We can't give you a straight answer. A lot of the people we talked to benefited from their programs, but some weren't sure it was worth the cost.
It's up to you to decide, but we're here with some information to help you make a decision.
The Difference Between a Degree in Entrepreneurship and a Degree in Business
Some say that degrees in entrepreneurship and business are the same thing, but are they really? According to the Harvard Business Review, there's a pretty big divide.
Saras Sarasvathy, a professor of entrepreneurship at the business school at the University of Virginia, says an MBA or standard business degree focuses on "causal" reasoning-- business plans, ROI calculations, and finding ways to make money easily and quickly.
An entrepreneurship degree is more focused on "effectual" reasoning, which means it allows goals to naturally develop, alongside tactics like experimental marketing and bootstrapping.
There are a lot of programs that combine standard business teachings with innovation and entrepreneurship. Don't think that getting an MBA will prevent you from learning about how to get companies off the ground. Many of today's best MBA programs offer specializations and concentrations in entrepreneurship.
Your best bet is to choose your program carefully. Figure out what you want to get out of it, why you're going, and do your research. Visit the schools, ask questions, and don't settle if you're not sure.
Try Grasshopper
Get a local or toll free number, call forwarding, voicemails transcribed, unlimited extensions, and more!
Plans starting at $12/month
Where Are You Coming From?
Some people get undergraduate degrees in entrepreneurship with big dreams of starting a business someday, while others go back to school after spending some time in the working world.
It matters where you're coming from.
If you're pursuing an undergraduate degree, it's pretty safe to go for entrepreneurship, especially since you'd likely be in college anyway. If you're going back for an MBA or advanced degree, the choice is more weighted.
Are you doing this because you're passionate about starting the best company ever or because you're a little bored? Are you going to take out loans, run your business on the side, or ask for money from your parents? Figure out your goals and finances before you go back to school.
How Much Does a Degree in Entrepreneurship Cost?
The nice thing about entrepreneurship degrees is they come in many shapes and sizes. You can get a bachelor's degree in business or an MBA with a specialization.
School is expensive, though, no matter how you slice it. In-state tuitions are significantly less expensive, so consider your state school if they have a good program. Many programs offer scholarships and monetary awards as well.
We broke down the costs of the top undergraduate and graduate programs.
Cost of Top 3 Undergraduate Entrepreneurship Programs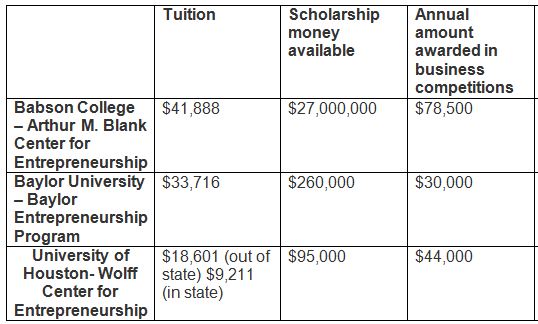 Source: Entrepreneur's 2013 Top 25 Undergraduate Colleges
Cost of Top 3 Graduate Entrepreneurship Programs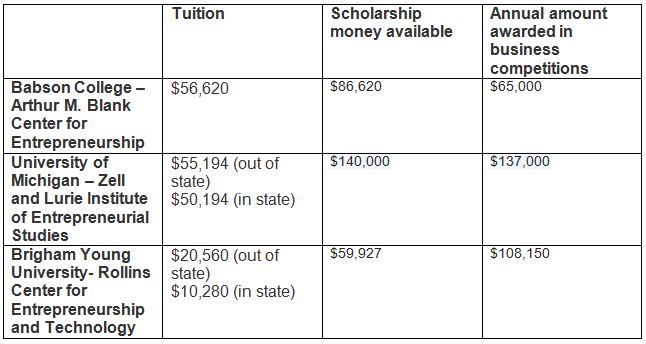 Source: Entrepreneur's 2013 Top 25 Graduate Universities
Is an Entrepreneurship Degree Worth It?
But you want to know if a degree in entrepreneurship is worth it, especially when founders like Mark Zuckerberg found success after dropping out of college.
We talked to a handful of experts who have degrees in entrepreneurship to find out if they think their degrees are worth it, and if they'd recommend the same path to you.
You Have to Want It
If you're getting a degree in entrepreneurship to get rich quick, it's not the path for you. You must be passionate about starting businesses, or else you won't get much out of a program. Getting a degree is a huge decision, so make sure you want it before jumping in.
"Make sure you pursue entrepreneurship for the right reasons. I've seen some students pursue entrepreneurship because they think it sounds cool or will lead to riches," says Dan Price, CEO of Gravity Payments and graduate of the University of Washington's Center for Innovation and Entrepreneurship. "Instead, look at entrepreneurship as an opportunity to serve and work hard."
Getting Tools and Blueprints
There's so much to learn when you're starting a business, and entrepreneurship programs can help you out with the nuts and bolts. The entrepreneurs we talked to were convinced they gained valuable knowledge while in school and that it was well worth the price.
"Learn all you can before, during and after classes," says Mila Golovine, founder and President of MasterWord Services and graduate of the University of Houston's Wolff Center for Entrepreneurship. "Seeking the same advice later will cost you thousands of dollars per hour in consulting fees."
Why hire consultant after consultant when you can get the knowledge yourself? Learn how to make a business plan, hire employees, and stay on top of trends in the innovation industry.
The Necessity of Networking
Perhaps the biggest reason that entrepreneurs love their degrees is because of the communities they built, the people they met, and the relationships they founded.  Long after they've graduated, these entrepreneurs continue to connect and collaborate. When they hit a rut, they just pick up the phone.
"The connections I made were priceless," says Golovine. "I remain in touch with Bill Sherill, the Founder and Co-Chair of the Wolff Center for Entrepreneurship. I can pick up the phone and call Bill if I need to bounce an idea around."
Careful, though. Some of the entrepreneurs we talked to regretted not making more connections while getting their degrees. Make a concerted effort to network and- think of it as a necessity, not a choice.
Take the Advice You Get
If you're not willing to take what you learn and apply it, you might as well stay home.
"I wish I had listened to everything we were told not to do," says Golovine. "I could have avoided many mistakes, if I had just listened to the people who already learned from experience."
Golovine elaborated with examples that included having a business plan for each and every year, as well as securing a line of credit when you don't actually need one.
Learn to Talk Business
If talking to people isn't your strong point, a degree in entrepreneurship could give you practice. After all, you can't network if you don't talk.
"Prior to tapping into [my program's] resources, I really did not talk about my business a lot. I was quiet about it and a little bit shy," says Dan Price.  "Entering the competition and attending UW/CIE forced me to get out of my shell and encouraged me to talk about my business with the community."
Learn What You Don't Know
Sounds obvious, but the best reason to get a degree in entrepreneurship is to learn things you don't know in an organized fashion from the world's best instructors. A defined program forces you to be responsible – you've got to attend classes, do your homework, collaborate with others, and build successful business plans. You can't help but learn!
"I feel like I had the most to learn, since I had never taken accounting, finance, marketing or economics," says Lesley Stracks Mullem, co-founder of Taste Carolina and graduate of the UNC Kenan-Flagler Business School for Entrepreneurial Studies. "I didn't know Microsoft Excel very well, and, although I considered myself a good boss, I needed to learn how to manage up and around organizations."
What Can I Do With a Degree in Entrepreneurship? What Jobs Can I Get?
While it's difficult to say for sure what the degree will do for you, there are many paths to take. The degree is attractive to many employers across a wide array of industries, and it will come in handy if you decide to start your own venture.
You'll be an attractive candidate to startups and small businesses that are getting off the ground. Large consulting firms (like McKinsey) often hire those with MBAs and degrees in entrepreneurship. Additionally, you're likely to make connections with those in your program, those who are as excited about starting a business as you are.
Do Entrepreneurs Recommend It?
We talked to four entrepreneurs who got degrees in entrepreneurship. All were happy they did, but there are many successful entrepreneurs who think these degrees are silly.
Degrees in entrepreneurship have a lot of perks, but entrepreneurship is more about attitude than a degree. If you're passionate about building businesses and can't afford the hefty price tags on a program, you can still succeed. And if you decide to go ahead and get a degree, believing in the possibilities of networking and hard skills, you're certainly not alone.
Make sure you identify your needs before jumping in, as a degree in entrepreneurship may not be the answer. A few experts have weighed in on this debate via Quora, which is worth checking out.

Additional Resources