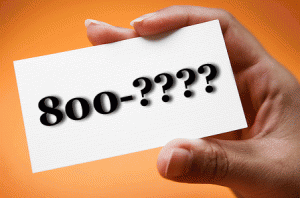 Does your business have a toll free number? Well, why not? A toll free number can be an indispensable business asset, regardless of your company size.  The benefits of having a toll free number are endless.  It goes beyond just brand recognition and credibility; toll free numbers can also increase your sales and ROI.
Here are 5 reasons why your small business needs a toll free number:
1. Improve customer satisfaction
Have you ever tried to get in contact with a business only to discover you can't find their contact info (ahem, Google)?  It's really frustrating and can leave a sour taste in your mouth about the company.
With a toll free number, you can improve your customer service and satisfaction simply by being available to take their call.  A toll free number makes it easier for your customers to reach you and get their questions answered. They'll be able to call you any day, at any time and it won't cost them a thing. The easier you make it for your customers to reach you, the more likely they are to remain a customer.
2. Easy to remember
Another benefit of having a toll free number for your business is that it's much easier to remember than any other number, especially if it's a vanity number.  It's a lot easier for people to remember 1-800-Flowers than it is to remember 1-800-356-9377. People are more likely to call you, it can generate more sales and it can be a really powerful marketing tool for your business.
3. Credibility
Toll free numbers aren't just for big corporations; they are great for companies of all sizes, especially those just starting a business. Having a toll free number gives your business credibility and enhances your company's image.  You could be working out of your basement and no one would know.
4. Portability
With a toll free number, location doesn't matter.  Relocating your business? Your customers won't even know! You can still be reached by your toll free number regardless of where you are located, simply by forwarding your calls to your cell phone or any other phone for that matter! Did you also know that once you purchase a toll free number it's yours? Even if you change providers, you can take your number with you.
5. Marketing Tool
We've already talked about using a vanity number (also great for marketing purposes) but did you know toll free phone numbers can help you better track your marketing efforts?
Think about it. You have a website, a print ad or maybe even a billboard in Times Square. When someone picks up the phone and calls you, how do you know where they came from?
toll free number allows you to create extensions, which can then be associated with a particular campaign. One number for print, one for the website, etc. Your toll free number can act as a marketing tool and as a result can increase your call volume, sales and ROI.
Need more information on how toll free numbers work? Check out our post, Toll Free Numbers: What You Need to Know.
Does your small business have a toll free number? What are the other benefits to having one?