Pay-Per-Click Essentials: How to Use PPC to Grow Your Small Business
A Fireside Chat via Google Hangout
Hosted by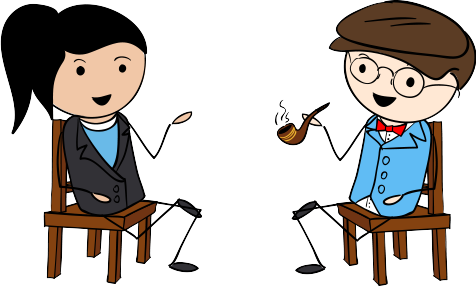 Pay-Per-Click Essentials: How to Use PPC to Grow Your Small Business
Pay-per-click (PPC) advertising (aka "search engine marketing" or SEM) continues to gain favor with online marketers across almost every industry, and from SMBs to enterprise organizations.
Many small business owners start out with online marketing strategies that are generally considered "free," like SEO and social media—although if you value your time you know that doing those well is not "free." As business booms and companies grow, many business owners assume that paid online advertising options, like PPC, are the natural next steps.
But PPC is much different from other online marketing options. Doing it well means first determining if it's right for your business, and if now is the right time. If it is, it's hard to know where to start, and mistakes are easy to make.
Keep reading to determine if your business is ready for a PPC campaign, what you need to know to get started, and how to optimize your campaign for the best results.
Is Pay-Per-Click Advertising Right for Your Small Business?
As with most business decisions, marketing strategies seem to weigh heavier on small businesses. SMBs need all the exposure and promotion they can get, but have less to spend on it. That makes every win a huge success, but it also makes the risks scarier.
What's more, modern small businesses have more marketing outlets to choose from than ever before. Options are good, but it can also be hard to tell where to start, what will work best, and how much to invest in each one. PPC is one of several digital marketing strategies, but how do you know if it will return qualified leads and help close sales for your brand?
A look at the pros and cons of PPC is a good place to start.
Pro: PPC is Instant
Sometimes instant is bad (noodles and coffee come to mind), but sometimes instant is good.
Almost anything else you do requires a process of getting it going and building that snowball—whether it's SEO, social media, or even conventional marketing. With PPC you are hitting somebody who is ... near the end of his or her search, looking for your product. You get them at that moment of decision, and have a chance to convert them right there. Very, very much instantaneously. - Steven Hammer, President, RankHammer
As soon as a PPC campaign is set up, your ads start to appear to a very targeted segment. Search engines have, essentially, built momentum for you to tap into at just the right moment.
Pro: PPC Gives You a Lot of Control
If you've ever been accused of being a control freak, PPC won't judge you. Where social marketing relies heavily on the whims of your audience, and SEO relies on sometimes unclear search engine algorithms, PPC lets you fill in every field.
Especially compared to a lot of programs like email and SEO, PPC affords you so much control. You can determine what keywords you want to bid on, exactly what you want the copy to say, and what the landing page is going to be. There's just so much more control that you don't necessarily get from the other mediums. - Matthew Umbro, Founder, PPCChat
Of course, user whim and search engine algorithms are still factors with PPC, but you can get your hands on more details with PPC.
Con: PPC Requires Proper Analytics
PPC can be quick, but it's definitely not easy. Doing it right requires a good investment of time, and a sharp eye for data.
Clients will come to us who have had terrible experiences with PPC. Many of those issues relate to PPC accounts that are left unmonitored: they're not managed properly ... and they burn through a bunch of money without getting conversions. The reasons are numerous: they're not tracking properly, not reviewing performance and optimizing it, etc. PPC is not something you can just go into, pick a couple of keywords, and throw money at it. - Sean Dolan, President & COO, PushFire
PPC, like most marketing strategies, cannot be turned on and left alone. Doing it well requires monitoring and analyzing data, and adjusting for those insights.
Con: PPC Tracking Can Get Complicated
Metrics and analytics are only part of the intricacies of PPC. There are various ways to track metrics and all of them need to be set up and maintained properly.
Tracking is probably the biggest element you could ever want, but setting that up—from call tracking, to Google Analytics goal tracking, to the standard code that goes with AdWords or Bing , etc.—can get complicated really, really fast. While it's easy to turn it on, sometimes it's hard to know that it's doing the right stuff for you unless you really have a proper setup. - Steven Hammer
The technical details of a successful PPC campaign can pile up. Doing it well requires experience and an acute focus.
@RankHammer @armondhammer great point! Improper set up in #PPC could lead to inflated organic visits in Google Analytics. #frsdchat

— Greg Kristan (@GregKristan) July 29, 2015
PPC advertising can produce some quick, structured results, but will use some serious resources. If you're considering a PPC campaign, ask yourself the following:
Do you have a specific marketing campaign coming up, or a specific goal in mind for brand awareness?
Is your website design complete? Do you have specific pages designed for conversion?
Do you have a chunk of your marketing budget available that you are willing to invest in an ad campaign? Do you have the budget to hire a PPC agency?
Do you or a trusted staff member have time to set up, monitor, adjust, and review the campaign; or to work with an agency who will do much of the work for you?
If you answered, "No" to any of the above, you're probably not ready for PPC just yet. Get those ducks in a row so you can launch an effective campaign in the future.
Should you Outsource PPC or Keep it In-House?
Small business owners and entrepreneurs are great at doing a variety of business tasks—from accounting to sales to marketing. Keeping things in-house is a great way to save much-needed funds, but outsourcing your weaknesses is a necessary skill for small business owners.
How do you know if you can do PPC in-house or not? Ask yourself two questions:
1. How Much Time Do I Have?
PPC is not a plug-and-play strategy, and it's not something you can do over lunch or with a few evening hours.
PPC is a full-time job. Whereas five or six years ago you could get away with making PPC part of someone's job, it's so advanced now that you really need someone who focuses on it all the time. If you don't have someone in your office who can spend the majority of his time on the account, then it makes sense to outsource it to an agency or freelancer who is going to spend the time necessary to optimize the account. - Matthew Umbro
RT kerijaehnig: Via Matt_Umbro: #PPC is a full-time job. Have a staff member in the office or hire a freelancer to do it. #frsdchat #SEO

— Jack Frost (@jf_jackf) July 29, 2015
Let's be real: you're a small business owner—time is not something you have a lot of.
If you are only bidding on a few keywords, you could do it yourself. To get the keywords with the most effective ROI, however, it's likely that you'll need to target long-tail keywords, so your list will be rather long. Most small businesses don't have a defined marketing person, so the PPC strategy becomes a "list it and forget it" one. Such a strategy will result in unoptimized results. If you are investing at least $900 per month, I'd get an agency's help. - Bob Bentz, President, ATS Mobile
PPC these days is about more than choosing keywords and assigning dollar amounts. In addition to strategy, set-up, monitoring, and analyzing, a good PPC manager will spend time staying up-to-date on strategies and best practices.
2. How Much Do I Love PPC?
If keyword data excites you, then you might be in a really good place to handle your own PPC advertising. If not, you might want to hand it off.
It takes a lot of passion to really manage it yourself. There are so many detailed settings that you can get into. I would say that at the very least, if you're going to try to handle it yourself, make sure you have someone help with that analytics set-up. Google Analytics is famous for a "good integration:" you drop in the one line [of code] and think you're done, but you're not. Get somebody who can help you with that. - Steven Hammer
In addition to the technical details of any PPC campaign, the nuances of PPC best-practices also require time and experience to master.
Campaigns operating in extremely competitive cost-per-click spaces (say, greater than $4.00) should strongly consider using an agency because of the difference in performance from an agency with expertise. - Brandon Hull, Vice President Sales, Main Path Marketing
Most entrepreneurs strike out on their own because they're passionate about their work, their solutions, and/or their customers—not because they're passionate about keywords and marketing metrics. If it's time to add PPC to your marketing strategy, but you don't have the time or the drive to own it, send it out to someone who does.
PPC 101 for Small Businesses: How to Get Started
When the time comes to add PPC to your marketing mix—whether you're going DIY or outsourcing—there are two main considerations to go over before you, or your agency, starts bidding on keywords.
1. The Brand Website
The best PPC ad is only as good as the website or landing page it sends users to. Take care of any necessary touch-ups or updates on your website before launching a PPC campaign. It doesn't need to look like a Fortune 500 company site, but make sure you're competing in your local vertical.
Then, take a second look at your site with the end of your PPC campaign in mind.
When it comes to small business, you need to decide what your ultimate end-game is. What do you want people to do when they come to your site? Do you want them to fill out a form? Call you? Align AdWords and Bing features—and other channels as well—with what those goals are. - Matthew Umbro
Many times, especially for a PPC campaign, that means optimizing an existing page or—more likely—creating a new page specifically for that PPC ad. Home pages and landing pages have different goals, and a well-designed PPC ad that sends someone where they don't expect to go is a wasted click.
Many times, especially for a PPC campaign, that means optimizing an existing page or—more likely—creating a new page specifically for that PPC ad. Home pages and landing pages have different goals, and a well-designed PPC ad that sends someone where they don't expect to go is a wasted click. - Steven Hammer
Make sure your website, in general, is aesthetic and user-friendly compared to your direct competitors, and then make sure you have a specific landing page designed for a specific goal that relates to your PPC campaign.
Focus on relevance of search #ads and landing pages. High click-through rate and low conversion rate quickly kills campaigns. #FRSDCHAT #SEM

— Thomas M. Rasinen (@Rasinen) July 29, 2015
2. The Budget
Every business owner needs to decide what a lead is worth in order to set a strategic budget. How many qualified leads make it through your sales funnel, and how big is your profit margin? That can be a difficult number to determine, but it will give you an idea of what you should pay for a click.
Then, consider your industry. Even if all other factors are the same, the value of a lead will vary by industry because of what your competition is willing to pay.
What's ultimately going to be profitable for you? A lot of it depends on the industry. A law firm will have keywords that are, at the lowest, $20-30 per click. You need to understand the industry you're in and then make decisions about budget—knowing what the competition is going to be like, what those average costs per click are going to be like, etc. - Matthew Umbro
Once you have a number on your PPC budget, the next decision is how to spend it.
I can take that budget and spread it out very, very thin; spend a little each day; get one or two clicks on each keyword; and it takes a really, really long time to learn anything. Or I can try to make a really, really big splash in a concentrated area. I'm going to choose B every time, because when I make a big splash in a small area I can learn really fast. I can be wrong, but at least I've learned something. That tuition is more valuable than one conversion with no data. - Steven Hammer
With a budget ready to go, go big. One of the great things about PPC is that you are effectively buying advertising spots and market data at the same time. Clicks and conversions are a bit of a gamble—especially at first as you learn to target your audience—but the data is guaranteed.
Keep in mind that anything you spend in PPC, you are getting that value back in data. If you do run some ad campaigns,you're going to get a lot of useful data that you can apply later—like negative keywords, segmenting geographically, even time-of-day. Don't consider it a total loss if you did spend and didn't get the conversions that you wanted. - Sean Dolan
Developing a PPC budget requires a little analysis of your sales model, which can be especially challenging for small businesses who haven't testing their sales funnels much, but it's the only way to really determine if your campaign is working for you. If you have to make some estimates, start there and adjust the budget as you gain experience.
PPC 201 for Small Businesses: Beyond the Basics
If you've already waded into PPC, you know there are a lot of variables to consider. Filling out the right fields to get a campaign off the ground is just the beginning. From ad copy to SEM trends, and from metrics to common mistakes, there is almost always more to know—and more to improve—about PPC.
Pro Tip 1: Optimize Ad Copy
Copywriting is a celebrated profession because it can be very difficult. Communicating effectively in so few characters and so small a space takes practice, but a few pieces of good advice can get you off to a good start.
Be direct. There's no sense in beating around the bush or trying to be too cute with search ads. Yes, you can be creative, but if you're targeting "buy blue shoes," don't talk about how fantastic your customer service is. They're there to buy blue shoes, tell 'em you have them. - Steven Hammer
Don't mince words—you only get a few of them anyway. Other tips for crafting compelling ad copy include:
Include a CTA. This can be as simple as starting with a verb. Don't just tell the user what you have ("New widgets!"). Tell them what you want them to do ("Get your own new widget!"). Depending on the term you target, that's what they want to do also.
Focus on your USP. Your brand's unique selling proposition/point is what separates you from the competition. Are you the best? Fastest? Closest? Cheapest? Friendliest? Most experienced? Original? Use it in your ad and stand out on the search page.
Use numbers, symbols, and punctuation well. Numbers and symbols break up text and make your ad more engaging. (Just don't overdo it, and make your ad look like spam.) Proper punctuation helps the reader scan your copy, and a well-placed exclamation point can add a sense of urgency.
Test some variables and check on results. Do your ads perform better if you include a specific price tag? Try casual language versus formal, and see which converts better. Any question you have about how to phrase something can be answered by testing variables.
Pro Tip 2: Watch SEM Trends
Search engine marketing is constantly evolving to keep up not only with search engine changes, but also with general digital marketing best-practices and user behavior. Creating a truly effective campaign often requires staying up with the trends. Three of the latest and most important are mobile, content marketing, and retargeting.
Mobile media usage has long been the preference for consumers, and is only growing. For almost two years search has been the most common place for consumers to start researching a purchase. Your ads need to be mobile-friendly.
The biggest trend in SEM is put succinctly in one word and only one word—mobile. Mobile expertise that pertains to SEO, PPC, and social media is more important than ever and continuing to grow. If your small business is in a vertical like the restaurant industry, for example, mobile is even more critical. - Bob Bentz
Content marketing is a well-established strategy in today's digital marketplace. Brands from every industry, of every size, focused on every audience segment are discovering the necessity of serving modern audiences through high-quality content. As content marketing strategies increasingly grow to envelop every marketing channel, PPC ads are joining the party as well.
High quality content marketing is certainly the biggest trend of the past few years. Gone are the days of manipulative content marketing to spammy blogs. Instead, the focus is on producing high-quality content and creating a community around the content you are producing. A major trend in the past 18 months has been how SEM ties in with other facets of marketing. - Simon Ensor, Managing Director, Yellowball
Retargeting is itself evolving. There are several types of retargeting that marketers can take advantage of.
Retargeting is still a new thing for many SMBs. We run across so many organizations that still don't realize this is an opportunity they can take advantage of, too. - Brandon Hull
The two most common retargeting strategies are search and site retargeting. One a user visits your brand's site, site retargeting delivers your ad to that same user on other sites. Search retargeting—probably the fastest growing retargeting strategy—delivers your ad on other sites based on a user's previous search activity.
Other retargeting opportunities include:
SEM/SEO retargeting is similar to site retargeting, but focuses specifically on the search terms used to arrive at your site in the first place.
Contextual retargeting uses strategically placed retargeting pixels to target your ad to users who view complementary services on another site, or interact with your social media channels.
Engagement retargeting delivers your ad to users based on how they engage with other content—like videos or gated content—on the brand site.
Email retargeting monitors behaviors taken in regard to branded emails, and delivers appropriate ads to those users.
Effective PPC means monitoring not only each individual campaign, but the entire industry in general. Trends and best practices evolve at the pace of the internet itself. Keeping up can be a full-time job.
Pro Tip 3: Monitor the Right Metrics
Search engines provide a lot of metrics and analytics data. Some of it is vital. Some of it is overwhelming. Knowing what the data should look like, where to focus, and what to check, and where to put your focus can make all the difference.
Data changes, for example, should happen smoothly. Even your greatest, most creative campaign probably won't inspire the kind of huge spikes that look good on fake line graphs.
If it looks too good to be true, check it. That's usually an indication that something is off. Most changes are gradual. If there's any huge spike, you want to dig into analytics and your AdWords data to see what's going on - Sean Dolan
Each of the specific metrics has its own value, and will help focus, improve, and analyze each PPC campaign.
One of our big metrics that we like to look at is modified bounce rate, at least in the early days of understanding the relevance between landing page and an ad. Conversions are the ultimate metric, but if you get 80 or 90 percent of people bouncing immediately off the page, something is really wrong. It's not as good as conversions, which are the ultimate metric, but it can be an early weather vane of storms to come - Steven Hammer
Modified bounce rate is one of many metrics that can help improve and measure your campaigns. When it's time to make big decisions about the future of your small business' PPC strategy, though, focus on the bottom line.
People get fixated on a certain metric. At the end of the day, it's conversions and ROI from the account - Sean Dolan
Conversion tracking can be easily turned on with Google and Bing, and will tell you how many of those impressions and clicks actually became leads. Google will also let you set up website call conversion monitoring to help you gather better insights.
There are different strategies, formulas, and theories for measuring and calculating the ROI of your PPC campaign. Which one is best for your brand will depend on your specific situation.
Pro Tip 4: Avoid These Common PPC Mistakes
If PPC is new for you, rest assured that other marketers have already made some initial mistakes for you. Start a few steps ahead of the game by avoiding some common PPC errors.
Excessive use of broad match—Search engines allow you to set up your PPC campaigns based on exact, phrase, or broad match for keyword terms. Steve Hammer recommends phrase matching, because broad match, "can go bad, fast."
Ignoring negative keywords—Negative keywords will save almost any campaign a lot of wasted clicks, but too few marketers and small business owners take the time to enter them. At least take a few seconds to include "free" in your negative keywords list.

RT GregKristan: RT RankHammer: Constantly go through your Search Query Report to find negative keywords you never thought of. #frsdchat ma…

— ⓢⓤⓝⓝⓨⓢⓐⓘ (@sunnysai12345) July 29, 2015

Not testing ads—"Unless you have a very clear idea of your buyer persona," warned Simon Ensor, "it is essential to run multiple types of ads to see which one is most effective for that particular product or service."
Not searching pseudonyms—A lot of words and abbreviations have different meanings, especially online. "One such example," explained Bob Bentz, "is the term 'mobile marketing.' Mobile marketing means marketing to consumers' mobile phones, but it also means those trucks that run up and down the Las Vegas Strip with advertisements on the side." Conduct a depersonalized search for your top keywords and make sure you know what you're targeting.
You'll make mistakes of your own, and you'll learn valuable lessons from them, but save yourself some time (and money) by at least avoiding these.
Your First Step to a Killer PPC Campaign
PPC is not a side-project. It can be enormously valuable for small businesses, but it can also be enormously draining.
First, determine if it's right for your brand and your product, and if it is—if now is the right time. How's your marketing budget? How much time do you have? Who is going to run it? If you decide to jump in, remember to start with your budget and your website, not with the Google AdWords sign-up screen.
PPC is a key strategy to many robust marketing campaigns, but—as with all things marketing—it's fluid and ongoing. If you're prepared to monitor, adjust, and stay up-to-date it will probably serve your brand very well.
Meet the Panelists
Matt Umbro – Senior Account Manager at Hanapin Marketing, Founder of PPCChat

Matt Umbro

Matt is a Senior Account Manager in charge of Community at Hanapin Marketing. With eight years of PPC experience, Matt specializes in ecommerce PPC and client relations, while also overseeing content production for PPC Hero.

He is also the founder of PPCChat, a weekly Twitter chat where industry specialists discuss, analyze and debate various PPC topics using the hashtag #PPCChat.

Connect with MattMatt's Website Matt on Twitter

Sean Dolan – President & COO of PushFire

Sean Dolan

Sean Dolan is the President & COO of PushFire. When he's not managing operations, devising PPC strategies or coaching youth football, Sean can be found spending time with his wife and children in his native Texas.

Connect with SeanSean's Website Sean on Twitter

Steve Hammer – President of RankHammer

Steve Hammer

Steve Hammer is President of the award winning digital marketing agency RankHammer, a digital marketing firm with a focus on measurable results. They perform search marketing with industrial grade quality. They have helped large clients with SEO, PPC, and analytics.

Connect with SteveSteve's Website Steve on Twitter
Looks like there was an issue with your RSVP!
Please try again. If it still doesn't work, email it to us at firesidechat@grasshopper.com.
×
Thanks for RSVPing for our event!
Submit any questions you may have for the panelists on Twitter to @grasshopper and use the hash tag #frsdchat - or email questions directly to firesidechat@grasshopper.com.

Be sure to share the event details with your friends and colleagues on social media.

Share this page
×