How to Create the Modern Business Plan for Your Startup
A fireside chat hosted by Grasshopper Academy
Hosted by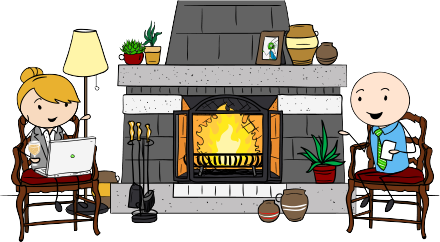 How to Create the Modern Business Plan for Your Startup
No one starts a business because they are excited to spend time staring into their laptop, pounding out a business plan. Few, if any, entrepreneurs daydream about their plans and think, "This would look great in two dimensions of black and white type."
And yet entrepreneurs who complete a business plan are 21% more likely to grow their businesses, and are twice as likely to secure investment capital and/or loans.
While business plans continue to be scorned—if not totally ignored—by some new business owners, the truth is that potential investors, partners, and business mentors want to see something in writing. They need some evidence that an entrepreneur has done their due diligence, and really does know what they're talking about. The number of startups founded each year in the U.S. has been on a steady incline since 2010, so what makes you stand out?
That said, business plans today don't look like the business plans of 10 years ago. Investors are shifting their priorities to reflecting the changing market, and they have less and less time to read lengthy business documents.
Entrepreneurs today need to capitalize on the opportunities inherent in modern business plan structures, the doors they open with investors, and how they help build a business off the page.
Traditional vs Modern Business Plans
As long as entrepreneurs have dreamed big dreams, they have also been burdened with the task of trying to capture those dreams on business plans. As markets evolve and investment strategies change, the format and best-practices of creating business plans react and change and well.
Today, the ideal business plan is updating again. In fact, some entrepreneurs and business owners are skipping business plans all together.
Modern business plan example: "Make money, have fun." #frsdchat

— propecta (@propecta) June 15, 2016
Others are using new softwares and strategies to create highly simplified versions of traditional business plans:
Lean Canvas helps entrepreneurs create a one-page grid that lays out a business model in a format that is easy to digest and easy to update.
Plan Cruncher is an online tool that helps busy business owners organize their ideas and info into a one-page business plan.
LivePlan is a more robust software solution that helps entrepreneurs create modern business plans, and then grows with the company to put the plan into action.
Where traditional business plans could easily become tomes of graphs, charts, and excessive detail, modern business plans are concise, visually engaging, and flexible.
A traditional mindset over-prepares—thinks of every little deal. A modern approach says, "Let's jump in and do this as we go." Jesse Lear, COO, VIP Waste
Despite what at first appear to be huge, fundamental changes, modern business plans still need to cover some of the traditional basics (even if they do it in a more efficient, well-designed way). Any investor or partner will still want to see about a dozen basic concepts:
Rather than reinvent the wheel, consider starting with the free Microsoft PowerPoint template Business Plan Preparation. These 11 slides cover Mission Statement, the Team, Market Summary, Opportunities, Business Concept, Competition, Goals and Objectives, Financial Plan, Resource Requirements, Risks and Rewards, and Key Issues. Gary Patterson, Fiscal Doctor
How much detail each of those areas needs, and what kind of information should supplement them, will depend largely on the business, industry, and market. Rather than consider what you want to tell an audience, think about what your audience wants to see.
Each plan is a little unique. Rule of thumb: If I were my audience, what would I want to see in order to be convinced of that plan? Put yourself your audience's shoes. Jesse Lear
Consider the investor's POV when crafting your biz plan. What would they like or need to see? via @jesselear #Frsdchat

— Sarah Nagel (@sprout_sarah) June 15, 2016
The substance of a good business plan hasn't really changed as much as the presentation. Investors still need the same inspiration and assurances, but they have less time and more opportunities to invest. A good, modern business plan needs to cut through the noise.
3 Common Business Plan Mistakes You Don't Always Hear About
There is no shortage of blog posts and web articles about common mistakes entrepreneurs make on their business plans. The chorus to all of them goes something like this:
Poor grammar and/or structure
Sloppy structure and/or presentation
Vague and/or unrealistic forecasts or assumptions
Poor research
Failing to acknowledge the competition and/or challenges
Inconsistencies
It's all good advice, but it often leaves out three big-picture mistakes that get overlooked on modern business plans.
1. Losing Focus
It's easy to get lost in a sea of market research, industry analysis, financial projections, etc., because all of this data is accessible on an unprecedented level. So make sure your accurate, honest, well-structured data is also on task. Review your plan and ask yourself how every data point and number is related to your main idea. If it's unclear or only distantly related, remove it.
Going overboard is a common mistake: focusing on things that aren't that important. Allan Christensen, COO, ToDoIst
2. Failing to Capture Short Attention Spans
Investors are intelligent business people, but they're also very busy. Start with your elevator pitch, and make sure to engage your audience in the first few sentences.
The biggest mistake is trying to say too much upfront. Investors are inundated by hundreds of business plans each year and have short attention spans. If you can't clearly communicate the key points of your story in a few paragraphs, or better yet, a few sentences, the investor is not going to continue reading. George Deeb, Partner, Red Rocket VC
3. Confusing Passion with Pomp
Your business plan, short as it may be, should definitely convey passion for your solution or idea, but don't let that enthusiasm lead to exaggerated or overestimated conclusions.
Avoid BS. (We can tell.) Do not overestimate your market, i.e. 5 billion people owning a computer is not a target for a computer accessory product you are selling. George Deeb, Partner, Gary Bizzo
Investors want to see creativity and confidence, but they've also seen their fair share of hot shots blow what could have been good opportunities. Be humbly enthusiastic.
3 Steps to a Killer Executive Summary
The executive summary is the movie trailer to your business plan. It is arguably the most important part of your plan, because it is often the only part anyone will read. It's the bait, the first impression, the opening scene.
It's supposed to sell; it's not supposed to describe. How big is this opportunity? Allan Christensen
Steer clear of too many details in an executive summary of your biz plan, via @zjellstrom #Frsdchat

— Sarah Nagel (@sprout_sarah) June 15, 2016
A good executive summary will grab your reader's attention and entice them to keep reading. It answers the, "Why?" more than the, "How?"
It is less about your product, and more about your proof-of-concept around that product. Less, "what you do," and more, "why you matter to customers." George Deeb
The stakes are definitely high, so how do you craft an executive summary that stands out from the crowd and gets your business plan considered?
1. Start at the Climax of Your Story
Your executive summary needs to tell a quick, gripping story. So think about some of the movies or books that really draw you in from the beginning: they tend to abandon the traditional plot line to some extent.
They don't start by setting the scene and slowly introducing rising action and conflict. The stories that pull you in right away start in the middle. They open with the conflict: the fight scene, the tragedy, the last 10 seconds on the glowing red countdown. Your executive summary should start there too.
It all comes down to pain or pleasure. You're helping people avoid or get rid of a pain they have, or reach an opportunity for a pleasure they want. The executive summary should include that. The people reading are very smart people, so if there's a good opportunity there, they'll recognize it. Jesse Lear
2. Introduce the Hero (You)
Now that you've described the problem or opportunity, briefly outline how you, your team, and/or your brand are uniquely qualified and capable of solving it.
"Investors invest in people, not plans." - Jesse Lear #frsdchat // #startup #entrepreneur #smb

— propecta (@propecta) June 15, 2016
Do you have connections? Patents? Clients or customers? What experience and/or insights make you and your team unique? Assume the investor is meeting with a dozen other entrepreneurs who want to address the same pain point that you do — why should they choose you over the others?
@Grasshopper executive summary should include the differentiation of your product / service #frsdchat

— Kyle Golding (@KyleGolding) June 15, 2016
3. Make It Urgent
Don't wrap up your executive summary without creating some urgency. Opening at the climax of your story is a good start, but make sure the reader understands why the time to act is now. This makes your business plan timely, and helps make sure it will actually get read. Don't leave investors feeling like you have a good idea, but all the time in the world to act on it—because then no one will ever act on it.
How to Find, Choose, and Talk to Investors
The time you spend in market research and industry analysis will almost always reveal companies and angels who have invested in similar solutions or startups as yours. If, however, you get a business plan put together, but you still aren't sure who to talk to, here are a few tips:
Talk to your business mentors. They might not have capital to invest themselves, but they will probably know people who do. There may also be the added benefit of an existing relationship, so a credible introduction would help you make a good first impression.
Set up a profile on AngelList or Republic. These sites connect startups and investors, and make it easy for the later to invest. Set up a profile for your company and start sharing it on your social networks.
Research recent winners in your industry. If you're developing STEM toys for grade school kids, dig into industry news and find out what other STEM education startups were recently acquired. Their founders know your industry, agree with your passion, and—most importantly—have recently improved their net worth.
Connect with an angel investors' network. These networks let everybody win: investors get to stay anonymous and work with someone who vets opportunities for them, and entrepreneurs get access to groups of investors with one phone call. The ACA has a member directory to help you get started.
3 Secrets to Choosing the Right Investors
Once you know where to look, you'll start seeing opportunities everywhere, but resist the urge to start pitching every potential investor you meet. These relationships are about more than just money, and you want to make sure you are partnering with the right people.
1. Vet Potential Investors
As a cash-strapped startup it might seem crazy to even think about weeding out potential investors, but it's better for everyone in the long run.
Before talking with investors, look them up on LinkedIn. Look through their profiles, posts, and groups they belong to, to get a feel for the types of companies they are interested in and have invested in before. You should vet investors just like they are going to vet you and your business. Priyanka Prakas
Entrepreneurs and investors are two of the busyest types of people, and the last thing either of you wants to do is waste each other's time on a relationship that doesn't make sense. Look into the investor's criteria and investment history, and don't reach out unless your idea really fits within their interests and experience.
2. Check the Investors References
Definitely do not ask an investor for "references," but figure out whom they have invested in previously, and talk to those business owners.
Be sure to speak to CEOs of other companies that have raised capital from that investor, to serve as a reference. They will tell you how the investor's behavior changed, or not, before and after closing the deal. George Deeb
Ask about the entire experience: how that entrepreneur won the investor's favor, how the investment process was handled, how the investor's behavior changed (or didn't), how the relationship has been maintained (or not). Investors are selling themselves a little bit too, so make sure you get the whole story.
3. Weigh the Non-Financial Benefits
Remember, it's not just about the money. An investor will be part of your professional life for a long time, so as you are weighing the value of each opportunity, remember to consider non-monetary assets as well.
When choosing investors, always find people with deep pockets, but even deeper Rolodexes. Your investors should be worth a lot more than the cash they provide. Research their LinkedIn profiles and Google search for news articles about them to see what kind of successes they've had in the past. Find out who is in the investor's network that could help you accomplish your business goals. Leo Welder
Most importantly, make sure the investor is bringing you more than capital. Hopefully, they have deep expertise or relationships in your space to help accelerate your growth. Not all cash is the same shade of green. George Deeb
Consider assets like: industry experience (successes and failures); professional connections; and business, marketing, and/or industry expertise. Also take into account—if you're working with individuals—the investor's proximity to you and your business, and their availability. Someone you can take out for lunch regularly may be of much greater benefit to you and your company.
How to Talk to Investors
If you're pursuing individuals, start building a relationship in whatever way is simplest. Don't put the investor in a sales funnel and try to move them through to a sale—just network. If they are interested in partnering with you, you will know.
Relationships are key. If you have relationships, you should be having coffee with them and they'll ask for your business plan. Put yourself in their shoes again: when it's interesting to investors, share it. Jesse Lear
The key to maintaining an established investor relationship is confident humility. Of course you're confident in your idea, your team, and your business, and that should be evident. But while every entrepreneur knows that their brand will grow and succeed, consider the investor's risk as well and proceed appropriately.
Always treat money, people, and time as scarce and precious resources. The person you are asking for any of these wants to absolutely know you will return their investment quickly, with minimal risk, and with an obscene return for him/her. Gary Patterson
That grateful attitude will also serve you and your business. Keeping your requests modest will keep as much of the brand as possible under your control.
Only ask for the money you need—go low versus high. You don't want to give up most of the company to an investor, therefore be conservative. Gary Bizzo
Investors have the potential to become a huge part of your business: don't give that up to just anyone. It's wise and considerate to thoroughly screen every opportunity. When you do find someone who might be a good fit, remember that individual is more than their net worth and build a relationship first.
From Plan to Practice: When and How to Hire
As investors sign on and your business gets off the page, you will start to face all of the difficult decisions related to hiring. Plan for this exciting and nerve-wracking time, and outline your strategy in your business plan.
First, make it clear that you know when to consider hiring.
Lonely entrepreneurs want a team, and start hiring a team they don't need. That's not good for anyone. Have you maximized yourself yet? When you literally can't do it all, then it's time to hire someone. Jesse Lear
Be willing to admit what you cannot do, so you know when it's time to bring in help. What business skills and/or knowledge do you not have? What is your limit on hours/week that you can dedicate to the business?
@SproutJim 🙌 @Zjellstrom #Frsdchat

— Sarah Nagel (@sprout_sarah) June 15, 2016
Second, outline the financial requirements and benefits of each of the first few positions you will need to fill. What financial milestone does the brand need to hit before you can hire? What kind of impact will those new hires have on your revenue stream, and how quickly?
Ideally, you should have at least three to six months of that person's salary in your business bank account. You should also think about how your first hires are going to make your business money and how quickly. Will they open up new revenue channels? Expand existing ones? After a new hire gets ramped up, they should add value to your business. Priyanka Prakas, Editor, Fit Small Business
Finally, create a plan for working with freelancers and contractors for as long as it is financially beneficial to do so. Freelancers can provide a lot of the services you might not be able to do yourself—from finances to graphic design to content marketing—without the financial burden of a salary, additional equipment, and/or employee benefits.
Today, it makes more sense to hire contractors than employees when first proving your business concept. Once you've proven that the model has a good chance for success, then you can considering hiring full-time employees (as long as you have the finances to cover them). Leo Welder, CEO, ChooseWhat
Services like Upwork, Outsource, and Guru make it easy for business owners to find, vet, and pay high-quality freelancers. Or for something more aligned to an entrepreneur's budget, check out Fiverr.
When you are personally maxed out, the business is financially stable, and managing freelancers is becoming inefficient, remember to be very strategic about your fire few hires. In addition to performing their job functions, these team members, especially, will represent and shape your brand's culture.
The first few hires are so important: they are ambassadors. If culture starts getting off-track early, it's really hard to change later. Allan Christensen
And brand image doesn't just reflect to your target market, but to future team members as well. Early hires will shape your employer brand as well.
Whatever your business strategy, make sure that your first hires are extremely talented with strong experience, because this will lay the foundation for future hires. A+ talent doesn't typically like to work with B talent, so if you hire B talent first, you'll have a very hard time attracting A+ talent later. Leo Welder
It may seem preemptive, but as you're planning for your brand's launch and growth, at least craft a basic outline of when and how you will start growing your team.
From Plan to Practice: Do You Need Advisors?
Once upon a time, a board of advisors was a prerequisite for any serious business, but so were 80-page business plans. Today, many business owners are seeking out advisors as they are needed and working with them in less conventional ways.
When and whether you need advisors depends on your strengths. We hired a finance advisor early on, for example, because we couldn't even sign up for QuickBooks. Jesse Lear
Planning for bringing on advisors is more complicated than planning for staff. It's one thing to understand what you can't do, but it's usually impossible to know what you don't know. More likely, you will hit a wall or get stuck in a rut, and realize you need some help.
If you don't have the knowledge you need to push the business in the right direction, at the pace you want, consider putting together a board. Allan Christensen
But working with advisors doesn't mean you need to set up a board room and pay stipends for travel. An informal board can be a half-dozen business mentors with different strengths and networks, on whom you call individually when you have a need. Every entrepreneur should be surrounding themself with accomplished people anyway, and many successful business people are happy to invest their wisdom in an ambitious visionary.
Modern Business Plans Drive Real Success
Creating a business plan is no one's favorite part of organizing a startup, but it's critical to your brand's success.
A good business plan will come off the page to help you with hiring, finding advisors, and much more. It will help you identify the investors who are a good fit for your brand, and then it will help turn those networking relationships into investor relationships.
Fortunately, the tomes of old have fallen out of style and you have modern options. As you relent to sitting down and starting your business plan (or getting serious about the one you started and filed away), remember to still include the basic, traditional info—even if you design it in a much more engaging format. Then, take the time to craft a blockbuster of an executive summary, and you will be ready to start building your dream.
Meet the Panelists
Allan Christensen – COO - ToDoist

Allan Christensen

Allan is the COO of Doist. He was born in Denmark and is a professionally trained Pipe Organ Builder. He originally planned to follow in his family's footsteps and join their pipe organ business, but instead decided to pursue his MBA from HTW University in Berlin.

He met Amir, the founder of Doist, while finising his thesis in Chile. Amir needed someone to help him build the business around Todoist and Wedoist, and Allan was up for the job – and the rest is history.

Allan has lived close to 8 years abroad in countries such as the US, Germany, Chile & Portugal. He speaks Spanish, German, and English, in addition to his native language Danish.

Question: What questions should be answered in a business plan?

Hear Sabrina's answer:

Connect with AllanAllan's Website

Jesse Lear – Co-Founder, V.I.P. Waste Services

Jesse Lear

Jesse Lear, SBA's 2014 Young Entrepreneur of The Year, is Co­Founder of V.I.P. Waste Services. Headquartered in Columbus, V.I.P. Waste contracts with apartment communities as a luxury amenity to pick up trash and recyclables from every resident's door.

Since its launch in 2010, the company has grown rapidly and now serves more than 30,000 units with operations in 5 cities across 3 states. In 2014, V.I.P. Waste was named one of the Top 30 Startups to Watch by Entrepreneur and was also recognized at the United Nations as one of the top companies in the U.S. run by entrepreneurs under age 35.

Jesse is also the Founder of Nellie's Natural Ice Pops, an Ohio ­based company that manufactures and distributes handcrafted ice pops with gourmet flavors, and Party For A Reason, a non­profit that throws unforgettable theme parties to support worthy causes.

Question: What are some easy ways to do competitive analysis?

Hear Jesse's answer:

Connect with JesseJesse's Website Jesse on Twitter
Looks like there was an issue with your RSVP!
Please try again. If it still doesn't work, email it to us at firesidechat@grasshopper.com.
×
Thanks for RSVPing for our event!
Submit any questions you may have for the panelists on Twitter to @grasshopper and use the hash tag #frsdchat - or email questions directly to firesidechat@grasshopper.com.

Be sure to share the event details with your friends and colleagues on social media.

Share this page
×