Email marketing might seem like something that's just for big and booming internet companies. When you open your inbox, all you see are promotions from eBay, Amazon, and Google.
But what if we told you that email marketing works for the little guys, too? What if email marketing led to more sales for your landscaping company, hair salon, or flower shop?
It turns out that 77 percent of consumers prefer to receive permission-based emails rather than any other form of marketing communication.
When you send an email, you're encouraging customers to come to your website, engage with your brand, and even make more purchases. Sending email campaigns is a great way to stay in touch with your customers and be top of mind.
You'd be surprised – whenever we send an email customers come out of the woodwork asking for more information about our services.
So, it seems like a ton of work, but it's not. What if you could set up an email marketing campaign in 10 minutes or less? Turns out, YOU CAN.
Now that we have your attention, let's dive into creating effective email newsletters and promotions that don't take hours to design.
Let's Imagine...
Now, let's imagine Violet Greengrass is setting up an email marketing campaign for Violet Landscaping, her company based in Philadelphia, Pennsylvania.
Violet's Landscaping has been around for 5 years and has a bunch of loyal customers, but Violet and her small team want more ways to connect. Posting flyers around town is impersonal. Plus, they've got a hearty list of email addresses from current customers that are inactive.
An email campaign is worth a shot.
So, are you trying to increase sales? Create brand awareness? Show you care? And what do you want subscribers to do after reading your emails?
No matter your industry or business, you've got to outline the goals of your email marketing campaign before you get started. Inconsistent email marketing doesn't work, so go in with goals, just like Violet.
When you send your first emails, the goals don't have to be huge. You might simply want your customers to read a blog post, visit a product page, make a purchase, or just smile.
Keep in Touch with Customers with Grasshopper's Phone System
Get a local or toll free number, call forwarding, voicemails transcribed, unlimited extensions, and more!
Plans starting at $12/month
Choose a Service for Your Email Campaign (Let's Go with MailChimp)
There are plenty of email marketing services out there. Constant Contact, Emma and AWeber are a few popular ones.
Violet is using MailChimp. Why?
It's free if you have fewer than 2,000 subscribers and send less than 12,000 emails per month.

It's extremely user-friendly and easy-to-use with pre-made templates.

Violet wants analytics. She can get open rates, clickthrough rates, and more.

MailChimp occasionally sponsors This American Life, Violet's favorite podcast. (Her favorite BuzzFeed article is 21 Reasons Ira Glass is The Most Perfect Man Alive.)

The people who wrote this blog post use MailChimp and love it.
If you're using another program, that's perfectly all right. Keep following along for tips and suggestions.
Step 1: Decide Who'll Receive Emails and Import Contacts
Before you can send an email, you need a list of people to send it to. Start with the easiest list: your customers. If you're collecting customer data, you probably already have their email addresses.
You can also include an email signup form on your website or blog to make it easy for anyone interested in your brand to get updates from you.
MailChimp and many other email programs don't allow you to send emails to addresses you've scraped from websites. We don't believe in that either. Great email marketing is transparent and never spammy.
In MailChimp, Violet can import contacts from Salesforce, Highrise, Google, and a host of other places under the "Lists" feature, making it easy for her to bring in contacts she already has.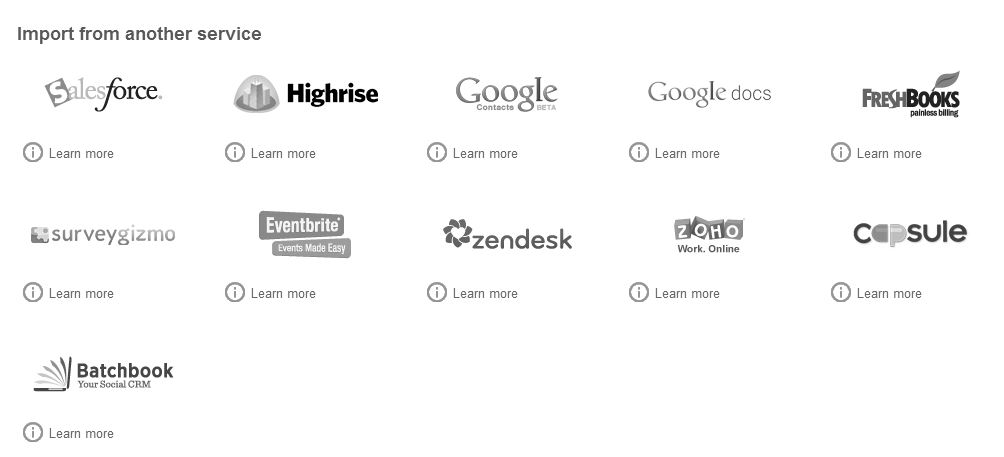 But should Violet send it everyone? Well, that depends. Targeting your emails to segmented groups can lead to better results. In fact, sending to a segmented list can draw nearly 15% more clicks on web links than non-segmented emails.
It makes sense, right? Send people the stuff that applies to them most and get their attention with it.
In Violet's case, she might send different emails to those who have used her vegetable gardening service versus those who just want their yards mowed each week.
Step 2. Create and Name Your Campaign
You'll want to name your campaign so you can identify it later. If you send a monthly newsletter, name your campaign "October Newsletter 2013" or something similar. If it's a special promotional email, use the product or deal you're promoting in the title.

You'll also need to develop your email subject. DO NOT SKIMP ON THIS STEP. Make a great subject so that recipients open your email!
The subject should...
Be specific to what the email is about.

Give the recipient an incentive to open your email.

Create a sense of urgency.

Be funny, cool, engaging, witty, enticing, etc.
Questions are fantastic to pique readers' attention. Just make sure to avoid all caps (looks spammy) and using the word "free," as it tends to trigger spam filters. You can also try A/B testing to see what kind of response you get to different subject lines.

Think spending time on subject lines is bogus? MailChimp saw open rates as high as 93% when clients spent more time developing engaging subject lines.
Step 3. Set up Tracking
You want to glean as much data as you can from your email campaign, so make sure tracking is selected. You want to know how many people open your email, and how many people click the links. This will help you determine what works and what doesn't when you're ready to send the next message.
Here's what this looks like in MailChimp:

When you get to Step 7, you'll learn a little more about analyzing your results once the email has been sent.
Step 4. Create a Template
Email marketing platforms have predesigned templates set up for you already. All you have to do is choose one you like and make modifications to it, such as changing the colors to match your website and uploading your brand's logo.
We recommend starting with MailChimp's basic templates: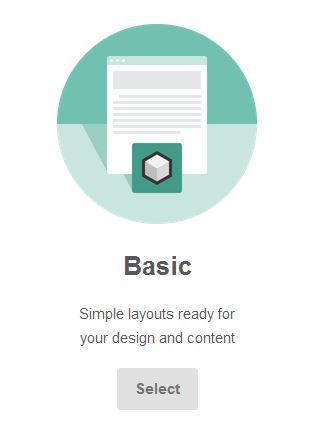 For this quick and easy demonstration, let's use template #1: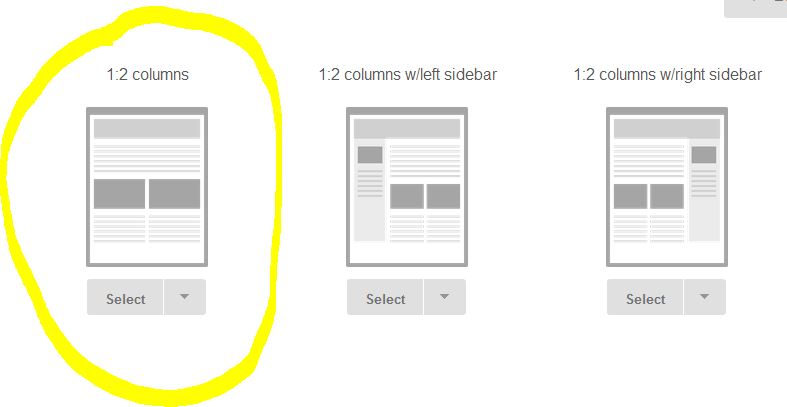 Once you've modified a template the way you want, save it so that you can access it for future emails. You want your emails to be consistent so that when subscribers receive them, they associate them automatically with your company.
Step 5: Start Editing and Writing Copy
Words are not just filler- each one counts- so you better make them good. Writing copy is challenging, but this part of your email marketing campaign is essential.
So, what can you include? A good email might have:
A letter or note from the CEO or another company representative.

Useful articles (5 Shrubs Perfect for Philadelphia).

Sidebar of quick tips (Brown grass? Try watering every other day!).

Special offer (10% off through April).

Company news (Violet Landscaping was nominated for Best Landscaping Company in Philadelphia by the Philly Evening News).

Other fun tidbits (Here's a great read, selected by Lily Hydrangea, our Office Manager: How and Where to Buy a Perfectly Peculiar Tree (NYTimes Link).
Step 6: Preview Your Email
Before you blast an email with a grammatical error to 2,000 subscribers, send it to yourself and read through several times. Then to be doubly sure it's perfect, send it to a coworker for review.
Check to make sure all the links work and that everything is up-to-date, especially if you're using an old template that might have an old address or phone number.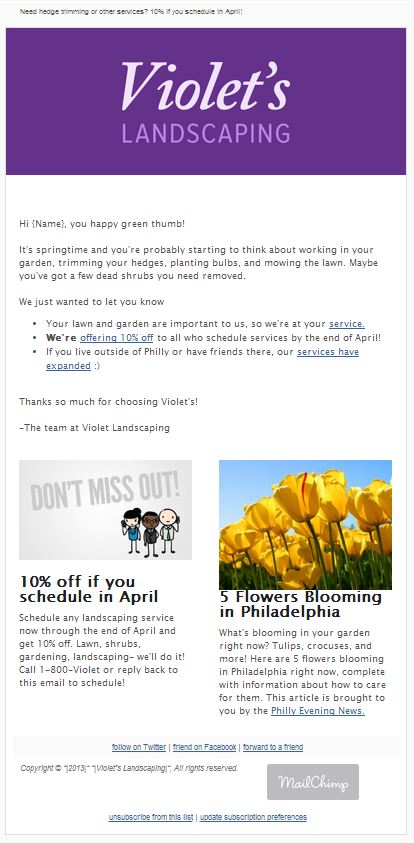 Step 7: Schedule Your Email
Before you click "send," stop and think about the best time to send your email. The best time will vary, based on the industry you're in, but here's some great data from MailChimp.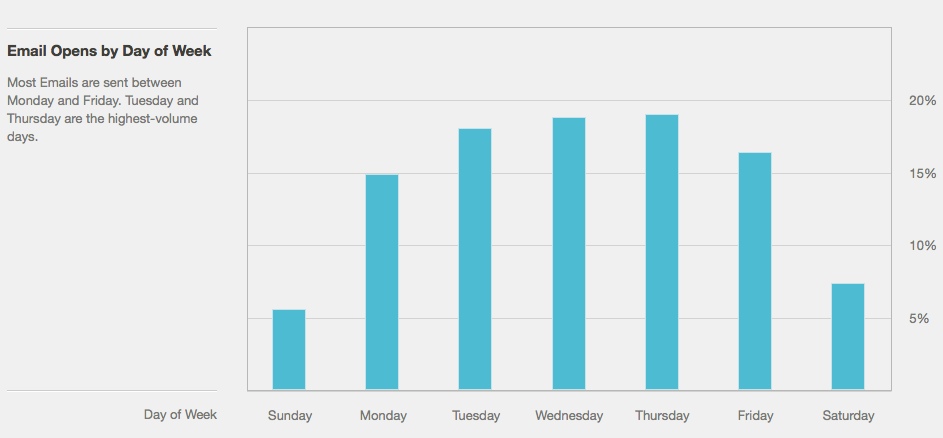 If you're sending your email to businesses, you might see better results if you send it in the morning during the week. Look how email opens increase on Wednesday and Thursday:
If you're selling to consumers, the response might be better in the evening, after they've gotten off of work and are checking their email.
Whatever the data tells you, test out different times and see what gets your company the best number of opens and clicks.
Step 8: Assess the Results
Your email has been sent and your inbox is getting filled with pesky auto-replies. Thought your work was done, didn't you?
Mmm, no. You've got to assess the results so that you can optimize future emails. Check to see how many clicks and opens it received, as well as which links got clicked. Do your best to use this information to your benefit.
Although your first few emails may not be as great as you'd like, at least you have same data to work with. What went well? What didn't? What are some other things you could try?
If the data tells you all your emails that had "silly" in the subject line saw higher than usual open rates, you probably want to send more emails with "silly" or words like it in the subject line.
Alternately, some emails might see lower open rates. If Violet's customers aren't so interested in "trimming hedges," she might stay away from subject lines that are so specific, opting for more general ones.
Once you have several campaigns under your belt, you'll have more information to use to target your strategy.
Step 9: Get More Subscribers
Now that you see how easy it is to send marketing emails, you've got to build your list so that results are even more fabulous.
Post an email signup form on your website, and encourage your social media followers to sign up for information. Be specific about what they'll get if they sign up, and consider offering a nice freebie or a substantial coupon as a reward.
For example, Buffer gets signups via this widget in the blog's right-hand nav: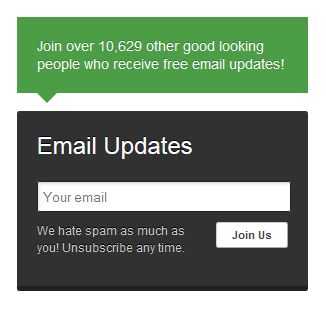 Onward to Email!
Email marketing is effective at driving traffic to your site and initiating sales. Now that you see you can create great-looking campaigns in 10 minutes or less, what are you waiting for? Send a newsletter each month, or a promotional email offering up a deal, or test out both!