In the last few years, marketing best practices have changed in a big way. Thanks to the internet, business owners have infinite resources for reaching prospective customers.
This begs the question: Has digital media killed traditional marketing?
From the title of this blog post, you can probably guess the answer – a big, whopping "no way."
Traditional marketing is very much alive. And if you've ever been to Chipotle on Halloween, you've seen proof that it works.
But here's where things get tricky. You are an overprotective leprechaun and your marketing budget is a pot of gold.
For small businesses, traditional marketing means hustling like a mastermind and knowing the answer to one key question: 'Is it worth the money?'
That's where this blog post comes to the rescue with ideas and analysis-a-plenty. So let's get to it.
1. Host a Legit Event At Your Store or Office
If you run a brick-and-mortar storefront, it's absolutely crucial that you bring customers to your store. This strategy is equally valuable for companies that operate online.
Instead of turning to sites like GroupOn and Gilt for bringing people in, make it a party. Charity: water hosted an extremely successful gala to encourage people to donate and get involved: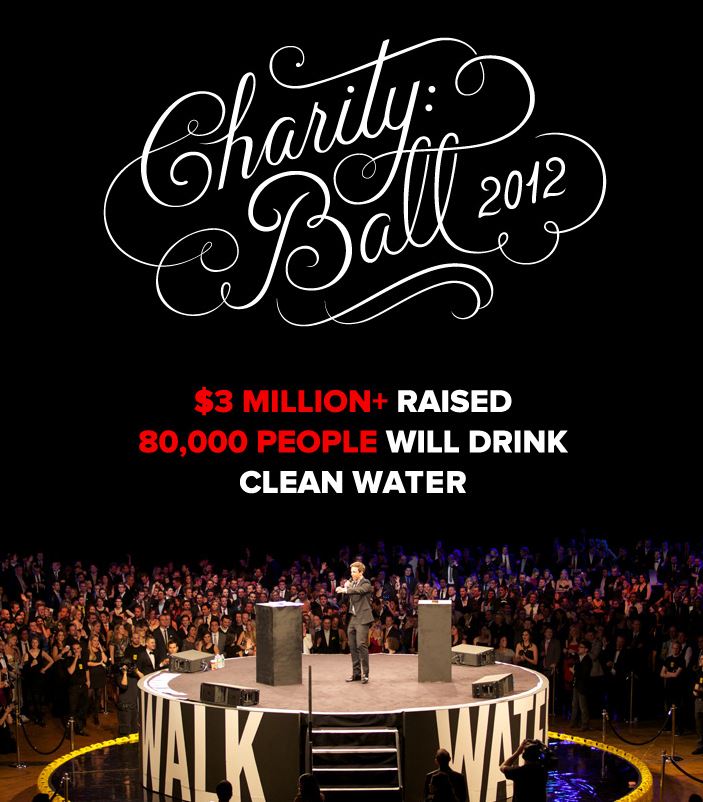 You don't have to go all out like charity: water. Hire a live band or DJ for a few hundred dollars. Top off the experience with homemade or gourmet cupcakes. Couple this event with a great sale, and all of a sudden, shopping won't feel like an errand anymore. It will be a fun, free, and family-focused event instead.
You might remember when Barnes and Noble hosted midnight dress-up events for new Harry Potter releases.
2. Offer Up an Exclusive, Unique Service
Let's say that you don't have $1,000 to buy cupcakes or hire a band. That's okay. You can still host an event, but make it complementary to the products or services you're selling.
Nectar, a women's boutique in Southern California, frequently offers the opportunity for customers to book appointments with local artists. Buy a pair of TOMS shoes from Nectar, and pay the artist to make them completely unique.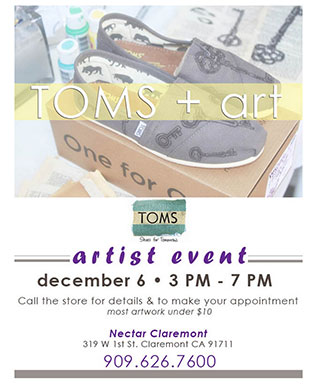 With these strategic promotions, the cost to your small business is $0. In fact, you'll make money from selling more shoes. And everybody wins – the customer, the artist, and your company.
3. Make Your Marketing Mobile with Bumper Stickers
Did you know that it's possible to create hundreds of bumper stickers for under $100? And the beauty of bumper stickers is that you can stick them on anything, so long that you are not defacing public or private property.
Here is one entrepreneur's formula:
Create a witty domain.

Create an engaging image.

Put these on a bumper sticker.

Monitor piqued interest.
Use the creative domain to explain next steps in more detail. Make the process engaging and ridiculously fun.

4. Send Mail that Consumers Can't Resist
Snail mail spam is an unfortunate reality. If you have a mailbox, you've probably dealt with more junk flyers than you can stand.
Enough is enough.
Direct mailings work when they provide customers with something of value. Instead of sending a blatant advertisement for your company, why not send them something totally free instead?
Send them an offer for a free appetizer at your restaurant or a free consultation at your hair salon. You can even send them to a mysterious offer on your website.
Grasshopper recently launched a direct mail campaign to connect with business owners and entrepreneurs – a virtual magic 8 ball. At this point, you're probably wondering what the heck that means.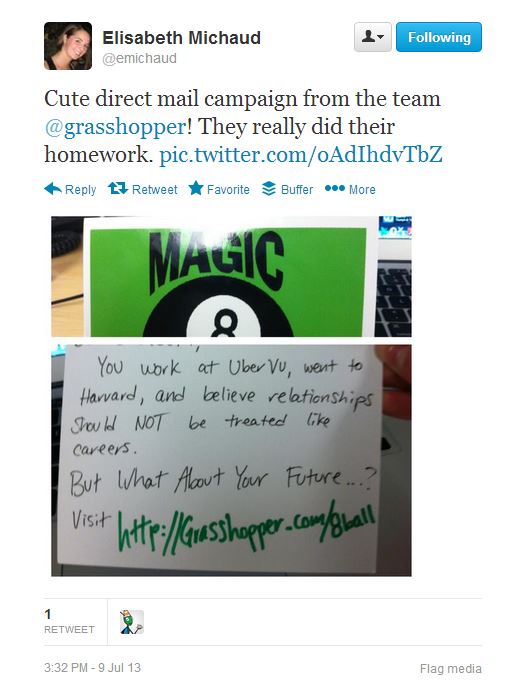 And that's precisely the point. Customers who received the note in the mail got something unique, a little strange, and totally different. It made people like me want to go check it out.
So get people in your store or on your website and let your brilliant sales associates and amazing products take care of the rest.
The biggest costs involve renting mailing lists, printing materials, and hiring creative professionals. You can easily cut costs by marketing to your existing customers (who already love you) and relying on the talents of rockstar interns or full-time team members.
Plan intelligently, and you can send high-quality postcards for around a dollar-a-piece.
5. Ask Key Customers to Be Part of an Advisory Panel
Customers love to feel valued. So show them the ultimate form of respect by making them part of your brand. Invite them to host seminars or training sessions at customer events.
Make them a part of a group discussion with key stakeholders. Focus on community, and make these forums as social as they can possibly be.
The costs you'll face? Dinner. Be prepared to pay up to $50 per person as a heartfelt thank you.
If you're running an online business or if your customers are geo-dispersed, the experience will be all-the-better. Bring people together online through a webinar, Google Hangout, or video call.
6. Advertise on a Bench or Bus
This advertising strategy is great for reaching customers in major cities.
Commuters spend a lot of time on the road and waiting for transportation. People that work downtown take breaks by going out for walks at local parks.
What's crucial here is that you find advertising spots that can reach key eyeballs. Make sure that you understand the demographics of the geography that you're trying to reach by consulting free data from the Census Bureau.
The cost of advertising on a bus can be as low as $950 or as high as tens of thousands of dollars for a 4-week period, depending on how big you want your ad to be. The cost of advertising on a bench changes from $75 to $500 for a four week period and depends on foot traffic volume in the geography you're trying to reach.
7. Sponsor a Community Sports Team or Event
Small businesses are key stakeholders in their communities. So put yourself out there. The next time the local kids' baseball team puts out a call for corporate sponsors, step up to add your name (and donation) to the team or event.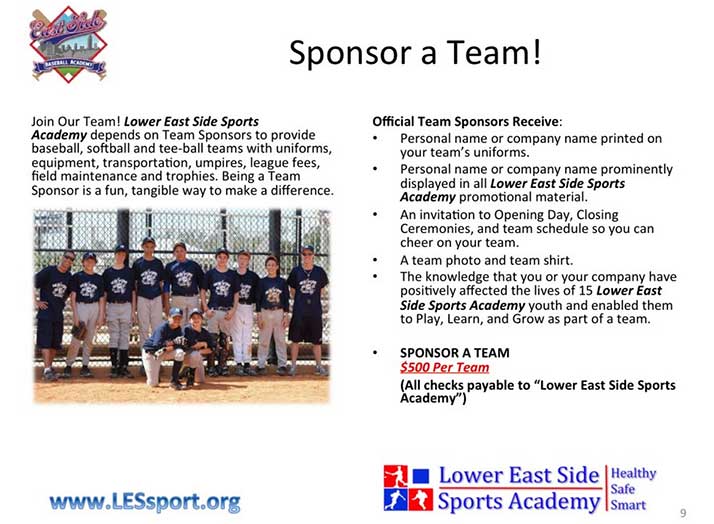 Step up your game by giving away freebies like branded water bottles or hats, for instance, at tournaments and big games.
As always,  be wise with your marketing spend, and choose events carefully. In this situation, cheaper isn't always better. It's worth it to spend more to reach more people. After all, what's the point of marketing to an empty crowd?
8. Join Community Associations
One way to build visibility around your company is to connect with fellow business leaders who can refer their customers to your product or services.
Rotary International is a great place to start connecting with fellow small business stakeholders in your community. Rotary is more than a group to market your services—it helps you stay connected where you are, encourages you to contribute to greater causes, and can elicit feelings of respect in your town or city.
Membership fees will vary by city and range between $50 to several hundred dollars per year. You might also need to pay for meals and be expected to contribute to fundraising events.
9. Participate in Trade Shows
Get a booth. Prepare some marketing materials. Get prospective customers to come directly to you.
Trade shows are high-traffic opportunities to connect with audiences and get face time with people from all over the world. Make sure that you bring enough representatives for optimal face time. Bring business cards and flyers to make sure that you can keep the relationship going.
Even inexpensive marketing materials will do here. While it's true that other trade show participants will have bells and whistles like contests and freebies, what's most important are the human-to-human conversations that you're able to spark and sustain.
Some trade shows are free, but be expected to pay up to several thousand dollars for a popular event. Choose opportunities wisely to connect with the most focused audience possible.
10. Set up a Pop-up Shop
It's the holiday season, prime time to set up shop. If your brick-and-mortar store is off the beaten path, set up a temporary storefront in a local mall or other high traffic area.
Just look at Amy MacCabe, who runs Savory Spice Shop in Boston's South End.
In an effort to create more awareness for the store, Amy opened a walk-through gift shop at a nearby mall, sandwiched between department stores. The store will be open for two months, selling gift boxes ranging in price from $22 to $75. She's selling individual spices too, at $3 a pop.
Like the idea? Check out PopUpInsider to find pop-up shop locations near you.
11. Hustle
Plain and simple, never miss an opportunity to talk about your company. Have your sales pitch ready. You never know when inspiration will strike or when a stranger might connect you to a high-value prospect.
Do your research before attending meetups or events (yes, even social gatherings). Be strategic, always. Practice the perfect handshake. These chance interactions have the potential to be powerful.
And see 15 Ways to Let the World Know About Your Awesome Business if you need more ideas.