Buildings are made out of bricks. Chains are made out of links. But what are businesses made out of—employees, office supplies, products?
How about: none of the above?
The chief ingredient in a successful business is simple: customers. If you're running your own business, then you know that customers are a little more difficult to deal with than bricks and chain links. They have these pesky little things called "minds of their own."
Fortunately, you're the kind of entrepreneur who cares about these customers and wants to know not only how to acquire them and sell them your valuable product or service, but to retain them for long-term success.
And lucky for you, there exists an entire host of apps and tools at your disposal. Here are ten of them:
Salesforce may just be the #1 name in CRM, or customer relationship management. The concept is simple: a CRM application allows you to handle every aspect of your relationship with your customers, from customer support to client communication.
It sounds complicated, but it actually just helps you keep your contacts organized.
Salesforce allows you to handle email, live web chats, your company's social network, events on your calendar, and a variety of other customer-centric activities all from the same centralized location.
Heck, you can even manage everything from your mobile phone, which means you can take your customer support with you to the gym, to the grocery store, or even on vacation.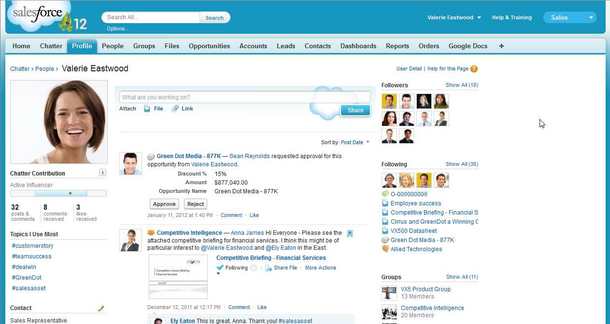 Salesforce features a multi-tiered pricing model, allowing you to customize the cost according to your needs as a business. But no matter which plan you select, chances are you're getting a bargain: a way to manage marketing campaigns and interact with your customers without having to hire an entire staff.
Choose this if:
You're a small business or startup looking to scale up.

You like using a tried-and-true industry standard.
Designed with small businesses in mind, Batchbook is a CRM built for a light squad of employees. With its cloud-based software, each of your employees will be able to log into Batchbook and handle customer complaints or issues no matter where they are.
Batchbook also helps you manage your sales and contacts so that it effortlessly integrates with your networking and lead generation. Like many CRM tools, Batchbook is important to use on every step of the journey from customer acquisition to customer retention.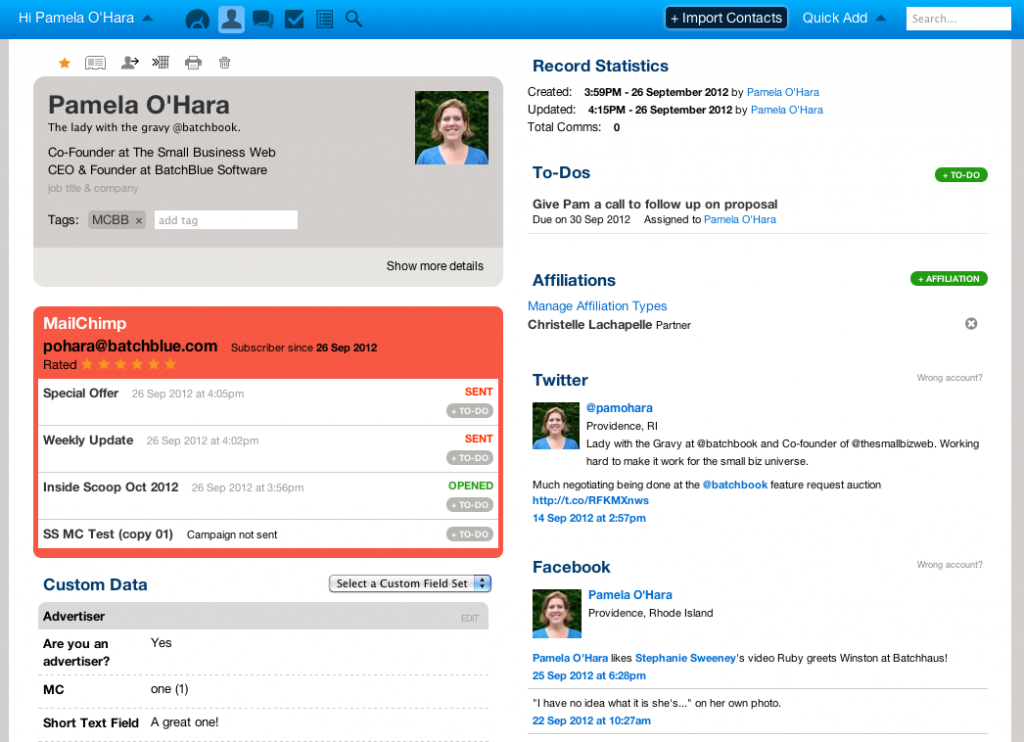 Batchbook includes features like communication history to keep your small business as thorough as the big guys are. Batchbook also offers support to you, should you have any trouble using their software. That makes this an excellent choice for any small business that is new to CRM tools and software.
Choose this if:
You're a sole proprietor, freelancer, or small business.

You care about having top notch support.
The aptly-titled Nimble is a way for you to integrate your contacts list, your social media, your calendar, your customer emails and messages, and your special offers and deals into one easy-to-access software portal. What's great about Nimble is that it's simple enough to use every day, even when integrating with other software and tools you're familiar with like Gmail.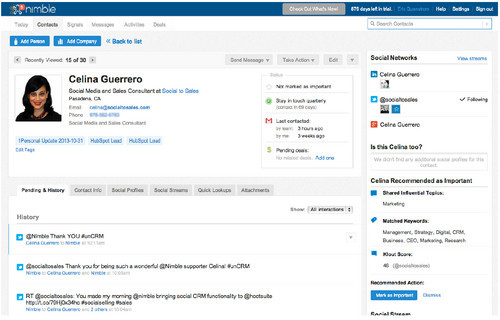 Nimble makes a good upgrade for anyone who is already somewhat responsive to customers but wants to minimize and enhance their customer relationship experience. If your email inbox has become a flood of customer complaints and unsolved issues, it may be time to use Nimble to sort it all out.
Choose this if:
You're looking to organize your social media fans.

You feel overwhelmed by email.
If you want to give clients and customers the impression that you're a huge company with a legion of customer service professionals waiting for their call, then Mhelpdesk may be the service for you.
Mhelpdesk is also the preferred choice of any company that employs in-person field technicians to assist with client complaints and issues. By organizing everything including scheduling, billing, invoicing, and work orders, Mhelpdesk is essentially a "mobile desk" that allows you to organize your customer support technicians like a general commanding an army.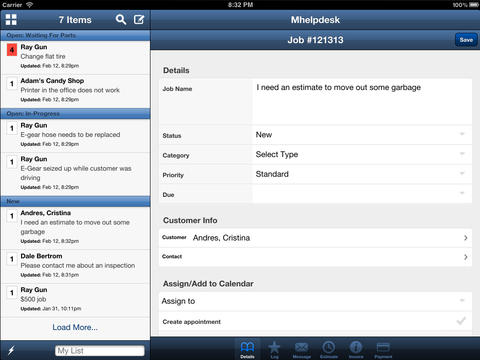 If you've been avid about helping your customers with in-person service but haven't been able to organize yourself well enough to respond to customers on time, Mhelpdesk might be what's been missing in your infrastructure.
Choose this if:
You want to seem professional and big even though you're small.

You need to organize billing and invoicing, as well as customer service.
If you're looking for simple customer service—including the ability to let your customers help themselves—then Zendesk may be just the tool for your company. Like many CRM services, it combines all of your communications—email, social media, etc.—into one place.  Zendesk also allows you to establish 24/7 customer support by constructing a Help Center on your web site.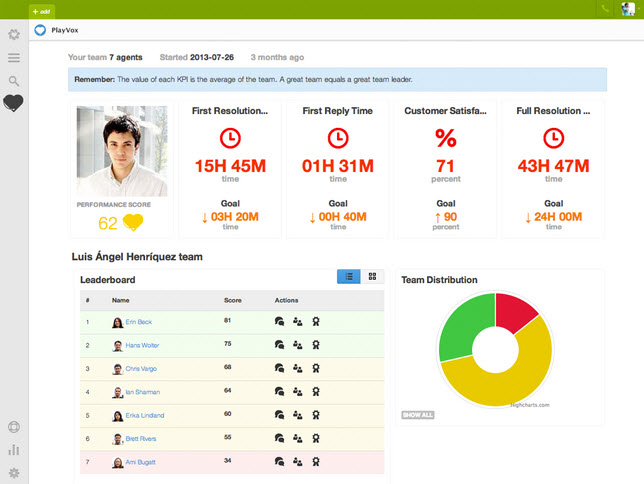 This is accomplished by creating a self-service community portal wherein your customers can interact with other customers and find the solutions they need. They'll be able to read about old problems that others users had, which means that you won't be left dealing with the same issues over and over again.
Alternatives to Zendesk: Help Scout and Groove
Choose this if:
You want to provide top notch customer service and need a ticketing system.

You feel overwhelmed by email.
Insightly is one of the most popular tools out there, assisting some 500,000+ customers with their customer relationship needs. Offering everything from file sharing and quick searching of contacts and calendar events, Insightly can essentially give you one main company portal through which you access your company's electronic presence.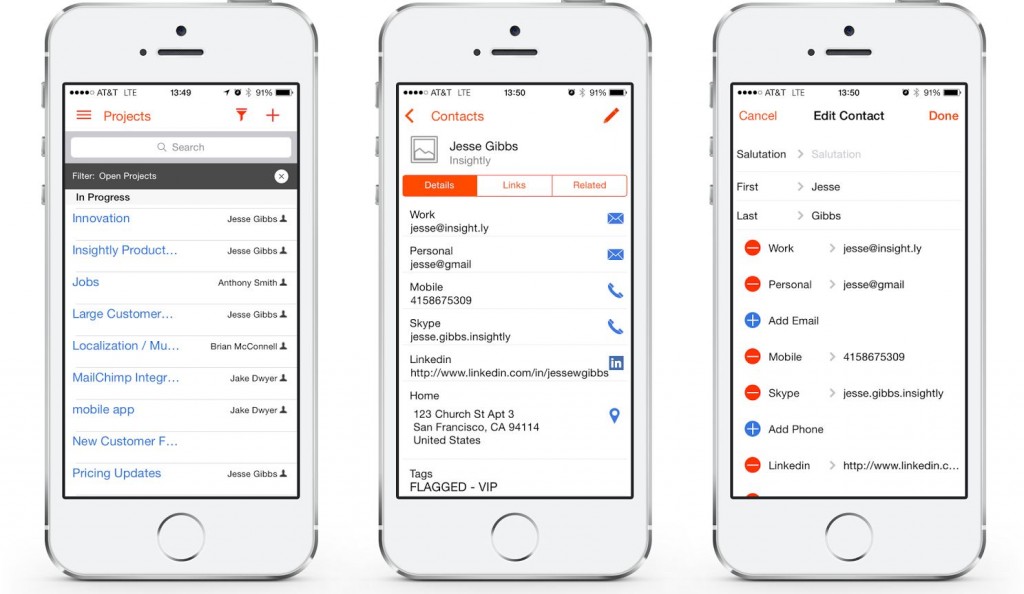 Insightly also organizes many different aspects of running a company—keeping track of new leads and new contacts, sharing files, and an address book that automatically updates when you've met someone new. Insightly would make a great choice for old-fashioned entrepreneurs who don't like to deal with computers—while still understanding just how powerful they can be in helping to organize every aspect of your business.
Choose this if:
You're not particularly tech savvy and prefer time away from the computer.

You need to get your contacts (customers, friends, and fans) organized.
Now we're moving out of relationship management territory and focusing on your social media presence.
Sprout Social is one of the smoothest ways to control every aspect of your company's online presence. Not only does it track everything from Twitter followers to open interactions with other social media users, but it creates a dashboard through which you can view your entire social media. It organizes statistics and upcoming tasks into a to-do list that keeps you on top of all customer interactions.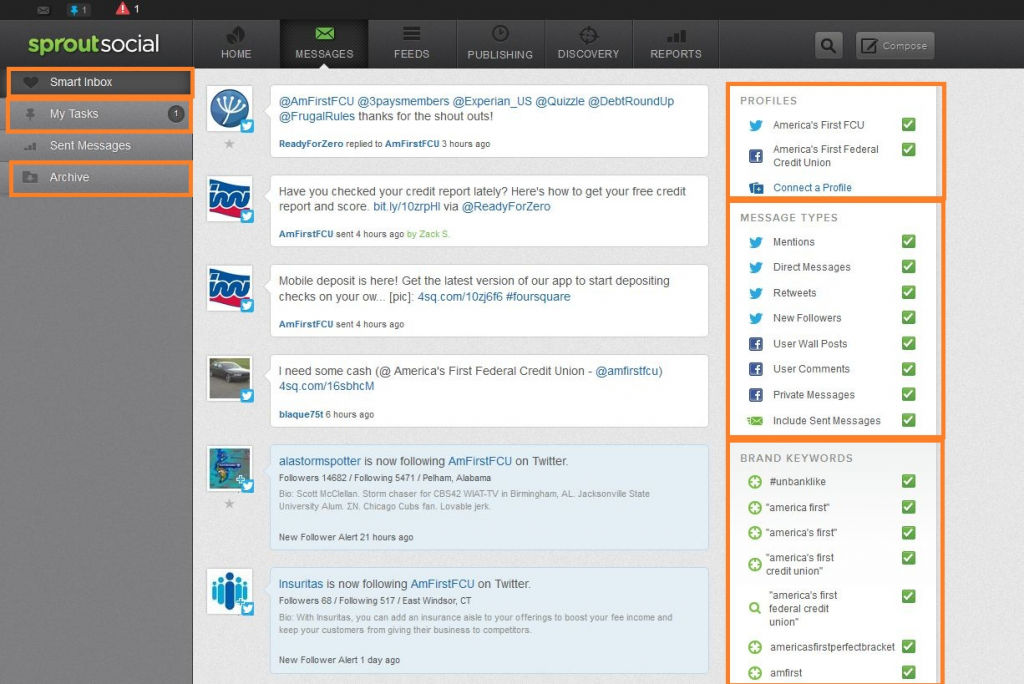 If you want to upgrade your social media presence, Sprout Social is the way to begin. It will make you a convert to Facebook, Twitter, LinkedIn, and other social outlets even if you've never considered yourself much of a "social media person." It's that fun—and that easy—to use.
Choose this if:
You need to analyze and understand your social media presence.

You want a dashboard to manage everything social.
If you've uploaded Google Analytics to your webpage, you know just how powerful a tool it is for keeping tabs on your incoming web traffic. But why not use your already-existing Google Analytics account to create something even more capable?
Enter KISSmetrics.
KISSmetrics makes your analytics more personal and more specific, allowing you to meet your customers as they browse your website. For example, the service allows you to sort your customers by their activity levels, giving you the power to identify which of your potential leads are the most serious about your company—and your product.
[caption id='attachment_15375' align='aligncenter' width='600']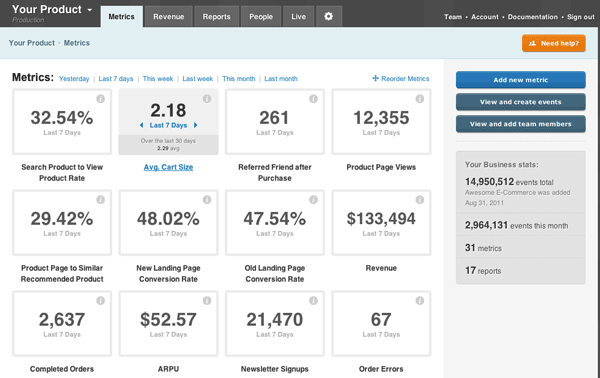 Source: http://www.woothemes.com/products/kiss-metrics/[/caption]
Like many of the services listed here, KISSmetrics includes a free trial—in this case, 14 days that allow you to take the service out for a "test drive" to see for yourself just how easy it is to use.
Choose this if:
You're looking to better understand your customers.

You want more information about your website visitors as a whole.
Customer service is important, but so is marketing—you can't very well manage your relationships with your customers if you have no customers at all. That's where Act-On comes in. It places an emphasis on generating leads and converting them to customers, allowing you to identify the weak spots in your company and in your online presence and fix them so as to optimize your marketing efforts.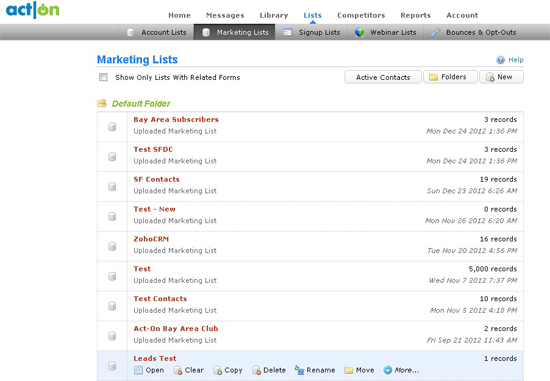 Choose this if:
You're looking to optimize your online presence.

You need to generate more leads for a sales team.
10. Appshark Lead Conversion
Speaking of Lead Conversion, there may be no better tool to turn leads into customers than Appshark's Lead Conversion service. In conjunction with SalesForce, this added tool will make you far more effective at grabbing customers' attention—and holding it. It also allows you to run bulk actions so that you don't have to sort by each and every customer who visits your web presence.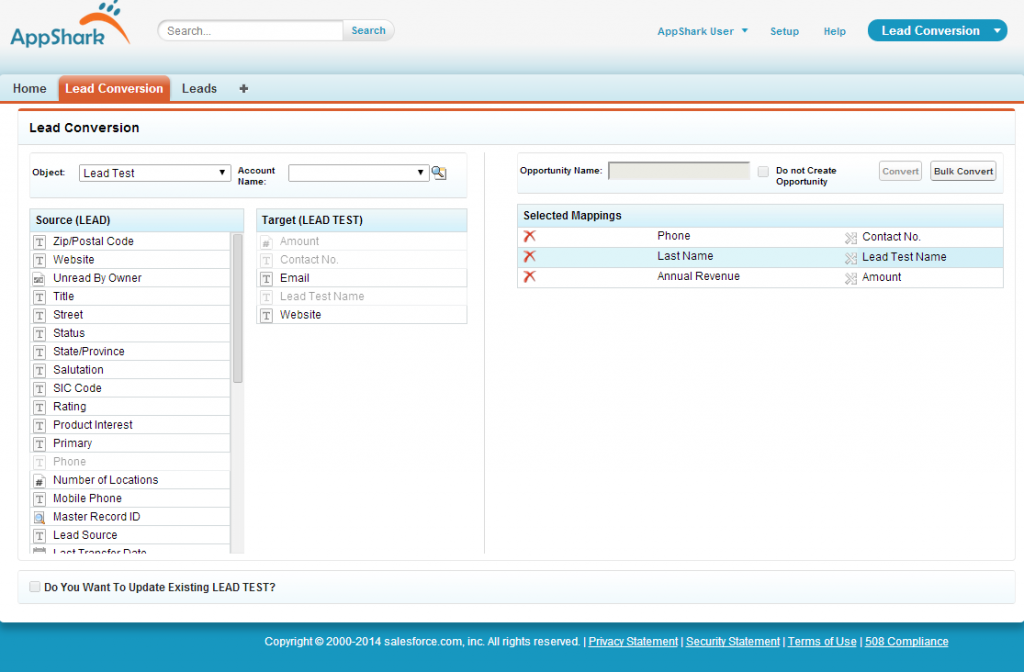 Choose this if:
You're looking to convert your leads into actual customers.

You want something that compliments an existing CRM.
Tool Around!
In 2014, there are more than enough tools and software applications to manage your customer relationships, enhance your ability to add new customers, and ultimately offer your customers the support they deserve.
The only question is, will you take action to enhance your company's ability to deal with customers, or will you keep doing things the old way?
Your Turn: What tools and apps do you use to help you get and retain customers?