This post is part of the Spreadable Startup Series, which tells stories of entrepreneurs trying to change the world.  The series is made possible by Spreadable.  Each week we will profile a new company and help them spread the word!  Want in? Apply here.
---

"Everyone is good at something, or knows someone that's really good at something," says Kajabi co-founder Travis Rosser. He's calling from the company's Orange County office alongside his co-founder, Kenny Rueter. "We wanted to create something that was really simple, so that with a couple of clicks…boom, you can start selling access to that information."
The end result is Kajabi, a full-service marketing platform that allows customers to create and deploy membership-based content sites that generate revenue from subscriptions. But it's been a long time coming. "Kajabi is an aboriginal word that means 'to take flight,'" explains Rosser. "We've had a hundred ideas that we almost put behind the Kajabi name," hes says, "but it wasn't until two summers ago that we realized the true meaning of Kajabi."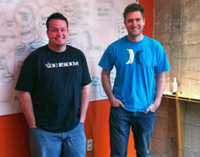 Travis and Kenny have designing and building software for more than ten years in Southern California, working for a number of established companies and consulting on their own. While the two hadn't worked side by side before Kajabi, they've been getting together for lunch chats about business ideas since they first met. "We just had that right ying and yang type of thinking," says Rosser, "and we just kind of gelled right away."
Both founders had connections in the online marketing space, and while they always had a vision for connecting individuals with a market for their specific knowledge, the duo decided to build the first iteration of the product hand in hand with established players. Working with their partners, they launched the first instances of Kajabi in late summer. "We knew that it would be really hard to get traction just launching something into the world. So we wanted to get them to really use the product and endorse the product first."
From there, it was on to the public launch, which went live in October. While the launch was successful, the founder admitted that it was touch and go at points. "We were both pulling all-nighters, just cranking on stuff right before that launch," recalls Travis. The team launched on a Thursday, and Kenny recalls recruiting his brother- and father-in-law to help after a youth soccer game on Saturday. "We set up a triage ward in my living room, with everyone manning laptops. We were just flooded with new customers and new support requests." But the team made it through the initial flood and has been growing ever since.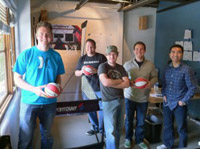 Kajabi's platform hopes to be an end-to-end solution for customers hoping to set up shop on the web and earn money from their own expertise. With a focus on video content, the platform allows customers to quickly create new channels of content with associated with different membership levels. So far, customers have created thousands of sites with Kajabi and uploaded more than 35,000 videos, with content that ranges from tribal music lessons to weight loss programs to sports training and real estate.
As for the future, the Kajabi team is tight-lipped about specific new features but promises that there are some big things in store for the coming months. "To borrow from the 37 Signals guys, we're curators of our app, we're not just going to build any features," says Kenny. "We've got some things we think are going to blow people away.'
To learn more about Kajabi, check out the company's site.
For the original article, check out Bostinnovation.com.