_In honor of Global Entrepreneurship Week, this week's content will be focused entirely on entrepreneurship. This post originally appeared on our blog last year.  We love this post because it shows how great things can come from failure. _
When we think about the true legends of the business world, it's easy to put them on pedestals. Surely, we tell ourselves, the people who produce multi-billion dollar fortunes are a different breed than the rest of us. And seldom (if ever) do we picture them failing at anything. Yet when you look back on the real-life histories of iconic entrepreneurs, there is plenty of failure to go around. In fact, these early setbacks were often instrumental in shaping the careers of these storied figures.
Bill Gates & Traf-O-Data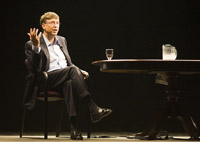 The Failure: Bill Gates will forever be remembered for starting Microsoft, but this was actually not his first business venture. Prior to founding the software giant behind Windows, Gates headed up a company called Traf-O-Data. Its objective? As StartupGallery.org explains, Gates and his partners wanted to build a 'computerized machine for processing paper tapes from traffic counters, those black hoses most of us have driven over on roads throughout the United States.' They then planned to sell this computerized data to state and local governments, but failed because the product was unacceptably buggy.
The Lesson: If anything was learned from Traf-O-Data, it's that the first idea an entrepreneur has is rarely the best. Today, the only reason we know about this company at all is because Gates and Paul Allen started it. Fortunately for them, they were not discouraged by Traf-O-Data's closing and went on to found one of the most successful companies in business history.
Akio Morita & Rice Cookers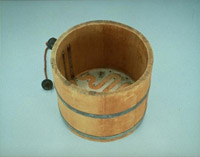 The Failure: Today, you know Sony as a digital electronics powerhouse. But the company was considerably low-tech in the early days, as shown by founder Akio Morita's foray into selling rice cookers. The problem, as SonyInsider.com explains, is that the rice cooker basically burnt more rice than it cooked. Calling it a 'primitive product', SonyInsider goes on to note that 'tasty rice was a rarity' and the project became a 'memorable failure' for Morito and partner Masaru Ibuka.' Ultimately, fewer than 100 units were sold to the public.
The Lesson: Morito and Ibuka's hard-fought wisdom from the rice cooker project was to fail quick and fail cheap. Had these men stubbornly clung to a poorly executed product idea, they might never have tackled the far more lucrative task of building an electronics empire.
Today's entrepreneurs would do well to remember this lesson. Never be afraid to cut your losses and move on from an objectively bad idea or situation.
Harland David Sanders & KFC's Secret Recipe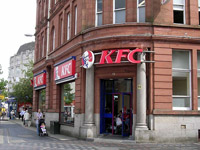 The Failure: Harland David Sanders (better known as 'Colonel Sanders') endured some of the harshest early failures of all. Despite having what we now know is an undeniably popular chicken recipe, no one wanted it at first. In fact, Sanders endured over 1,000 rejections before finally finding a restaurant that was willing to work with him. Early on, KFC says, Colonel Sanders literally carried the secret spice mixture with him in his car in search of business partners.
The Lesson: Colonel Sanders' early failures are a testament to the power of determination. It would have been all too easy (and quite understandable) to give up after being told 'no' a hundred times - nevermind one thousand times. But Sanders knew his recipe had value and kept pushing until he found someone who agreed. Perhaps it's no surprise that Y Combinator's Paul Graham believes determination is the most important quality an entrepreneur can have.
Henry Ford & Detroit Automobile Co.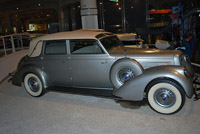 The Failure: It's hard to think of Henry Ford as anything other than a smashing success in the automobile industry. Early on, though, he was anything but. Ford's first company - Detroit Automobile Company - went out of business in 1901 'amid customer complaints of high prices and low quality', according to Newsweek. Henry Ford Company (founded one year later) was abandoned due to a fight with his partner, while a third company nearly collapsed from low sales numbers.
The Lesson: What these failures said to Henry Ford, loud and clear, was 'listen to your market!' Which, to Ford's credit, he undoubtedly did. With the assistance of angel investors (and the harsh lessons of his past failures), Ford reincorporated as Ford Motor Company and focused squarely on mass-producing vehicles customers both wanted and had the ability to buy. Consequently, we all know about Ford Motor while barely anyone remembers Detroit Automobile Co.
R.H. Macy & His First Four Stores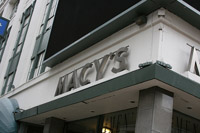 The Failure: R.H. Macy was hardly an instant success in retail. In fact, the first four store locations that he opened were abject failures (including the first true Macy's store in Massachusetts.) Between 1843-1855, every one of these dry goods stores died on the vine on poor consumer demand and lackluster sales totals.
The Lesson: There is a learning curve in just about every type of business you can imagine. For R.H. Macy, retail was no different. Arguably, what finally paved the way for him to be successful was opening a store in a premier location (New York City) instead of in areas with weak demand. In any case, it's clear that Macy endured his early failures with eyes wide open, soaking up all of the lessons he could and avoiding the same mistakes later on.