Day in and day out, we focus on generating customers. In most businesses, the #1 goal is getting new customers in the door as quickly and with as high of a return on investment as possible.
Unfortunately, few businesses take the time to nurture customers after they've already made a purchase. Retaining customers so they gush about your services to their friends and come back to you in times of need is a top priority!
So, why not start with how you welcome people into your business? Personalized welcome emails can do a lot to inspire customers to stick with you.
In this article I'll show you how to craft welcome email campaigns that graciously accept new customers into your business to kick off your long and happy relationships.
These emails start relationships off on solid ground, show customers you care, and set you up for a more long-term selling approach that benefits both of you.
Don't try to tell me that welcome emails aren't relevant to your business. This approach works for EVERY business, no matter what industry you're in. These emails can be sent after someone makes a purchase, subscribes to your newsletter, or downloads material from your site.
Let's get started.
Welcome Emails: What You Need to Know
Just to clarify, this welcome email campaign will be sent out immediately after a customer signs up for your product or service. The basic premise is to acknowledge their purchase or subscription, tell them what will happen next, and affirm that they've got a place in your community.
In this email you should include:
A heart-warming, sincere thank you with specifics on what they signed up for (no generic info!)

Reassurance that they made a fantastic decision

A summary of what they just ordered

Helpful information and features they might like

What will happen next
The tone of this email should be very personal, very genuine, and excited.It should be about building a positive impress and relationships vs being pushy and aggressive. The purpose is to solidify the relationship, make customers and users feel comfortable with their purchase (which reduces refunds and cancellations).
Begin to build bonds with customers in the first email you send.
A Few Quick Suggestions
1. Consider formatting.
Whether you decide to go with a plain text or HTML email is up to you. Just consider what will work with your audience.
Plain emails look like they're from family or friends, rather than a corporate auto-email account.
Clarity sends emails from Dan Martell, the CEO. These messages seem like they're coming from a friend (or just a regular guy), inspiring people to read on:

HTML emails and colorful formatting work, too. If you want to get people familiar with your brand, why not send an HTML email with colorful elements and impeccable design?
Here's the pretty HTML email you get when you sign up for TweetDeck: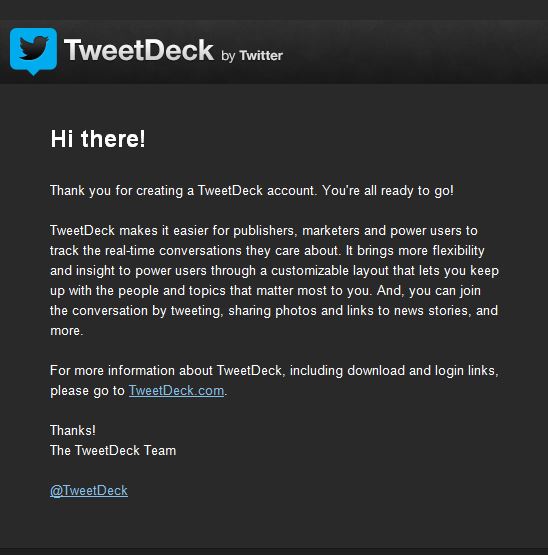 2. Send emails from a real person's account.
People are more likely to open an email from Alan Sampson than one from Sampson Software. A real name gives a human quality to your company.
Andy Sernovitz's "Damn, I Wish I'd Thought of That" newsletter comes directly from him:

3. Be as personable as possible.
If you're a small business, you don't want to come across as corporate and stuffy. You want to nurture your relationship with this customer so they trust you.
WriterAccess welcomes writers in a succinct, personable email, even citing where the recipient lives!

4. Segment your emails based on purchases.
If you have different products, services, or plans, tailor your welcome emails accordingly to make them relevant to the customer and their needs.
This Amazon email is targeted to people who've already purchased books on branding and communication. It's not exactly a welcome email, but it's a good example of how targeted results can keep up engagement.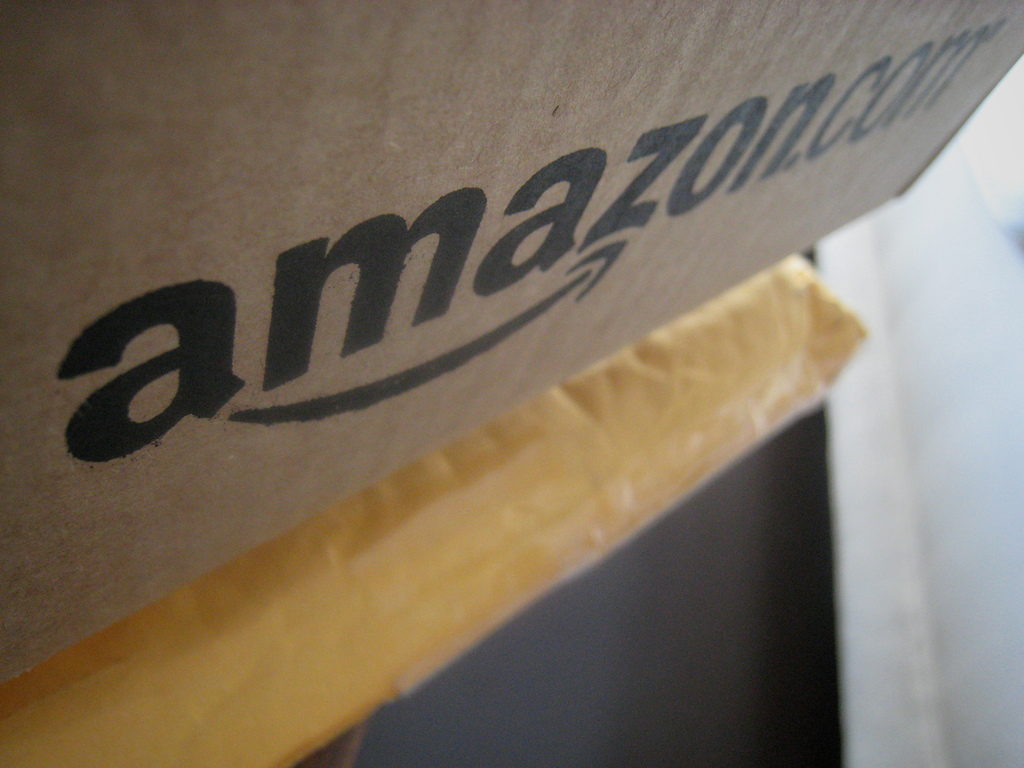 5. Say "you" instead of "I."
If you tell your customer "I want, I feel, I like" you're being self-absorbed. Focus on THEIR goals. This email is to help the customer, not promote you.
Here's Pinterest's welcome email (this one is great!):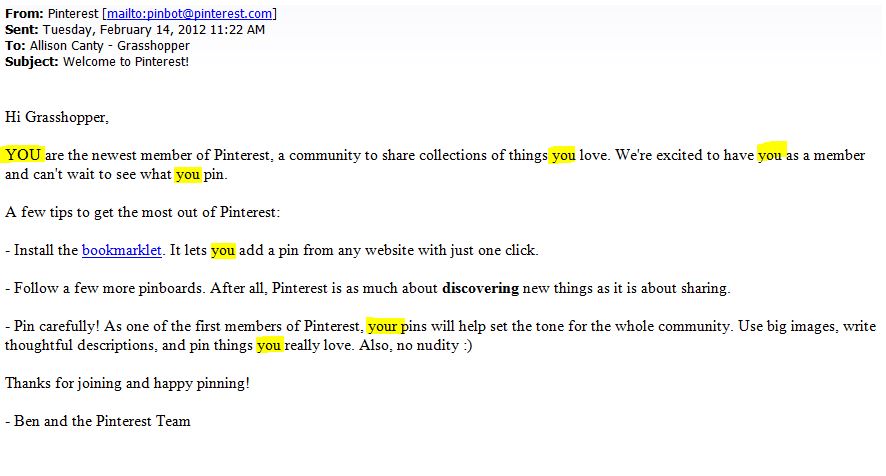 6. Keep it short. Customers have short attention spans.
A super short, sweet welcome email from Buffer: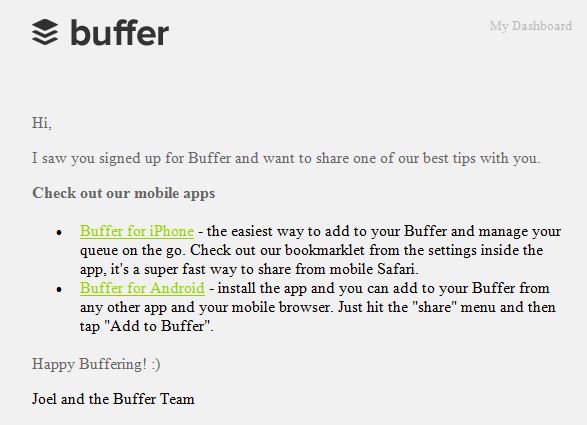 7. Help your customers find you.
Link to your social accounts and let customers know how they can get in touch.
eSalon draws attention to its Facebook page with a large, clickable banner: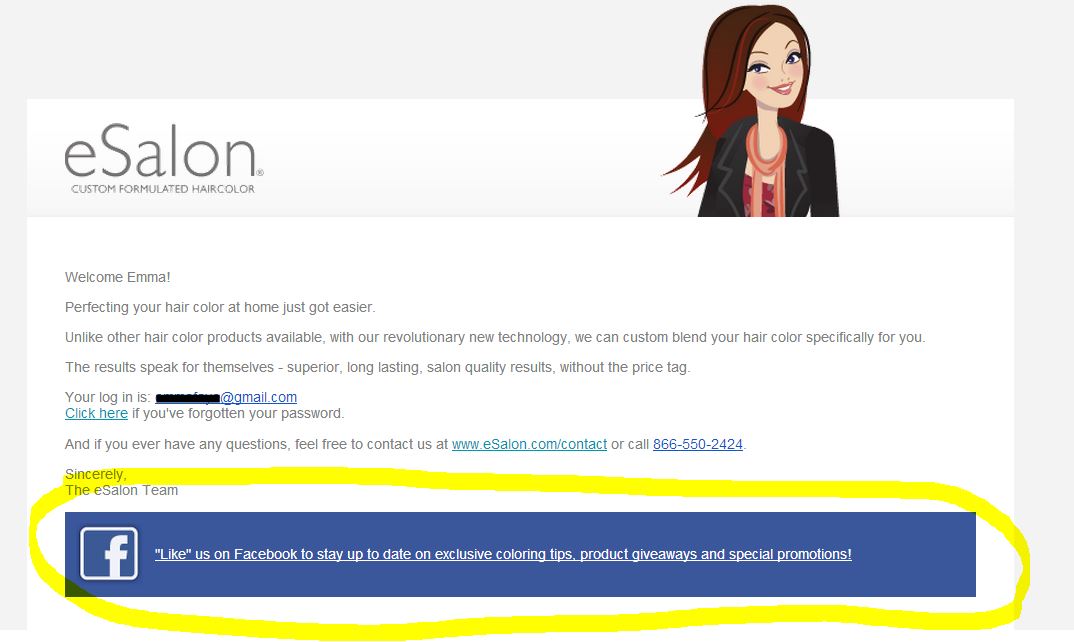 Now that you know what should be included in this type of email, let me give you a few examples from different industries.
Feel free to take the one you like the best and re-model it for your own business.
Example #1: Landscaper Welcome Template
In this email we'll name the company 'Evergreen." This company offers various landscaping services including a monthly cut & trim, which the customer just signed up for.
Example #2: Tech Company Welcome Template
For this example let's take a company that sells a split-testing service for landing pages. We'll call it 'QuickTest.' This service has a product that is digital, therefore no need to ship.
The main hurdle most tech companies face is getting people to actually use the product, as well as providing them with the support they need. Deal with this by providing them with helpful content, as well as a dedicated team member.
Example #3: Local Laundry Service Welcome Template
Below is an email a cleaner or cleaning company can use to send to new clients which gives them a value that compliments the services they already have.
For a personal service like this, a handwritten thank you note along with an email like this would work wonders.
Send Perfect Welcome Emails to Customers
These are sample emails you can model to use in your own business. You can easily swap out the information and take a few pieces from each.
The key is to remember that you're making your new customer or client feel at ease with the purchase they just made. You're reducing buyers' remorse and making them feel comfortable with doing business with you.
A well-planned, strategic welcome email campaign sets people's minds at ease and gets you off on the right foot.
What do you currently send customers after they sign up? What do you think of these options? Please share in the comments!