Unlike calculating ROI from marketing efforts, building a brand is dependent on people's perception. Do your employees trust you? Do your customers? Are you a company that people recommend?
Your brand isn't just a logo. It's what you're made of.** It's your DNA.** 
What is Brand DNA?
Your Brand DNA is the combination of factors that bring your brand to life. Factors such as:
Vision-- _Who do I want to be? _

Mission-- What am I doing to make that happen? 

Values-- How am I doing that?
Your business identity reaches out and in, and directly relates to:
Your internal culture-- The productivity and passion of your team depends on your leadership. Your Brand DNA will determine the culture of your company and workplace.

External perceptions-- Y_ou don't want to be just another webmaster or photographer, so build your Brand DNA with your customers in mind._
You might think that your vision, mission, and values are obvious but you actually need to commit these ideas to paper. Providing employees and customers with insights into who you are and how you run will help you build a consistent brand.
Cast Your Vision by Stating Your Mission
This is the starting point. Clear mission statements will help keep your efforts and your employees focused and consistent.
Consider the vision and mission statements from some of these Fortune 500 companies:
These vision statements are simple, but they're the starting point for everything else.
Your own mission statement addresses your future and paints a big picture. Craft it well and circulate it internally.
Establish Your Values Early On
Values are the foundation of your company's mission and vision statement, an intrinsic piece of your business identity, and an under-appreciated asset. They will determine your internal company culture, shape your space in the market, and influence how your customers interact with and feel about your business.
What are some qualities that you find important in a business of your industry? For example, a new daycare will likely include compassion and trustworthiness as core values.
There are plenty of common value options that appeal to many audiences and markets, for example:
Generosity

Transparency

Fun

Team

Diligence

Passion

Drive

Skill

Cutting-edge technology

Empathy

Excellence
Make a list of values that matter to you, and then try to narrow it down to just a handful. If you value everything, you effectively value nothing. If the list is too long for you or your employees to easily remember, no one will be able to act on it.
Your values will paint a picture around your vision and mission, providing substance for your Brand DNA to help guide the evolution of your business.
Cultivate a Unique Internal Culture
Crafting your Brand DNA will help set the stage for your workplace environment. If one of your values is 'transparency,' then maybe your office shouldn't have a door... or maybe you shouldn't have a separate office.
If one of your values is 'fun,' you should probably invest in a ping-pong table, celebrate birthdays, and organize company outings and events.
Developing a strong Brand DNA is not about having a snappy statement for your website or your office wall. It won't work unless it really becomes how you function, and that needs to start with the people who are working for you. Invest in them, make the brand come to life for them first, and they will help you take it the rest of the way.
Brand Inspiration: USAA
USAA is an insurance and financial-services company that works exclusively with active and retired military families. Their website lists four founding values:
[caption id='attachment_14080' align='alignnone' width='709']

Service, Loyalty, Honesty, and Integrity are USAA's four values.[/caption]
Before channeling those values to their customers, they train their employees to live these values.
USAA employees spend most of their time on the phone with customers but, unlike most call centers, the length of their calls is not measured. Member satisfaction is the only marker. Employees have access to an affordable concierge service that lets them hire out errands during the workday, and when the USAA closed two call centers in 2009, they offered every employee a company-sponsored relocation package to work in another location.
These values also fit into training procedures. New hires eat MRE's at training sessions, try on a soldier's equipment-- from the helmet to the 65-pound backpack-- and read actual correspondences (with names changed) between deployed soldiers and their families.
The values of the USAA aren't just for customers. They are the catalyst for the internal company culture first.
How People Perceive Your Brand
How your vision, mission, and values affect your relationships with your customers is the final element of a robust Brand DNA. This reaches beyond the product or service you provide-- it's vital to the competitive strength of your business in the long term.
The fact of the matter is, your business isn't the only one doing what you're doing, and your organization isn't the best fit for everyone who is in the market for your products or services.
There are many of ways you can use your Brand DNA to carve out your niche, including:
Simplify - You can't do it all, so revisit your vision, mission and values and stop doing whatever doesn't fit. You'll get better at the things you keep.

Be Human - It's okay to share your mistakes, have fun on a social network, and show off some personality. When customers feel like they know you, they can start to trust you.

Listen - Listen to what your customers are saying, and what they're not saying. Listen when you ask for feedback, and when they offer it anyway. Listen when they praise you, and listen extra carefully when they criticize.
Your Brand DNA-- those values that define what your brand is all about-- will determine how you are perceived by prospects and customers.
Brand Inspiration: Dove
Unilever's Dove brand "is committed to helping women realize their personal potential for beauty." Dove makes soap, deodorant, and other personal care products for women, but when most women think about Dove, they don't think about moisturizers. They think about beauty concepts.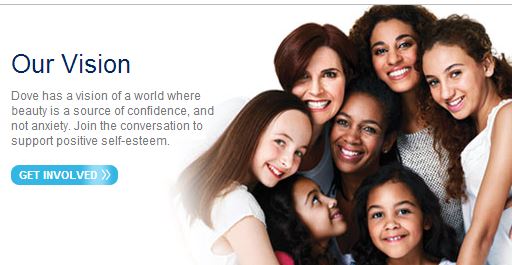 Dove's campaigns focus on women instead of their products. One Dove commercial took viewers on a visual journey from photo-shoot to billboard, and demonstrated all the editing in between.
A recent campaign used a criminal sketch artist to draw women as they described themselves and as others described them, to illustrate how hard women can be on their own personal appearance.
Dove's vision outlines their values and both became the foundation for their communications. As a result, many women feel that Dove is a brand they can trust.
Brand DNA Must Evolve
As your business or your industry grows and changes, your brand will probably need to evolve to keep up. You can always come back to these same foundational questions and strategies to refine your Brand DNA.
Good Brand DNA helps you do just that by providing reference points for measuring your company's clarity of vision and adherence to your mission.
In the long run, maintaining a vibrant Brand DNA will go a long way in saving your business from extinction.