Do you ever have those days when you work from your couch in sweatpants and don't speak to a single soul? You send emails while blasting music and eating popcorn, just because you can.
Working from home has obvious perks: no dress code, no commute and a flexible schedule. But for a lot of entrepreneurs and small business owners, independence comes at the cost of isolation.
It's not as easy as water cooler talk with co-workers or company wide outings, but with a bit of creativity, you can develop a community while you build your business at home.
Here are six tips to help you to feel more connected:
1. Join Professional Organizations
Joining professional organizations and trade associations allows you to tap into networks as big as Fortune 500 companies. With a web of peers that big supporting you, what can't you do?
Here are a few to get you started:
Attend organizational conferences and check out the local chapters of these groups. Utilizing powerful networks is a great way to start developing peer and mentor relationships. If you prefer a more casual approach, start by searching Meetup for a group of like-minded professionals in your area — you can connect with people over a drink after work.
Keep in mind that a feeling of belonging is essential to communities. As you seek out organizations to join, make an effort to focus on groups that mirror your values and goals.
2. Use the Buddy System
Remember how, at summer camp, you needed a buddy to go swimming with you? The same is true for entrepreneurship. No, you may not have a BFF at your home office, but it helps to have someone you can trust on speed dial.
Harvard Business Review noted that employees are seven times more likely to fully commit themselves to their work when they have a best friend in the office. Try to find a fellow entrepreneur who can help fill that role — you can give them a call when you're stuck in challenge and can't seem to dig your way out.
3. Find Your Third Place
Social psychologists say that a sense of community thrives in third places or public spaces that are not usually devoted to home and work. Even if it's just for an hour or two, visiting a third place can revitalize your connection to a broader community.
A few times a week, leave your home office and bring your laptop with you to a local library, your favorite coffee shop or a nearby park. Some co-working spaces also allow you to use their common and recreational areas for a small monthly fee. This is a great way for you to tap into a community without committing to one.
If changing up your location breathes life into your days, consider investing in a portable modem that gives you access to Internet wherever you have cell service — it's great for those of you who enjoy working in public places but need to be plugged in all the time.
4. Personalize Your Communication
We all love email. It's fast, convenient and an easy avenue for work conversations. But by personalizing communication beyond the quick email, you can cultivate deeper connections.
According to Entrepreneur, a phone call is not only more personal, but it can also be clearer than an email, leaving clients and collaborators with a better sense of your next steps. Spread out your calls, video chats and in-person meetings throughout the week, so you speak to one or two people a day. When working with local clients, try to plan coffee or lunch meetings. Humanize your relationships as much as possible while keeping them in the professional zone.
5.  Go for a Pro-Bono Project
One of the hallmarks of a sense of community is goodwill toward others. By connecting your unique professional skills with an organization that can use your help, you invest in a supportive network of people who appreciate your work. Let's say you work as an independent web designer and love dogs — reach out to a local animal shelter and see if they need help with their website.
Sites like Catchafire and VolunteerMatch make it easy to find non-profits that would benefit your expertise. The satisfaction and sense of connection you will feel outweighs any effort on your part.
6. Get Active
Group activities are great ways to bolster camaraderie. A lot of companies sponsor group softball games or corn hole leagues. Replicate that same bonding experience in your free time.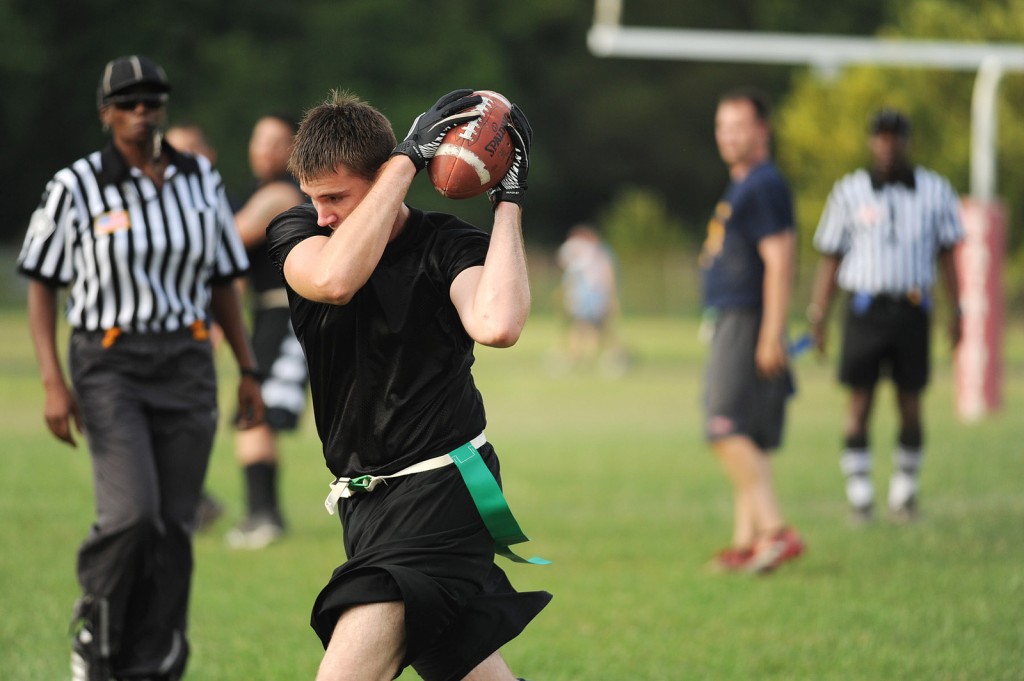 Great sites like ZogSports offer a wide array of intramural sports for professionals. Not into competition? Go to a local yoga studio during your lunch break. Seeing the same smiling faces over a few weeks will give you a zen-like feeling of community that will boost your productivity.
In Good Company
Your work as a small business owner requires that you dig deeper for community. Just because you ride solo doesn't mean you should go it alone. In fact, the opposite is true. Making the effort means that you can enjoy the best of both worlds, reaping the benefits of community and the independence of forging your own path.