Local business.
That's what you are-- and you're way different from online companies.
You have conversations that sound outdated in a world saturated with smartphones and others that are way beyond what grandma could've imagined.
Hyperlocal marketing is a fancy term for marketing that's focused in a certain city or neighborhood. For you, it's known simply as "marketing."
To help local business owners get started, we've identified 4 key strategies for hyperlocal marketing:
Stake Your Claim
Mobile technology is a powerful tool for hyperlocal marketing. If you know where potential customers are, you can cater to them.
Big brands have developed apps that do things like offer coupons when their customers are in competitors' stores. It's creepy, right? But it works!
But how do you, with no tech department, take advantage of geo-technology?
You take advantage of the services that are already doing it for you.
Review websites are mobile and their user bases are growing. People are turning to apps like Yelp! and CitySearch to find a new place for dinner or the best spa in the area.
There are a lot of review sites and listing services out there, but here are a few good places to start:
Carve out some time to figure out where you are online. Each site is a little different, but in general you want to:
Search for your business. It doesn't matter if you haven't taken the time to set up a profile-- it's probably already there. Most sites allow you to claim the business as your own.

Fill out as much information as you can. Don't skimp or try to save time here. Provide as much information as possible, and upload your logo (and a few nice pictures).

Take advantage of any special services the site offers. Some will allow you to set up coupons or customer loyalty programs. Using these features gives people more reasons to engage with your listing.

Check out customer reviews that are already there, and respond to any recent ones.

Bookmark your page so you can get back to it in a few days. You'll want to monitor your sites so you can learn from your mistakes, reach out to customers who had a bad experience, and thank customers who leave good reviews.
Henry Hautau, owner of a tavern in Novato, California, impressed customer Shel Israel when he emailed a thank you note note after Shel left a review on Yelp.
Hautau checks Yelp once or twice each day. He pays more attention to the negatives than the positives, looking for "legitimacy clues." He checks to see what else a negative reviewer has written, how often, and for what other businesses. If he feels the panning review was authentic, he responds with an apology and an invite for a second try with a free dinner.
Social Is Local
Social media is in your hometown, equipped with powerful tools
Social media channels went mobile to ease the sharing experience for their users. Now, the same desire is driving those networks in your hometown.
Facebook now allows Check-Ins for their users. The network helps small businesses with hyper-targeted ads, offering coupon services called "Offers."
SweetHaus, a cupcake shop in Charlottesville, VA, has seen over 1000 Offers claimed with a 12% retention rate. The shop has over 2700 engaged fans.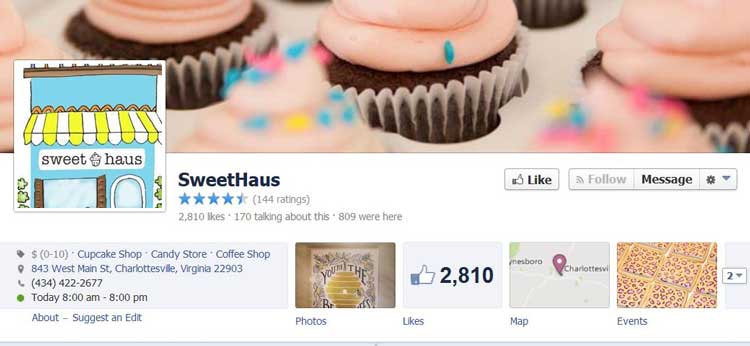 I can post something on Facebook and get a response in minutes. People will call me immediately about something they see promoted. It's effective word-of-mouth advertising, plus we can join the conversation. No other advertising medium is as measurable or delivers such immediate results. - Tara Koenig, Owner, SweetHaus
Pinterest now supports business accounts, and allows users to add maps to their boards so they can attach an exact address to a pin. Instagram provides the option for users to share the locations of their photos.
Your prospects and customers are already on social media, and they're already using these features, so how do you take advantage of social specifically for hyperlocal marketing?
Consider some best practices per channel:
Foursquare Set up your account and manage it like a review or a listing site. Foursquare offers several options for "deals" - from coupons to loyalty programs - so take advantage of those.

Facebook Set up your Page, and make sure it's updated regularly. If you're using Facebook ads, make sure you target your audience to your city. It's okay to be specific. Users can leave reviews on your Page, so track and respond to those as well.

Pinterest Set up your business account and make sure you have at least one board that's locally focused. Set up an "Our Neighborhood" board and make sure it's constantly updated with events and attractions.

Instagram/Twitter Find out what location-based hashtags people are using. Is there one for your city or community? #EastSac, for example, will connect you to everything on Twitter or Instagram from East Sacramento, Texas. Try searching a few options until you find one - your city name and the abbreviation for your state, your city and state, just your city, etc. Make sure it's on everything you post. (If you can't find one, make one up!)
Become a Local Hub
Hyperlocal marketing means being hyperlocal yourself. You must do this on and offline.
Offline
If you want a presence in your community, then BE IN YOUR COMMUNITY. Enter a float in the summer parade. Set up a tent at the festival in the park. Sponsor a little league baseball team.
Or invite them to come to you. Host an after-party for the local high school drama team after opening night, or an open mic night, or a play date for moms and toddlers.
Online
Make sure your company blog covers local interest issues once in a while. Realtors are getting good at this. Teresa Boardman in Minnesota and VIP Realty in Texas are two great examples.
When your website is constantly updated with relevant, local information, you earn a reputation in the community. You'll also earn good search engine rankings whenever people browse for local events and information.
Community Collaboration
Getting together with a neighboring small business-- preferably one whose product or service complements yours-- will better connect you with customers. You can help a neighboring business get customers while they help you.
If you have a women's clothing boutique, partner with a local salon to offer discounts or package deals. If you own a restaurant, join forces with the local movie theater and host monthly date nights. You can also share the cost of local ads-- from billboards, to community newsletters, to radio spots.
Consider collaborating with a local charity or school. Find a worthy cause that you can support and host a fundraising event, or donate part of your proceeds for a month. The payoff might not be as immediate, but the community impact will be dramatic.
Engage and Go
Good marketing has always been about conversations and relationships-- from email campaigns to neighborhood events. For small businesses, your customers and prospects are the people around you. It's time to find them!
Reaching out in person through time-tested community involvement still works. And social is in your hometown, bringing with it new tools for hyperlocal marketing.
The marketing prospects for small businesses have never been brighter. Go local!