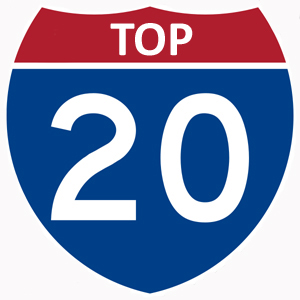 We've gathered 20 of the best entrepreneurship & small business posts from the past two weeks and compiled them into one big list for you. I'm sure we missed some so feel free to leave your own recommendations in the comments:
1. Avoid Becoming a Statistic: 5 Startup Hazards to Avoid
You have such a great startup idea- don't mess it up! From the desire to procrastinate to money issues, Adam from Blogtrepreneur addresses five common issues with startups and how to overcome them.
2. The College Advantage: Making the Most of the Community
Are you in college looking to start your own business? Guest blogger on Dorm Room Biz Alexis talks about opportunities on college campuses you may not have thought of. Social support outlets and professional advice are just a couple of great resources for college students.
DormRoomBiz
3. Wednesday Web Resources: Four Great Free Tools That Work Great Together
Walk into your office every day and just see a mess of papers? Getting organized when you're running your own business can be difficult. Carol on Entrepreneur.com talks about four online tools to keep you organized with tasks like bookkeeping and invoicing.
Entrepreneur
4. Entrepreneur Qualities and Characteristics: Patience
Waiting, Waiting, Waiting… for the phone call, e-mail, or twitter update. Entrepreneurs can get pretty impatient. Take a break to read business owner and speaker Bruce Wade's blog post about the importance of the personality characteristic waiting. You may end up realizing that it's actually worth it!
Ideate
5. Small Business News: So You Want to Start a Business
Nervous about starting a business? Sure there are difficulties in doing it but they can easily be fixed. Small Business Trends talks about some great basic tips from branding and marketing strategy to finance.  Don't be scared!
6. An Exercise in Franchising
Get some entrepreneurial inspiration from this article about Elyse McNergney who reinvented pilates! Her story about how she started and developed the IM=X Pilates solution will inspire you to invent great ideas!
Women Entrepreneur
7. 4 Online Tools That Can Help Any Internet Startup
Looking to develop an internet startup? Michael Costigan talks about four online tools to help internet startups. He includes tools that will help you with with tasks like product management and online tracking.
8. Startup Slip-ups
Jason Fried, co founder of web developer 37signals, talks about common startup mistakes in this video. He busts entrepreneurial myths and talks about what will really work. You will learn lots about basic money skills to business development strategies in his interview.
Business Opportunities
9. Not an Entrepreneur? You Can Still Market Yourself
No matter what kind of business you're in, you can successfully market yourself. Public presentations are a great way to do this and entrepreneur Gladys Edmunds shares her key tips here on how you can appeal to potential customers.
10. Some Thoughts on Fighting Burnout
Feeling a little burnt out from all the hard work you've been doing? You're not alone. Read this post for some rejuvenating tips to make your hard work that much better.
Entrepreneur's Success Journal
11. Rules for Working on the Beach
It's summertime, so of course we all want to take a vacation! But are you finding yourself working too much on your vacation? Sabrina from geekpreneur shares some tips on how you can vacation peacefully and still successfully run your business.
12. 18 Places to Indulge in Face to Face Business Networking
Want to network with other entrepreneurs but don't know how- or where? Heather shares on Real Business 18 kinds of entrepreneur networks to further your ideas and get advice.
Real Business UK
13. 25 Blog or Newsletter Topics for Company Bloggers
Hopefully if you're an entrepreneur you've got a blog! But even if you do, are you blogging right? Sociatic shares 25 blogging topics to increase customer retention and market your products successfully.
Sociatic
14. Businesses That Should Use LinkedIn
Should you use LinkedIn? As an entrepreneur, the answer is yes! Read Andrea's post from Baby Boomer Entrepreneur on how to use LinkedIn to your advantage.
15. Entrepreneurs: Unlearn your MBA
Did school teach you the wrong things? Maybe your MBA should be "unlearned," as David Hansson, Ruby on Rails developer says. Watch his video on how you can really succeed without all the "heavy management theory stuff" you learned.
16. How to Get Good Ideas for Startups
Want to be an entrepreneur but not sure where to start? Penelope Trunk's Brazen Careerist blog gives some great tips and ideas for coming up with a business idea. Don't dismiss entrepreneurship because you can't come up with an idea!
Penelope Trunk's Brazen Careerist
17. Keep the Dream Alive While Staying Debt Free
You're working on your dream startup and everything is going great- except you're in debt! Don't let that happen. Annabel Candy shares her financial advice on how you can do what you want and not end up in debt.
18. Free Web UI Resources
Are you a web designer, or someone who just wants to improve their web page? Grace Smith talks about 10 FREE web kits and resources that will make your website that much better.
19. Entrepreneurs at Their Finest
Some of the best entrepreneurial advice may come from young kids in Burma! Steve Bloom shares his story of his travel here and how the young kids connected so well with him and his wife.
Women's Blog SCORE
20. Train Your Customers
You can train your customers! Entrepreneur Seth Godin explains in his blog how you can get your customers to do what you want them to- and in turn increase customer retention rate.