When you're just starting out, money's tight. It's easy for marketing to seem like a rich man's problem.
But not paying attention to marketing your business is what you really can't afford.
Marketing doesn't have to blow the bank— you just have to put your creativity cap on. There are tons of neat tricks to help you keep costs down while getting the word out. Keep reading to hear all about our favorite awesome and creative ways to market on a (tiny) budget.
Comment on Blogs and Answer Questions on Blogs and Forums
Mashable hasn't always been an authority on all things social media. When he first started the company, founder Pete Cashmore posted insightful comments on competing blogs, like TechCrunch. Like, hundreds of comments. His target audience, who was already on TechCrunch, was attracted by them and headed over to his website to take a look.
The key here is that Pete actually has something constructive to contribute to the conversation. He isn't promo-ing his company or spamming with links. He's truly engaging with his fellow audience.
Just be helpful and engaging, and you'll attract plenty of new peeps to your business.
Find an Offbeat Sales Channel
GSC Products sells Sinus Plumber, a nasal spray. You'd expect to find them in CVS and Stop & Shop, right? Nope. Sinus Plumber is in hardware and automotive stores. It's placed right near the cashier, in the impulse buy area.
It would be expensive to go where their competitors are, on cold and allergy shelves in grocery and drug stores, and why would you wanna be white noise on those shelves anyway? This way, they spend less on placement and don't get lost in competition.
The important factor here is that Sinus Plumber actually fits very well in these stores. People working in construction and automotive—the people shopping there—stir up a lot of dust and allergens in their work. So they need a product like Sinus Plumber.
It's obviously working for GSC—over a quarter of their annual revenue comes from sales in automotive and hardware stores. That's 40% more than sales from anywhere else.
Attend Events
SELECT attends events and sometimes purchases a table at them to network and sign up customers on the spot. Founder and CEO Carlo Cisco feels that the extra effort required to do events is worth it to get a personal, face-to-face interaction with potential customers.
Many networking events are free to attend, so to simply attend events, they've spent less than $50 over the past few months, and they've netted over $3,000 in revenue. The most SELECT has ever paid for a table at an event is $400 and they averaged $1,000 in direct additional revenue, and that doesn't even include recurring business.
The game-changer with attending events is the opportunity to infuse any business with a personal element. Pitching to prospective customers is a whole lot easier in person than it is on the phone. You get to be outgoing and get people excited about your business.
Encourage Word of Mouth on Social Media
Body Mechanics, an orthopedic massage clinic, offers clients a $5 discount off of their bill if they "check in" on Facebook or Yelp from the office. They've only been doing this for two weeks, and it's already scored them two new clients.
With about 5-10 clients "Checking In" per week, they're only discounting by about $50 in total. The two bookings that resulted were for $165 and $99, and one of the newbies has already become a regular, so the potential for return is huge. Not to mention the boost in SEO they get from the check ins.
The key here is tapping into the ol' word of mouth machine. The people in your customers' networks are likely to be similarly situated to them—close in age, socioeconomic status, preferences, etc. So there's a good chance they're interested in your business, too.
Partners & Discounts
WashedAshore.org is a nonprofit environmental group. For a nonprofit, the challenge is attracting volunteers and donors instead of customers. WashedAshore works together with other small businesses in town to be able to offer discounts to anyone who volunteers with them.
For every hour of volunteering, you get a punch on your punch card. Once you fill it, you can get all kinds of discounts and free gifts from local businesses.
The only cost to WashedAshore is printing the punch cards and some promotional materials, like brochures and flyers, and they've more than doubled their volunteer numbers since the program started.
The important part here is that WashedAshore creates a partnership that is valuable to both sides. Since they're getting discounts, volunteers are way more likely to patronize the local businesses, so the companies actually want to offer them.
Use Your Car as a Mobile Billboard
AdmissionsCheckup.com has a car with bumper stickers from all of the colleges they partner with and their own phone number and website on the rear window.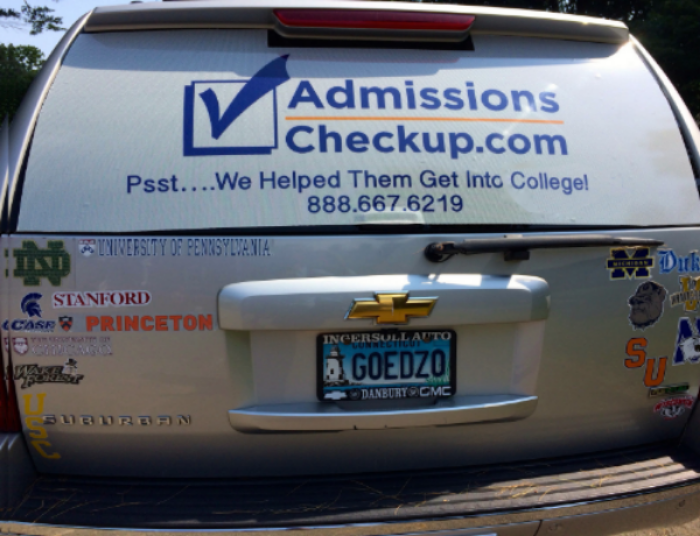 Branding a car isn't exactly new, but it's still pretty uncommon and unexpected. We're not talking a pick-up truck that says "Julian Construction" on the door. We mean completely branded and swagged out—think Redbull cars.
Altogether, it cost them less than $200 to deck out the car. Founder Stephanie Klein Wassink says they often see students and their parents taking pictures of the car, and they love it!
Conspire to Save Money
There are some things that a small marketing budget just won't buy you, like a TV spot for example. Yorango, a platform to help landlords and renters find each other, partners with other startups to co-promote for half the cost.
Partnerships also allow them to leverage their partner's network and customer base. More importantly, partnering up cuts marketing costs in half. One of their most successful partnerships cost them less than $100 and allowed them access to dozens of email addresses.
Want to host an event for half the price? Find a cohost. Want to buy a 30-second spot during the Super Bowl? Find a co-promoter. (Okay, that one might be out of reach with 50 partners, but you get the point.)
Use Free Tools to Your Advantage
SocialJumpstart.com creates neat visual content, like memes, to spread on social media. They make them positive, motivational, and inspirational, and they include their URL. Since they're in B2B, sometimes they even include a customer's URL as a little "gift."
Creating awesome visuals isn't just for graphic design pros. There are tons of free tools that are super easy to use. And you don't have to limit yourself to just Facebook. Visuals are even more effective on sites like Pinterest, Instagram, and Houzz.
Founder Mike Wolpert says SocialJumpstart spends about $300-500 a week on generating visual content, and they see roughly $1,500 in additional business. When they convert returning customers, that number turns into $3,000-5,000 or more annually.
The goal is to put out something that people naturally want to share. The idea is similar to our #4 Creative Way. In this case, you're using things like humor and inspiration to encourage word of mouth, instead of financial incentives.
Provide Valuable Resources to Convert Prospective Customers and Inspire Current Ones
Okay, not the most creative, but most small businesses have yet to truly tap into the marketing potential of content. HourlyNerd creates unique, interesting, and informative content for their customers. They aim to be as helpful as possible and not sales pitch-y at all.
Between 4 cofounders and 6,000 alumni, they're able to create all of their content essentially for free. By putting out relevant and fresh content, HourlyNerd attracts tons of traffic to their blog and website.
The key here is to produce content that provides genuine value to your customers and readers. They should be able to take something away—to leave with new knowledge, a new idea, or some extra inspiration.
Be Sneaky
When the budget is low, guerrilla marketing is a go-to. This one requires you to be a little more creative. Cheek'd founder and CEO Lori Cheek slips cards into random strangers bags, hoods, and pockets, plasters them on subway cars, movie posters, street art, public bathroom stalls, etc., and chalks her URL on sidewalks.
She even took a page from the Grasshopper book, mailing out a cryptic card with the Cheek'd URL to key influencers and press. This stunt cost about $12.50 and landed her on the front page of The New York Times Style Section. The article even led to interest from The Oprah Winfrey Show, a gig speaking at TEDx in NYC, and coverage of her TED talk in the Wall Street Journal.
The important aspect here is the element of unexpectedness. Chocolate covered grasshoppers and cryptic, little black cards that arrive in the mail spark curiosity, and the receiver naturally wants to know more.
Get to It!
Now you have the tools, so there's no excuse to ignore your marketing. Pick one, pick all ten, or get creative and come up with your own. But get moving and grow your business!
Your Turn: What creative ways have you found to market your business without breaking the bank? Tell us in the comments below!