Congratulations to Zaarly
Winner of The Grasshopper Webpreneur Award
What's Zaarly?

Zaarly is a web platform that connects local service providers with consumers. Zaarly's goal is to connect people with others so that they can easily find yoga studios, pet sitters, bakers, auto mechanics, personal trainers, and artisans in their own neighborhoods.
Right now, Zaarly is only available in New York City, Kansas City, Seattle, Los Angeles, and San Francisco, but members can buy shippable items from select communities over the site.
What's the Grasshopper Webpreneur Award?
The award recognizes a small business or startup that provides a valuable service over the web. In order to qualify, the company must be less than 3 years old. Our team chooses a number of businesses and ranks them based on Product, Web Design, Site Rank, Content, and Customer Service.
Why did we pick Zaarly?
When we ran Zaarly up against other candidates, the company came out on top.
If you have questions about how we narrowed our choices, feel free to send an email to content@grasshopper.com.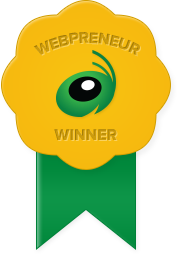 Web Design
Zaarly has a fresh, clean look that takes advantage of the latest trends in web design and development. Scott Lanning Front End Developer
Aesthetics, Purchasing Process & Ease of use
Site Rank
Zaarly has some strong SEO metrics, a strong social media following, and great branded link signals. They also have plenty of room for growth with their SEO which indicates opportunities going forward as they continue to grow. Matt Koulas Senior SEO Specialist
Domain Authority & Social Following
Content
Zaarly's copy is friendly and readable. It makes me feel like I'm chatting with a neighbor or friend, which aligns well with their services. Emma Siemasko Content Marketing Specialist
Copywriting, Blog & Social Media
Product & Service
Zaarly has created a curated collection of the awesome stores and services around you. Great to see a business like this that's dedicated to helping other businesses get noticed. Darren Rosebrugh Product Manager
Creativity, Practicality & Directness
Customer Service
Zaarly's online help desk is very helpful and easy to use and if you can't find what you're looking for they make it very easy to get in touch with them. Allison Canty Social Media & Community Manager
Customer support on website & Social Media
Know of a great company that deserves The Grasshopper Webpreneur Award?
Tell us about them!