Webpreneur Awards
Grasshopper recognizes successful startups
Webpreneurs are hard at work using today's technology to make a better world. At Grasshopper, we want to recognize them. That's why we've created The Grasshopper Webpreneur Award.
The award recognizes a small business or startup that provides a valuable service over the web. In order to qualify, the company must be less than 3 years old.
Our team chooses a number of businesses and ranks them based on Product, Web Design, Site Rank, Content, and Customer Service.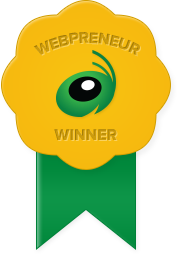 Know of a great company that deserves The Grasshopper Webpreneur Award?
Tell us about them!