Startup Phone Numbers
Toll Free Numbers for Your Startup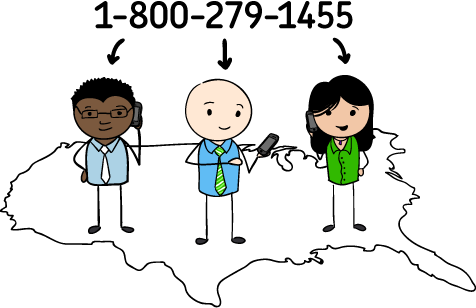 An 800 number allows startups to sound bigger and more professional.
Call routing extensions allow you to distribute calls evenly among your support staff.
Forward calls to employee smartphones and work from wherever you are.
Voicemail to Email delivery ensures members of the team stay connected and never miss an important message.
Create multiple extensions for sales, service and support.
30 Day Money Back Guarantee!
Get a Toll Free Number »
or See How it Works »
The Virtual Phone System for Startups
Phone systems have traditionally been an unavoidable (and annoying) business cost, but with the advent of virtual phone systems, startups have a new, cheaper way to get a great phone service, complete with 800 numbers.
Instead of investing in a bunch of hardware, why not do business on your existing cell phone or landline? With a virtual phone system, you can get up and running with a professional phone system in less than a day.
With Grasshopper's tollfree numbers, you can appeal to your customers whether you're pitching VCs in Silicon Valley, working on the beach, or working from the family farm in rural Kentucky. No matter where you are, callers can reach you.
Why Tollfree Numbers?
They're portable, meaning no one carrier owns it
Lend credibility to your brand
They reduce barriers to purchasing products online
It costs your caller nothing to call you
Give your business a national presence
One of the best parts about a toll free number is you own it! Once you buy a number, it is yours to keep. You aren't tied down to any one provider so you can take your number wherever you go. Not all countries can call toll free numbers, so it's best to also have a local number if you do business outside of the US and Canada.
These numbers are very common now-a-days, so getting a toll free/800 number is easy. They're also first come first serve so you may not be able to get your first choice. Luckily, there are five toll free codes to choose from.
You'll get access to great features like call forwarding, unlimited extensions and read your voicemail.
When to Consider Tollfree Numbers for a Startup
Virtual tollfree numbers are the perfect solution for new and growing companies.
You should consider getting a tollfree number:
If you work on the go
Entrepreneurship offers a lot more freedom than the 9-5, but that means you might not be in an office chair all day. If you find yourself on the go, you're the perfect candidate for a virtual phone system. Because calls can easily be forwarded to a cell phone, you can answer calls from your car, your home, your office, or even while you're on a water slide at the local amusement park.
If you're a member of a coworking space
Coworking spaces are a popular option for budding entrepreneurs. They provide resources and office space, but they don't provide phone systems. If you work in a coworking space, a virtual phone system that forwards calls to your cell phone is a great option. You'll be able to answer calls when you're at the coworking space, and also when you're at home.
If you don't have separate business and personal lines
A lot of entrepreneurs resign themselves to using their personal number for business, or worse, an additional cell phone. It's easy to separate business from personal with a virtual phone system. You can use one device to manage personal and professional calls.
If Google Voice is not enough
Google Voice offers simple call forwarding, but it's not robust enough for a growing company. Virtual phone systems allow you to add multiple departments, unlimited extensions, voicemail transcription, and other features that can help a growing company scale.
If you have a remote team that is spread out
If everyone is in one office, a traditional phone system is sufficient, but as soon as employees are spread across a city, country, or state, a virtual phone system becomes an invaluable tool. Each employee can have their own extension that forwards to their personal line. All employees can be united under one phone number, but answer calls on their cell phones. This saves costs and makes it easy for both customers and employees.
Phone System Features Your Startup Needs
800 Numbers
800 numbers are a great way to give your small business a professional image and your customers an easy way to reach you. Find true 800 numbers along with 888, 877 and 866 numbers.
Call Forwarding
Call forwarding one of the best features of our virtual phone system. Forward calls to any phone with any number. Perfect for when you or your employees are located in different cities or work from home.
Voicemail to Email Delivery
Out of the office? Traveling? Every time a voicemail is left on your phone extension, an email will be sent to the specified address letting you know that you have received a new voicemail. An MP3 will also be included so you can listen to your voicemail right there on your computer or phone.
Read Your Voicemail
Read Your Voicemail is the latest feature of the Grasshopper virtual phone system. Have your voicemail transcribed and emailed to you with human transcription available at no extra cost.
Extensions
Set up extensions for everyone in your office or company for no extra charge. Every plan from Grasshopper includes extensions, each with their own voicemail and call forwarding feature.
Professional Voice Studio
Because not everyone feels comfortable being the voice of the company, we offer professional voice talents to record your company's greetings. Simply write the script and the voice studio will record it for you in no time.
Live Call Transfer
With a virtual phone system you don't have to worry about missing calls or hanging up on callers. Live call transfer allows you to transfer a caller to another extension on the spot.
Business SMS
Business SMS helps you keep in touch from anywhere in the quickest and most convenient way — texting. You can send and receive SMS messages from your business number to maintain a professional image no matter where you're working from.
Have Questions on the Grasshopper Virtual Phone?
Our support staff is in another state. Do we need a separate number?
No. You can still use the same toll free or local number. Simply create an extension for your support team to have calls sent to that office. Call routing extensions also ensure calls are distributed evenly to the support staff so callers never hear a busy signal.
Our employees are often traveling on business. How can clients reach them without giving out their cell phone number?
Simply create an extension for each employee and have calls forwarded to their cell or home phone.
Can I have voicemails transcribed?
Voicemails are always emailed to your account. Our unlimited voice to text features includes human voicemail transcription at no extra charge. The Read Your Voicemail feature is a great way to get your messages when you can't take a call.
Over 300,000 Happy Customers Served
Here's what a few of them have to say about Grasshopper
I am now a huge fan of Grasshopper… truly saved the day (and my sanity). Carolyn Appleton Carolyn M. Appleton, Inc.
Having a phone number on our site increased conversion of site visitors to sign ups and paid users! Allan Branch LessAccounting