Give Thanks!
We're on a mission to spread the entrepreneurial love.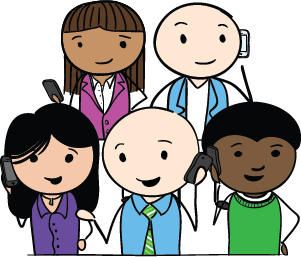 We've all had someone who has helped us, but have you thanked them for it?

Giving thanks is a great way to give back, inspire others, and remind everyone of the good in the world.

Was there someone who inspired you to take a leap of faith and launch your business? Someone who helped you in your career? Someone who let you bounce ideas off them? Give them thanks!

Share this page
Thanks Given
Check out all the inspiring ways people have helped others.
I want to thank Matt for being the epitome of what it is to be a good boss. He pushed me to be better, taught me everything he knew and even inspired me. His constant support transformed our work relationship into a genuine friendship. Sylvia Rosen BuyerZone
I'd like to thank my dear friend Ashlee for coming up with the idea to turn "online dating profile editing" into a real business. Frog2Prince wouldn't exist if it wasn't for her. Who would've thought we'd go from Korean Cupid to where we are today!? Emma Siemasko Frog2Prince
For showing me that a balance between family and success is possible. Now that I have a family I am striving to do the same. Olumide "Bo" Adebo Dolume LLC
I'd like to thank Dan Wheeler for helping me establish my company. Without his support and friendship I wouldn't have been able to create my company. Corie Blount radu8 Inc.
I'd like to thank Sammy for always believing in me, teaching me how to think different and always reminding me to enjoy the journey. Eskat Asfaw College Shuttles
All my fellow agents of change
Being a trailblazer can feel lonely and isolating. However, a true agent of change does not let that stop them. Keep it up and do not compromise your values! Ja-Nae Duane Revolution Institute
Gus was the first person to hire me at a startup. He was my manager but we became fast friends commuting together and working on a blog. Dylan Mazeika BuyerZone
I'd like to thank Paul for his continued support, and his inspirational words. David Cole PV Solutions LLC
Haewon Kim-LaBroad (my wife)
She's supported and believed in me since we met and were dating. Her advice (whether I liked it or wanted it) was always sound, smart and for the best of the company and our family. She is the most valuable advisor I have in so many ways. Daniel LaBroad Ovation Health & Life Services, Inc.
I'd like to thank George Fisher. He's been a great example and a great mentor to me and my business for the past 10+ years. George has used me personally to purchase his real estate investment properties. Kinyoun Foster Caring People Real Estate
I'd like to thank Nick for always pushing the use of latest technologies to keep us on the cutting edge of web development. Scott Lanning Grasshopper
I'd like to thank Kabir for throwing me into the startup scene with his bare hands, introducing me to everyone he knows, and figuring out what I should be doing before I could accept it myself. Trish Vsnap
Bridget edited everything I wrote for more than 7 years, emails, ebooks, proposals, blog posts, everything. My business wouldn't be where it is today without her! Brad Farris EnMast.com
Besides the fact that Tobias is nearly the perfect startup developer, he's also been incredibly loyal and committed. Early on, when BuzzStream was on the edge of the edge, he stuck around at almost no pay, because he believed in what we were doing. There's nobody I'd rather have as a teammate. Paul May BuzzStream
Susan Silver, Argentum Strategy Group
I'd like to thank Susan for all of her help and guidance over the last couple years. She's a brilliant marketer and business woman and I look to her as a mentor in so many regards! Devan EnMast.com
Jeff helped me talk through my presentation idea for UserConf and was really supportive and encouraging. Plus, he really knows how to make his customers happy, and I love that. Aaron Wheeler Moz
My teammates at Investopedia
I'm so lucky to have my teammates as supporters, motivators and role models -- every person I work with is a fireball of value, intellect, and insight. I'm lucky to have them just a phone call away -- if and when I achieve my dreams in life, it will be because of this crew. Ritika Puri Investopedia
Sammy Z gave me my start in the start-up world, and I haven't looked back since. He believed I was cut out for it despite no experience, and I thank him greatly for giving me that chance. I learned so much (and had fun) working for Sam. The experience truly shaped the future of my career. Dan Smith
My freelance writing supporters
I am so fortunate to have had the opportunity to embrace these folks in my life as more than clients and business partners. Each one of these people has evolved into a mentor, inspiration, and friend. Being a part of their success has inspired mine, and thanks to them, I am able to pursue my dreams. Ritika Puri Freelance Writing
Justin has always supported me in my career. When I feel scared or reluctant to push myself, he always stops the negativity dead in its tracks.He not only believes in me but reminds me to believe in myself. Not to mention, his own success inspires me to put my entire heart and soul behind what I do. Ritika Puri Freelance Writing
I'd like to thank Sheryl C, my boss from my first job, who really invested time in teaching me how to think strategically. She always gave me the best constructive feedback and I always credit her with giving me the tools I need to be successful in my job today. Ashley Lojko Digital Bungalow
HUGE thank you to Jibran whose taught me more about hard work and Lord of the Rings than anyone I know. Robby Bitting MassChallenge
I'd like to thank Matt for letting me try some unorthodox campaigns at Dyn, and giving me a real shot to become a marketer. Ryan O'Hara Dyn
I'd like to thank Fan for his inspiration, friendship and encouragement to always push the envelope. Fan was a key inspiration for my decision to stay in the USA long term and be surrounded by a vibrant community of great minds. Thanks Fan! Samuel Johns TripAdvisor
Alfredo, Rodolfo, and the team.
For being a business partner who has made such a powerful contribution to the growth of YEC I want to thank you. Ryan Paugh Uassist.ME
Melissa taught me how to have fun with writing and bring creativity to even the most seemingly boring topics. Thanks Melissa! Ben Amirault
My coworkers at Formstack
Thank you so much for inspiring, trusting, and motivating me every day! Eva McKnight
Thanks Emma for being one of the only people I trust for honest feedback on my writing. Hannah Richards Ethos Marketing
I'd like to thank Leo Widrich of Buffer for not only being the Mr. Miyagi to my Karate Kid, but also for introducing me to the Help Scout team, which is where I currently work. I can safely say that I wouldn't be where I am today if it wasn't for his assistance, generosity, and willingness to always impart good advice. Gregory Ciotti Help Scout
I'd like to thank Pat for training me to be an online marketing professional and for continuing to be someone who I can bounce industry ideas off of! Kathryn Angeloni Smart Destinations
Thank you for believing in me when I was only in high school and for sharing your passion for entrepreneurship. David Hauser Grasshopper
I'd like to thank Jacqueline for being a mentor and role model for me. She has steered me in the direction of my talents. She encourages and challenges me at every turn to be my best. I'm growing in my career because of her, and for all that and more and I am truly grateful. Devin Bramhall Springpad
I'd like to give THANKS to Tracy. Without her support as my right hand gal, I wouldn't have been able to open my store. She made me smile when we didn't know what we were doing. 4 years later, even though she is no longer involved,I know I could count on her for anything. Thanks for believing in me! Nyla Bittermann Cherry Consignment
I'd like to thank my Uncle Tim for loaning me enough money to buy a G5 PowerMac many years ago. That machine gave me the extra power to get more work done and grow the business at an early age. (Yes, I paid him back... early.) Jay Owen Design Extensions
Thanks for that phone call several years ago to make our social connection more tangible. You made an astute observation about my website that changed the direction of my business--and led to the success I'm experiencing now. Kathryn Aragon Crazy Egg
Have really enjoyed and benefited from Rand's transparent and straight forward SEO advice over the years. He's been offering up great, knowledgeable info I can count on and has helped grow my own business. Thanks Rand! Andrew Youderian eCommerceFuel
Maureen Miller worked tirelessly by my side for the better part of three years to achieve an ambitious multi-million dollar fundraising goal for the Art Museum of South Texas.  I salute her for being a truly outstanding volunteer, businesswoman, and friend. Carolyn M. Appleton, CFRE Carolyn M. Appleton, Inc.
I'd like to thank James Ward who hired me in the belief that I had what it took inside of me to be a great inbound marketer. He had faith in me and has had the kindness and patience to make me the employee that I am today! #bestbossever Stewart Sylvester BrainSell Technologies
Michael London & Stephen Kramer
For introducing me to Babson and mentoring me during the launch of Grasshopper. Siamak Taghaddos Grasshopper
Thank you Woopra for giving me the opportunity to come work and gain entrepreneurial experience in the Bay Area. Learning a lot and having a great time! Antoine Chkaiban Woopra
The entire, amazing Woopra team!
They say you spend more time with the people you work with than with anyone else in your life. I want to thank the Woopra team for making that time stimulating, rewarding, and most of all, exciting! Hands down the most challenging and innovative place I've ever worked. Natalie Issa Woopra
I'm thanking Nikki because she turned down my bid for a job, but wrote me a nice note to say that she was impressed with my qualifications and would use me for more complicated assignments. I remained skeptical. A week later, she followed up and hired me. I've been working with her ever since. Ray Colon Colon Bookkeeping
For being supportive of alternative career paths for their children and always being the best beta-testers! Brian Luscombe Docstoc
They keep us going! Paul Greenhorn Connect
My husband, Chris, gave me the push I needed to start my own business, the daily support that keeps me going when things get hard, and shares his evenings and weekends helping me take my business to the next level. And he is so handsome, too! Meghan Whitmer Lawn Girl
I'd like to thank Brad for always bringing creativity and a great sense of humor to the marketing team (not to mention, never missing deadlines!). He's the best! Christelle Lachapelle Batchbook
Growing up my parents gave me more opportunities to learn and grow than I wanted. They only asked that I be hardworking, respectful and curious. They are relentless in giving love to their children. Allan Branch LessAccounting.com
I want to thank the founder of BuyerZone.com, Mie-Yun Lee, for believing in me early and often as my career in the Internet space got off the ground. Josh Hale Artfact
Because we need these wonderful, imaginative, inspired people to spend some of their hard earned money on a Hobbit Hole for us to make a living selling them! Melissa Wooden Wonders
Greg J. (Diamond Supplier)
I'd like to thank Greg for helping make my transition back into the world of diamonds fun, productive and successful! Jonathan Goldberg Kimberfire Inc.
We're all about spreading the love here at Grasshopper and hope you are too.
We're excited to hear you stories and read your thanks but before you go posting, let's get a few things straight:
Explicit or Hate Speech - We want everyone to feel the love. Any posts that are discriminatory, insulting, offensive or abusive to us or others will not be tolerated. Be nice!
Spam-like Behavior – Repeated posts or comments will be viewed as spam and taken down.
Off-topic Comments – Please stick to the topic at hand. Any inappropriate or off-topic comments will be removed at our discretion.
Promotion of Competitors – Please do not use this page to promote competing products, services, or brands in our industry. It's simply poor form.
We reserve the right to take down any posts we find to be in violation of the above, without notice and at any time, however we know you'll all be on your best behavior. Anyone who repeatedly posts material in violation of the above rules will be banned from participating on this page. We're all about spreading the love, so please don't make us ask you to leave!

Think that covers just about everything! We look forward to reading all your thanks!

- The Grasshopper team
Whoa! Your thanks was too powerful.
Please try again. If it still doesn't work, email it to us at thanks@grasshopper.com.
×
Thanks for helping us spread the entrepreneurial love!
Give us a little while to revel in all this greatness and get it posted.

Now, spread the word so your pals can feel the love, too!

Share this page
×