Transforma en tu oficina de donde quiera que estés en el mundo
El sistema telefónico de los empresarios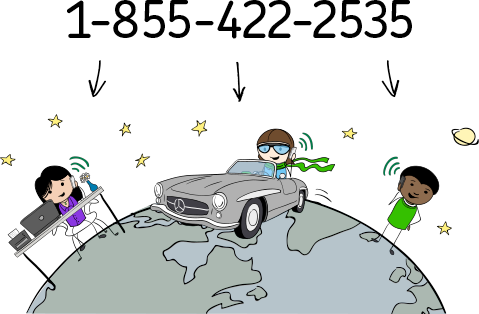 Llamanos hoy al 866-661-6838
Número ochocientos para presencia nacional O un número local
Extensiones ilimitadas - para departamentos y empleados
Reenvío de llamadas a los teléfonos móviles – puede trabajar desde cualquier lugar.
Mensajes de voz a través de correo electrónico – escuchar vía internet o en un teléfono celular
Administrar vía internet o por teléfono - sin necesidad de equipos electrónicos
Comenzando desde 12 dólares al mes
Garantía de 30 días de devolución
Regístrese hoy mismo »
Con Grasshopper el sistema telefónico virtual para empresarios. Tu pequeño negocio suena profesional, desde cualquier lugar del mundo, tu hogar o durante las vacaciones, con un número ocho cientos, múltiple extensiones, reenvío de llamadas, buzón de voz al correo electrónico, y muchas otras opciones avanzadas.
Over 300,000 Happy Customers Served
Here's what a few of them have to say about Grasshopper
I am now a huge fan of Grasshopper… truly saved the day (and my sanity). Carolyn Appleton Carolyn M. Appleton, Inc.
Having a phone number on our site increased conversion of site visitors to sign ups and paid users! Allan Branch LessAccounting