Live Call Transfer
Transfer Callers Instantly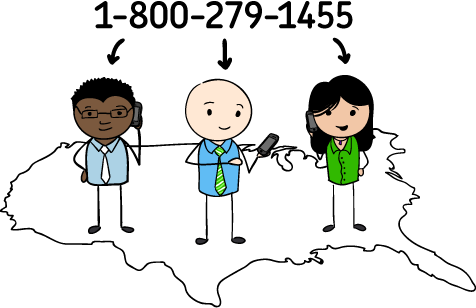 Transfer calls to other extensions while speaking
Frequently asked questions about live call transfer:
How many calls can Grasshopper handle?
Grasshopper is designed to handle all your incoming calls so that no one gets a busy signal.
What options do I have when calls are forwarded to me?
When a call is forwarded you have three options after picking up,. and each option will be offered to you before you begin speaking with the caller: 1) The first option is to press 1 to accept the call. 2) Option 2 will send the caller to voicemail. 3) Option 3 will read the caller ID to you so you can determine whether you want to take the call or not. If you have call screening selected for your extension, you'll have the caller's recorded named played to you after you pick up the phone.
Can I transfer a call to a number outside of my Grasshopper virtual phone system?
Yes. You can transfer a call to any phone number whether it be across the hall or across the world.
How do you place a caller on hold?
While on a call, you can place the caller on hold by pressing # twice (##). After placing the caller on hold, press 1 to return to the call, press 2 to transfer the call to a different extension or phone number, and press 3 to end the call.
Over 300,000 Happy Customers Served
Here's what a few of them have to say about Grasshopper
I am now a huge fan of Grasshopper… truly saved the day (and my sanity). Carolyn Appleton Carolyn M. Appleton, Inc.
Having a phone number on our site increased conversion of site visitors to sign ups and paid users! Allan Branch LessAccounting