News
&

Buzz
Grasshopper is everywhere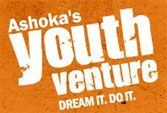 Original Article
←
"Entrepreneurs Can Change the World" Video Helps Charity
What if I told you the video you just watched above enabled Youth Venture to get a $20,000 donation? That's right the video created by Grasshopper to inspire and encourage entrepreneurs to make their ideas a reality, went viral and to date has generated 340,660 views on YouTube. As a result, Grasshopper got a lot of interesting phone calls and emails about their video and how other organizations could modify it to fit their needs. One particularly interesting inquiry was from Nestle (the wonderful makers of Goobers, Butterfinger and Laffy Taffy) who wanted to make some changes to the video to create their own internal video, and were willing to pay up to make it happen.
Initially, Grasshopper was reluctant to accept money for this offer, until they devised the idea that Nestle could give the money to a non-profit. Grasshopper chose Ashoka's Youth Venture to donate the money to and all of us here are very gracious for the innovative donation from Nestle and Grasshopper. For more details on Grasshopper, check out the blog post written by Jonathan Kay about the video and deal.
So in following Jonathan Kay's question, if you had $20,000 what charity or non-profit would you support?