News
&

Buzz
Grasshopper is everywhere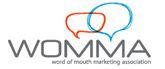 Original Article
←
Grasshopper Wins Bronze Momentum in WOMMY Awards
The Word of Mouth Marketing Association (WOMMA) today announced the winners of the 2009 WOMMY Awards at the conclusion of WOMMA's 4th Annual Summit. The WOMMYs celebrate the people, agencies, and brands behind the most innovative and effective word-of-mouth marketing campaigns implemented within the past year.
The categories and winners for the 2009 WOMMY Awards include:
Momentum Award- Best word of mouth program to juice existing products/services.
Gold: Intuit Small Business United (Access Communications)
Silver: Makro 7% (Proximity BBDO)
Bronze: The 5,000 Campaign (Grasshopper)
Bronze: Re-Fuel with Chocolate Milk (Fizz)
Introduction Award- Best word of mouth program to introduce new products/services.
Gold: Dodge – Baby Made on Board (Proximity BBDO)
Gold: Kashi – The Bar that's not afraid to Bare it All (P&G Tremor)
Bronze: iCrossing Drives Integrated Social Campaign for Toyota (GB) (iCrossing)
Experiential Award- Best word of mouth program as the result of great customer experience.
Silver: Feld Family Activator Program (Mom Central)
Silver: Dodge Dare Days (Proximity BBDO)
Bronze: Belgacom – The Internet is Mine (Proximity BBDO)
Integration Award- Best word of mouth program incorporated into overall marketing mix.
Gold: Fake Candidate (Wanda Digital & Grey Istanbul)
Bronze: Cumberland Farms Chill Zone Mix Up Yours Campaign (Kbuzz)
Bronze: Creating a Social Movement by Encouraging Conversation: Just Look for UL ( MS&L)
Bronze: Ford Reintroduces Fusion Through In-Home Consumer Events Leveraging its Sponsorship of "American Idol" (HouseParty)
Engagement Award- Best word of mouth program fostering deeper relationships between brand and customer.
Gold: The Clickable Gurus: Company Ambassadors Who Drive Reputation, Sales, Innovation and Customer Loyalty Through Word of Mouth (Clickable Inc.)
Silver: Nissan Hypercube - Social Media in the Driver's Seat (Capital C)
Bronze: Ostravar BAZAL - A consumer-created beer (Outbreak)
Honorable Mention: Kinepolis Faces Facebook (Not in book) (Proximity BBDO)
The 2009 WOMMY Award winners were selected based upon the following criteria: a clearly identified business problem; a well-articulated insight into the problem; a creative solution; and results that relate back to the business problem.
"The cases demonstrate the best strategic and creative ideas applied to real business problems," said David Rabjohns, CEO and founder of MotiveQuest LLC and Chair of the 2009 WOMMY Awards.
The case studies from the top award winners will be published in the "WOM Works" research book, as well as other media outlets, and the top seven winners will have their case studies published in Advertising Age. In addition, the top seven winners also received main stage visibility at WOMMA's Summit, where they were given the opportunity to present their findings.
On the final day of the Summit, the Grand Prix Panel will convene to elect the Grand Prix winner. The award will then be presented to the winner as part of the finale of the Summit.