News
&

Buzz
Grasshopper is everywhere

Original Article
←
Recessionista features Grasshopper - 5 Online Tools for Starting Entrepreneurs
It's a new year…time for small business owners to think big!
1. Grasshopper:: This online phone service allows you to make your cell phone (and those of your employees) into a full service business landline. No matter which cell phone customers call they are directed through your main system, just like the bigger businesses.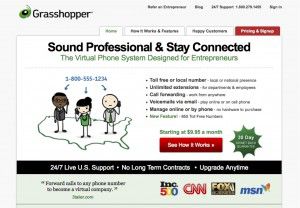 2. Kickstarter:: Have a great idea but need the dough to back it? You're not alone. Kickstarter lets you post your budding business idea, and then interested investors can peruse projects and choose which to invest in (maybe even your own!) A great way to "kickstart" grassroots fundraising.