News
&

Buzz
Grasshopper is everywhere

Original Article
←
Ambassador of Buzz -Social Networking Done Right
I was pleasantly surprised last week when I opened up a personalized thank you card from Grasshopper – a company that offers 800#s to small businesses. I had linked to them (using my affiliate link) in my article about online shopping being like a self-check-out lane.
The day after I posted my article, someone from their company had commented on my post and someone else had tweeted my article.I appreciated both gestures. Imagine my surprise a few days later when I opened up a hand addressed envelope and found a personalized note (from the woman who connected with me on Twitter) along with a gift card for a free cup of coffee at Starbucks. (She also included her business card.)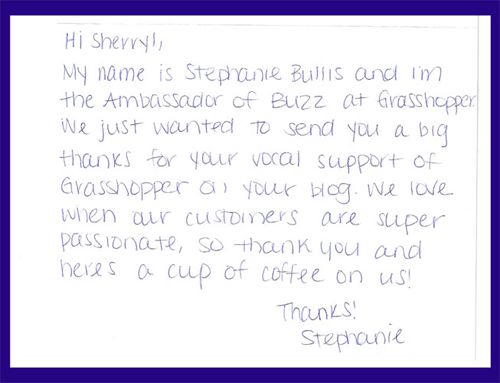 Now, being a Dunkin Donuts fan myself, I will probably never use the gift card (unless I splurge on a cup of cocoa instead) but I do now have a new Twitter friend and an even warmer and fuzzier feeling about Grasshopper (shameless affiliate link inserted here because I really do recommend them).
Using Social Networking to Build Customer Relationships
Why am I even more confident in this company now than I was before? Well, this is a company that touts a "Virtual Phone System Designed for Entrepreneurs". They position themselves as a resource for small businesses and they obviously practice what they preach.
Months ago, when I discontinued my 800# (because I was no longer selling the product/service that I used it for), I immediately received an email from them thanking me for my years as a customer. They also promised to waive their activation fee when I'm ready to come back.
When I mentioned them on my blog, I received a comment, an RT, a new Twitter follower plus the personalized note with the gift card. They also personalized my connection with their company with a name and face. My new contact (and Twitter follower) at Grasshopper is Stephanie Bullis and her title is "Ambassador of Buzz" for the Grasshopper Group.
Having Processes in Place to Respond
This is obviously a company that has systems in place. When I left them as a customer, they sent an automated email. When I blogged about them, someone tweeted my post (good move on their part because of the backlink to them) and left a comment for me. It could have stopped there but it didn't.
Obviously, this is a company that has a process in place. I strongly suspect there's a documented procedure to follow and that there are people who are assigned the responsibility to see that this process is implemented every time someone blogs about them. They have "Ambassadors of Buzz".
Rick Stilwell (@RickCaffeinated for those of us who follow him on Twitter) recently posted "Do You Have a Social Media Policy?" on his blog. Having a social media policy and process is definitely something we all need to be thinking about as we build our businesses.
Do you have a process in place for reacting to social interactions? Do you make it a habit to thank people who RT your posts? Do you try to follow links left in the comments on your blog and leave comments for your readers? Do you have Google Alerts set up so you know when you or your business is being talked about?