News
&

Buzz
Grasshopper is everywhere

Original Article
←
To Promote, or Not Promote: That is the (Big)Twitter Question
Twitter has been aflutter lately with the news of a closed beta testing of Promoted Tweets. Promoted Tweets are defined as: Ordinary Tweets paid for by advertisers in order to reach a wide group of users or to spark engagement from their existing followers.
Twitter Announces Promoted Tweets
Twitter's announcement on July 28, 2011 states, "We're introducing a way to ensure that the most important Tweets from the organizations you follow reach you directly, by placing them at or near the top of your timeline. These Promoted Tweets will scroll through the timeline like any other Tweet, and like regular Tweets, they will appear in your timeline just once. Promoted Tweets can also be easily dismissed from your timeline with a single click."
Twitter states that you can only promote a tweet in the timeline of one of your followers and not push them out to non-followers, and that users can dismiss them with a click. A Promoted Tweet will appear at the top of your timeline when your first sign-on.
The list of initial advertisers includes: Starbucks, JetBlue, Gatorade, Groupon, HBO and Sephora; and a number of non-profits including The American Red Cross and water.org are also participating.
Although I have now followed a number of the initial advertisers, promoted tweets have yet to show up in my timeline. One example of a promoted tweet I came across was promoted by Wheat Thins with the hashtag, #borntodance. As you can see in the example below, the promoted tweet appears at the top of the list in pink highlight.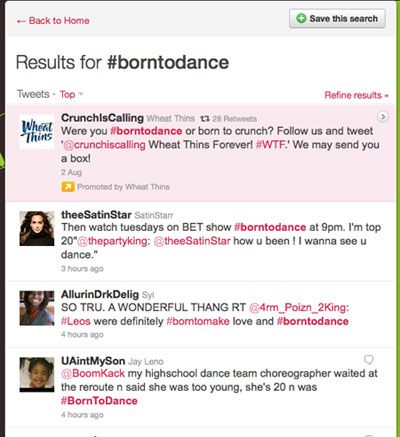 Since Twitter's announcement, there has been considerable discussion about the company's integration of paid advertising, most notably under the hashtag, #promotedtweets.
Twitter Sentiment
There's a range of sentiment being expressed about Promoted Tweets. Below are a few that caught my eye:
@threefourteen - Two things. 1) $120k for a trending topic? WTF 2) those in marketing who buy promoted tweets are idiots- spend $120k helping ppl instead!
@MarketingXD - Promoted tweets seem better than bought followers – at least some tweets go to real people http://on.mash.to/pi6mmJ xD
@FastCoLeaders - Can a Twitter littered with ads keep its cool factor? http://ow.ly
@KellyLux - Why is everyone so against promoted tweets? Are we just spoiled by 5 years of no ads on twitter? They've got to make $$ too. #cmgrchat
Mashable conducted a poll to learn more about users reactions to promoted tweets.

Here are some recent results:
28.71% of readers said they don't want advertising in their timeline, 34.98% said they don't care about promoted tweets, and 36.31% said they could go either way.
What Will It Cost?
If you're interested in learning more about Promoted Tweets for your business, you can sign-up on Twitter to get notified when they launch for all advertisers. While we're not exactly sure what the exact costs will be, there's an indication in the estimated monthly budget drop-down menu: $5,000-$9,999, $10,000-$24,999, $25,000-$49,000, $50,000-$99,999 and $100,000+.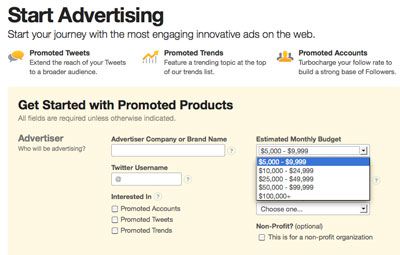 Technology news site CNET reports that companies will be paid only when certain actions are taken on a tweet, such as clicking on it, retweeting it to followers or replying directly it.
It's apparent that promoted tweets are far from a neutral topic right now and as marketers you may want to give the topic considerable thought before deciding whether or not to enter into the paid tweet arena.
Sean Corcoran warns in his post, Promoted Tweets: How Paid Media Fits Into Your Social Media Marketing, "The bottom line: It's ok to use paid media in your social marketing efforts, but it's best to start by dipping your toe. The risk isn't in cost (most of these ads are performance based), it's in alienating your customers. Take a similar approach the social networks are taking: Focus on your organic efforts and the user experience first, and then try out paid media to accelerate your efforts."
Stephanie Bullis, Ambassador of Buzz at Grasshopper, had this to say about their experiences with Promoted Tweets:
My company participated in promoted tweets in Twitter's second round of beta, between February 1st 2011 and the end of March, when the product was still very new. The positives were that it was good for branding— we could target our promoted tweets for certain keyword that we wanted people to associate us with ie. Small business.

Positives: By signing up for the Promoted Tweets we gained access to analytics we wouldn't otherwise have access to. We were able to see tweets based on Best, Good, or All and we were able to see how many people favorite, RT's and replied to our tweets (now everyone can see this).

Negatives: Although it has since been improved, at the time we couldn't geotarget our promoted tweets, so we were promoting our tweets to countries that we couldn't and didn't do business in.

We struggled with knowing how much to bid. There wasn't much guidance or insight into how our bids would result in tweets. They were really lacking in that area as we had no idea how much competition there was on each keyword.

The beta was a three month trial, for which we allotted our $3,000 budget. Because we didn't have any idea how much or how often we'd be bidding, we had no idea how long this amount would last. We tried out three month campaign for a total of fifteen promoted tweets, and based on pricing, our budget only lasted two months vs. the three months we had available.