News
&

Buzz
Grasshopper is everywhere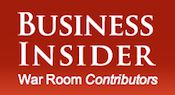 Original Article
←
Business Insider features Grasshopper - Building Credibility with E-Commerce Customers You Can't See
The abundant emergence of Internet business is not a coincidence; companies see how lucrative e-commerce can be and are jumping at the opportunity. Corporations are moving their store fronts to desktops and raking in the cash in the process.
Easily navigated websites, organized inventory and the convenience of shopping from the privacy of one's home has online business catapulting. Without the costs of rent and other overhead expenses, businesses are even able to pass the savings down to their customers; however, none of this is feasible unless you have reliable, efficient and instant customer service.
Traditionally, customers could connect a face to a name. They would enter your store, speak with a salesperson and be able to evaluate your inventory. Removing everything physical and replacing it with digital photographs on a website may make customers uncomfortable. So the first key to running a successful Internet business is to establish trust between your business and your customers.
Use your FAQ to educate your customers
An informed customer is much more likely to proceed to order, so one of your tasks is to educate your consumers. An easy and efficient way to do this is to create a page of frequently asked questions on your site. The FAQ page is an easy way to address common questions and concerns. This is where you educate customers on your procedures for dealing with issues such as returns, cancellations, or damages. Outlining these procedures will go a long way, putting your customer's mind at ease, and give them the sense of comfort necessary to open their wallets.
Build Credibility With a Virtual Phone System
When consumers are purchasing anything from a T-shirt to kitchen cabinets, they want to ensure their needs will be met. Some customers might be unnerved by the lack of a physical location, and it your job to relieve that stress. An easy way to combat this issue is to make your phone number clearly visible.
Using a service like Grasshopper will provide a professional toll free organized calling system. This service provides prompts that allow customers to speak to different departments; sales, customer service, shipping, etc., and presents the business owner with the ability to direct each department to a different forwarding phone number or location. Even if you are a one man shop, running your business from your cell phone in your mother's basement, success in business is largely about customer perception. This tool will make them believe you are running a large scale operation.