Sound Professional
&

Stay Connected
The Virtual Phone System Designed for Entrepreneurs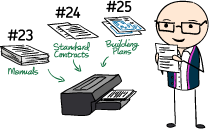 Fax on Demand
Your callers can help themselves to forms and printed information using our Fax on Demand feature. You simply fax documents into your account, creating a library of documents that callers can request via fax instantly, any time of day. Ideal for order forms, product sheets, maps or anything else you want your callers to access on-demand 24 hours a day.
Having a phone number on our site increased conversion of site visitors to sign ups and paid users! Allan BranchLessAccounting
I am now a huge fan of Grasshopper… truly saved the day (and my sanity). Carolyn AppletonCarolyn M. Appleton, Inc.