Frequently Asked Questions
Learn more about the Grasshopper Virtual Phone System
The most frequently asked questions about the Grasshopper virtual phone system are answered below. If you don't find the answer you are looking for you can call us 24/7 at 800-820-8210 or contact customer support through our Support Center.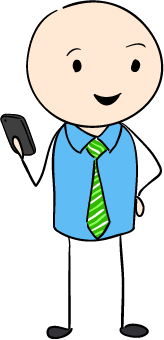 What is the Grasshopper virtual phone system and how can it help my business?
The Grasshopper Virtual Phone System helps your small business sound more professional and stay connected. With a local or toll free number, unlimited extensions, live call forwarding, on hold music, name directory, and much more, your small business can function and appear like a Fortune 500 company. When callers dial your Grasshopper 800 number, they hear a custom main greeting giving them options from which to choose, i.e. "Thank you for calling ABC company, dial 1 for sales, 2 for support..."
Since each phone extension can forward to any number, you can be reached on your home, office, mobile or VoIP phone. Assign extensions to each department or employee and let the find-me-follow-me functionality of call forwarding connect callers to the right employees. Give callers access to information such as product info, store hours or driving directions using Informational Extensions. You can also receive voicemails and faxes online or via email as audio or picture attachments. With these powerful features available from Grasshopper your small business can stay connected and sound more professional.
Does Grasshopper replace my phone system?
Our system is designed to enhance your phone service and not to replace it. We only service your incoming calls since the system is virtual and doesn't provide a dial tone. Your everyday outgoing calls will have to remain with a local and/or long distance provider.
The extensions of our system are able to forward to your choice of existing numbers such as office, cell, home office, etc. Therefore, you'll also need to have a phone number to be able to receive forwarded calls through our system. This means that you'll need to keep your local service even if at minimum.
Can I use your service If I live in Canada?
Yes, Grasshopper works in both Canada and the U.S. Best of all, the minute rate for all calls, incoming or forwarded, is the same in Canada as calls that are made in the U.S. (48 contiguous states).
Does Grasshopper require a contract?
No, Grasshopper is a month-to-month virtual phone service that does not require any long term contract and allows you to upgrade to other plans at any time. In addition, our 30 day money back guarantee ensures you can try our service risk free.
Do you offer service for International Callers?
At this time, we provide U.S., Canadian, and U.K. toll free and local numbers. Our plans include multiple extensions that forward callers to any type of phone, domestically or internationally. A good portion of Grasshopper's customers are international users.
All of our local numbers accept incoming international calls, but only some countries can call our toll free numbers; it depends on the digits they have to dial for the U.S.
The International Forwarding feature is included in all plans but turned off by default to avoid fraud and unauthorized use. We require a deposit of $500 to activate this feature. Your account charges will be deducted from the deposit for the next six months. We will refund any remaining balance after six months, or if you decide to cancel your account.
For additional forwarding rates to all countries, please review our Offshore & International Rates. International calling is only available to customers who've been with Grasshopper for 60 days or more. To enable international calling please review our terms & conditions and contact our customer care team for assistance.
Can I request a specific (vanity) phone number?
Yes, you can search and reserve a vanity number instantly during signup.
The vanity number(s) activation takes up to a week (7 business days) and requires a $30 one-time fee. You can also add more numbers to your account at any time after signing up. Please visit, My Account Tab/ Numbers section in your account portal to add numbers. If you have questions about vanity numbers you can Submit a Request or call 24/7 Grasshopper Support at 800.279.1455.
Can I buy an 800 number from another company and use it with Grasshopper?
With the number of people using custom 800 numbers higher than ever, securing a good 800 number is becoming more and more difficult.There are companies on the Internet that may try to sell you a very desirable toll free number, but this practice is not sanctioned by the FCC. You may buy these numbers, but do so at your own risk.

As always, you can transfer any toll free number to Grasshopper, but please allow up to three (3) weeks for transferring. The number will not be transferred before all of the necessary paperwork is submitted and verified complete.
Can I port/transfer my existing toll free or local number to your service? What is the fee?
Yes you can. We can arrange to have any of your existing toll free number(s) easily transferred to us. Please remember, you are only changing service providers, you will still retain ownership of your number(s).
For local numbers, the local number(s) you wish to transfer must be within our coverage area. Please check your existing local number(s) for coverage by visiting Transferring Local Numbers to Grasshopper and make sure that they are eligible for transfer before proceeding.
If your local number(s) are not in our coverage area you can order a new local number from Grasshopper. You can check for local numbers in your desired area using our local number search tool on our Sign Up page or you can have your local phone company forward your existing local number(s) to your Grasshopper toll free or local number. Since there may be different types of call forwarding offered by your provider, please be sure to specify that they "forward and release" your calls.
There is a one-time $30/ per carrier handling fee depending on your plan for number transfers and the turnaround time is up to 3 weeks for toll free numbers and up to 4 weeks for local numbers.
Who owns the numbers that are assigned to me by Grasshopper and can I port/transfer them?
You are the valid end user/owner of a toll free and a local number as long as you are in good standing with its provider (i.e., there are no balances on your account). You are able to transfer both your toll free and local number to other providers at any time including the numbers that are assigned to you by Grasshopper.
Can I switch to another plan after I sign up for Grasshopper?
Yes, you may upgrade your plan or switch plans at any time by accessing your account online or by contacting 24/7 Grasshopper Support at 800.279.1455.
Can I have multiple toll free or local numbers on the same account?
Yes, you may add additional numbers to your account at any time. Each additional number not included in your plan is just $10 more per month. Additional one-time fees may also apply depending on the type of number you are adding. For example, if you add a vanity number there is a one-time $30 fee, and if you add a random toll free number with an 800 prefix, there's also a one-time $30 fee.
How do I distinguish a call as coming from my Grasshopper number and not a personal call? Is there a different ring?
You will see the Grasshopper number that was originally dialed on your forwarding phone. You can also change the setting of any extension to show the Caller ID of the caller. Your phone will ring the same as other calls but by using the Call Announce feature, you will hear our system asking you to press 1 to take the call, 2 to send the caller to voicemail, and 3 to listen to the phone number of the caller. This will allow you to distinguish between a business and a personal call.
Would Grasshopper work with the existing extensions in my office?
Our system is able to forward to your internal extension (PBX Connect feature) as long as you have an auto attendant. In other words, if a live operator answers the phone before transferring them to your internal extensions, the system won't be able to forward to your extensions/desks automatically.
Please note, once Grasshopper has successfully forwarded to an unavailable internal PBX extension, its voicemail will take the message and not Grasshopper.
In order for Grasshopper to take your messages, you'll need to use the Call Announce or Call Screening settings and not PBX Connect. However, this requires you to have an operator that answers calls before transferring them to your internal extensions.
If the operator knows you're not available, the announcement can be ignored, letting the call to go to your extension voicemail on your Grasshopper account. If the operator knows you're available to take the call, the call can then be transferred to your desk.
Can Grasshopper be used as a standalone voicemail system whenever we don't answer the phone?
Yes, you can have your local phone company forward to your Grasshopper number after a certain number of rings or when busy. So, a call to your existing local phone number would get transferred to your Grasshopper local or toll free number and the caller would be able to leave messages for various extensions.
Do I have to record the greetings in my own voice?
In addition to recording greetings by phone or uploading them from your computer we also offer professional voice talent services. Sounding professional is easy when you have your greetings and prompts recorded by our Voice Studio.
With several professional voice talents available, you can find the right sound to suit any small business. We can even record in different languages and produce top quality on-hold commercials.
Our Voice Studio service is just $75.00 (free for Max plan customers), which is significantly less than comparable studio rates for voice talent services.
Can I send faxes with the Grasshopper virtual phone system?
Although you can use Grasshopper to receive faxes using our Virtual Fax feature, we do not support outbound faxing. Our Fax on Demand feature allows you to upload and store documents to be faxed to your callers.
What is the difference between Extensions

&

Departments?
Not much. They are both extensions and function the same way under Grasshopper system. There is no difference between them except that the departments are one-digit while employee extensions are three-digits.